Published on
Jan. 17, 2020
Get to know Darin Doty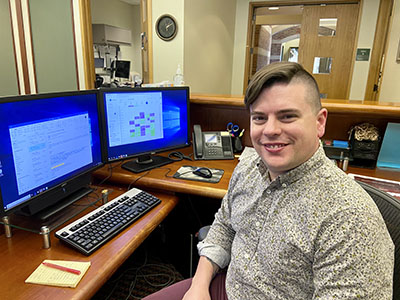 How long have you worked at Beckman?
This is my first week at Beckman.
What will your responsibilities be?
My position at Beckman is hard to describe at this point as I have not yet scratched the surface of my duties. I'm the first person you see upon entering the Director's Office. I'm the person at the front desk trying to appear competent. I will serve as office support for the director's office as well as assist the administrative directors within our suite. I also will provide support for a few other units within Beckman. As I acclimate to Beckman I hope to be a valuable resource for staff and visitors alike.
What attracted you to working at the Beckman Institute and the University of Illinois?
I came to the University looking for a more stable, family friendly routine and hoped to find something more personally fulfilling. The broad range of research at the Beckman Institute was interesting and I felt that in a small way I could be part of something important.
What do you like to do in your free time?
In my free time I paint, read, and rewatch episodes of tv shows that I've already seen a hundred times.
What's your favorite Champaign-Urbana restaurant?
Maize