Give to Beckman
Propelling bright scientific minds
The Beckman Institute teaches the next generation of scientists through hands-on research.
Generous individuals and charitable organizations play an important role in providing financial support for undergraduate, graduate, and postdoctoral researchers.
Their work, in turn, fuels the interdisciplinary, novel work that gives the Beckman Institute its spark.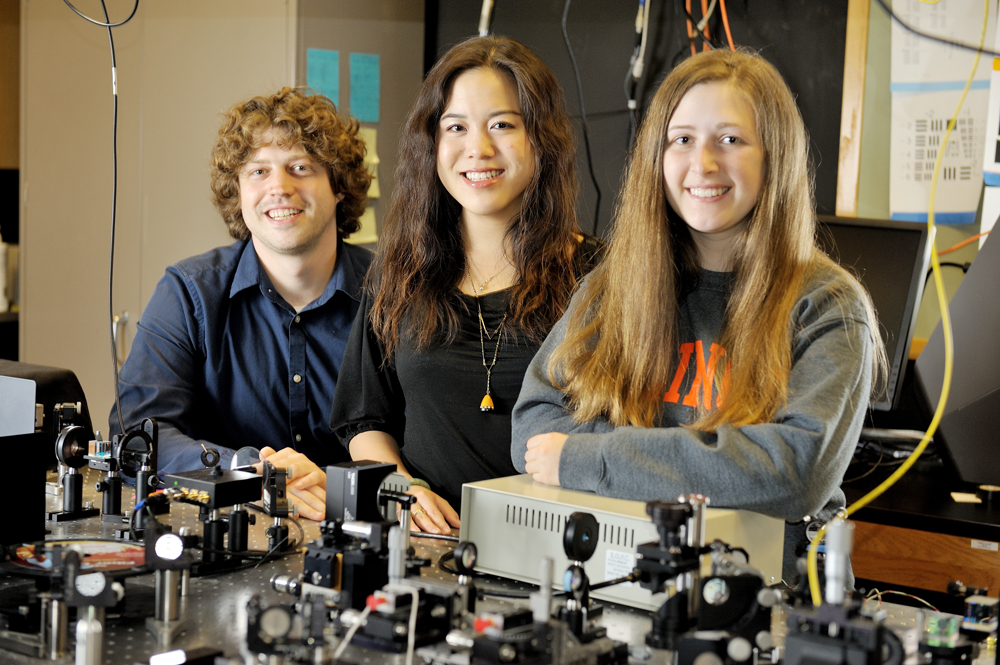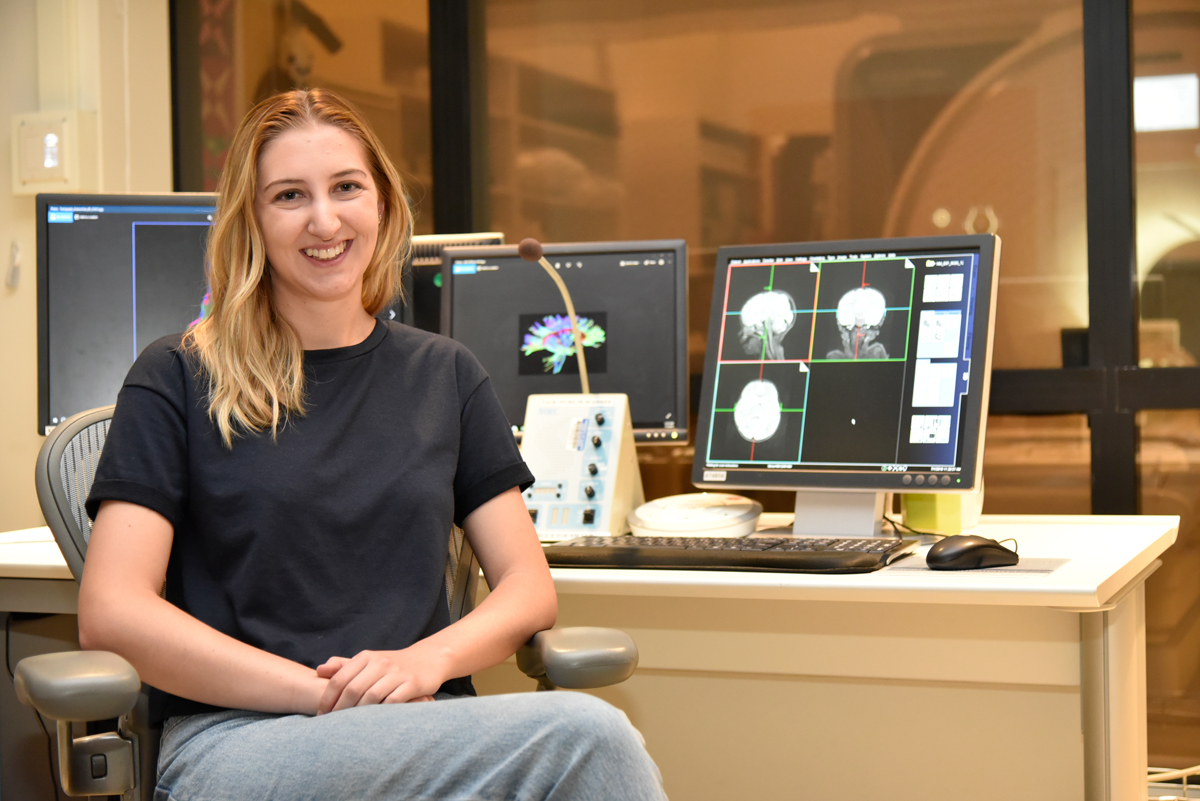 Grace Ikenberry
"The infant development project I'm working on looks at infant brain and cognitive development over the first year of life. This research benefits my education by helping me learn about cognitive and brain development through hands-on experience with the participants. It has also helped me learn all the details that are involved with formal academic research."
Winner of the Carle Neuroscience Institute Undergrad Research Award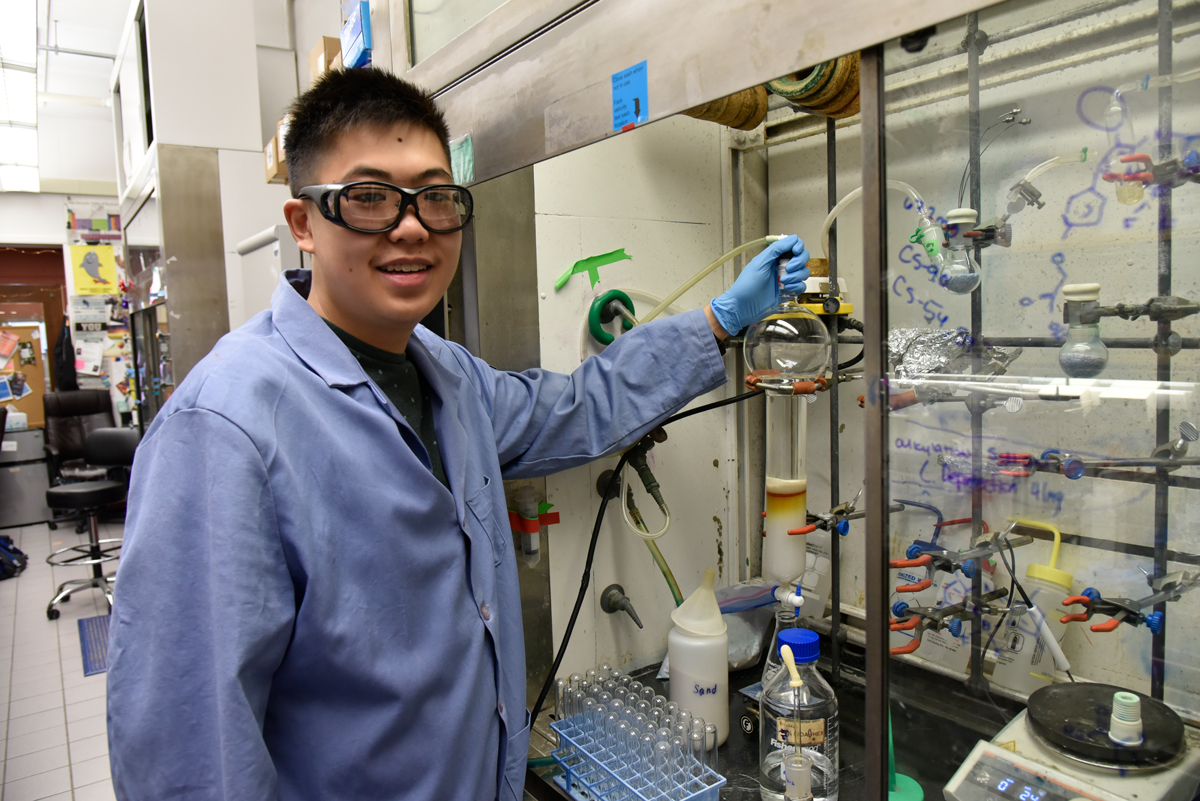 Douglas Chan
"(It's) been an extremely valuable opportunity for me to learn about the nature of scientific research. The environment in the lab, full of helpful peers and mentors, has enriched my knowledge regarding the field of research and graduate-level education. I find it meaningful to be able to work on a project with such potential impact in the scientific field."

Douglas developed probes for photoacoustic imaging of tissue hypoxia in prostate cancer. He's a Beckman Institute Undergraduate Fellow.
Beckman Institute Scholarship Fund

The Beckman Institute Scholarship Fund helps train students who will become the next generation of scientists, engineers, teachers, and business leaders.
Beckman Support Fund
Ongoing growth and evolution in scientific research requires commitment, vision, and resources. This fund supports undergraduate and graduate student research, and ongoing upgrades to scientific equipment and facilities.
Nadine Barrie Smith Memorial Fund
The Nadine Barrie Smith Memorial Fund supports a graduate fellowship in medical imaging. It memorializes Nadine Barrie Smith (B.S., '85, computer science; M.S., '89, electrical engineering; Ph.D., '96, biophysics) thanks to generous support from Jean Smith, Arnette Bosch, and Professor Andrew Webb.
Dr. Smith was passionate about promoting women in science, so the fellowship supports female graduate students whose research might include ultrasound, optical, and magnetic resonance imaging.
Rana Youssef
"I am working on studying the relation between temporal lobe epilepsy and reproductive dysfunction in women. I perform sectioning and Cresyl Violet staining of the hippocampal brain tissue from mice treated with kainic acid or control saline in either the left or right hippocampus. I plan to attend medical school and hope to apply the research and critical thinking skills that I have learned over the summer."
Winner of the Erik Haferkamp Memorial Award for Undergraduate Research
Erik Haferkamp Memorial Fund
This fund supports an award given to undergraduate research in neuroscience, in memory of Erik Haferkamp. Mr. Haferkamp was pursuing a double-major in molecular and cellular biology and psychology when he passed away in 2010. He was a passionate member of psychology Professor Justin Rhodes' lab at the Beckman Institute, where he was a student researcher and lab technician.The fund is made possible by the generous support of Erik's family, including Bonnie Haferkamp, Beth Haferkamp, David Haferkamp, and numerous extended family, friends, and colleagues.
Thomas & Margaret Huang Fund for Graduate Research
This fund supports students in the broad area of human-computer intelligent interaction at the Beckman Institute.
Alumni James J. Kuch (M.S., '94, electrical engineering) and Chang Wen Chen (Ph.D., '92, electrical engineering) established it in honor of Professor Thomas Huang, the Maybelle Leland Swanlund Endowed Chair Emeritus in Electrical and Computer Engineering, and his wife, Margaret.
Professor Huang has advised more than 100 students during his career, which has spanned five decades and three major research universities (MIT, Purdue, and the University of Illinois). He is a pioneer in computer vision, pattern recognition, and human-computer interaction.
Janssen Family Fund
This fund supports a summer research award for an undergraduate. Preference is given to female students with an interest in psychology or neuroscience.
The award reflects the interests of John and Ida Mae Janssen and their four children, three of whom graduated from the University of Illinois. The Janssens' interest in the Beckman Institute began when their daughter, Alisha, worked there during her time as an undergraduate. Her work at Beckman led her to pursue a doctoral degree in neuroscience at another institution.
Klaus Schulten Memorial Fund

Klaus Schulten was a physics professor at the University of Illinois and a long-time faculty member at the Beckman Institute for Advanced Science and Technology who died in 2016. He was a pioneer in the use of computational methods to study the chemical and biological processes driving living cells. His work lives on in the Theoretical and Computational Biophysics Group.
Gifts to this fund support research in computational and theoretical biophysics in memory of Professor Schulten.
Have questions about making a gift? Contact us.