Beckman-Brown Lecture on Interdisciplinary Science
Sharing interdisciplinary science
The Annual Beckman-Brown Lecture on Interdisciplinary Science honors Dr. Arnold O. Beckman, the founder of the institute, and Dr. Theodore "Ted" Brown, the founding director. The series is funded by a gift from the Arnold and Mabel Beckman Foundation.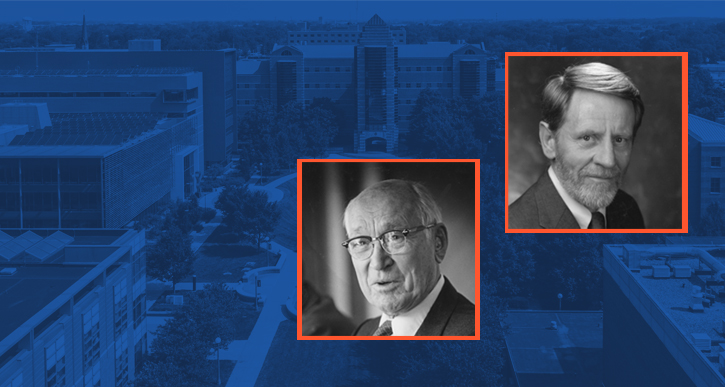 October 2022 lecture: Fei-Fei Li
Fei-Fei Li, the Sequoia Professor of Computer Science at Stanford University and Denning Co-Director of the Stanford Institute for Human-Centered AI, gave the Beckman-Brown Lecture on Oct. 6, 2022.
Her talk was titled, "From Seeing to Doing: Understanding and Interacting with the Real World."
Find the recording and other recorded Beckman-Brown lectures below.
Recordings of Beckman-Brown lectures
Previous Beckman-Brown Lectures
2021
"Blueprint: The Evolutionary Origins of a Good Society," Nicholas A. Christakis, the Sterling Professor of Social and Natural Science at Yale University (Oct. 6, 2021).
2020
Unfortunately, the 2020 lecture was canceled because of the COVID-19 pandemic.
2019
"Cognitive Reserve: An Evolving Concept," Yaakov Stern, professor of neuropsychology at Columbia University (Oct. 3, 2019)
2018
"Predictions: Understanding Global Warming," Dr. Michael Mann, director of the Penn State Earth System Science Center (Oct. 15, 2018)
2017
"Surface Glycans as Cellular IDs," Dr. Laura Kiessling, Department of Chemistry, MIT (Nov. 3, 2017)
2016
"Enzymes by Evolution: Expanding the Scope of Biocatalysis," Dr. Frances Arnold, Dick and Barbara Dickinson Professor of Chemical Engineering, Bioengineering and Biochemistry and director of the Donna and Benjamin M. Rosen Bioengineering Center at California Institute of Technology (Sept. 19, 2016)