SmithGroup Lecture Series
2021 SmithGroup lecture explores creating an inclusive workplace culture
"Strategies for Creating an Inclusive Workplace Culture"
Friday, April 9, 2021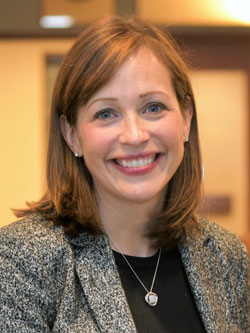 Jaclyn Jensen
Jaclyn Jensen, associate dean of student success in the Driehaus College of Business at DePaul University, spoke about "Strategies for Creating an Inclusive Workplace Culture" as part of the Beckman Institute's annual SmithGroup lecture series.

Creating an environment where employees feel valued, welcome, and able to perform at their best is the goal for most modern organizations. This lecture will discuss the building blocks needed to create cultures that drive excellence, inclusion, and engagement, and invite participants' self-awareness and self-assessment of diversity, privilege, stereotypes, and biases in the workplace. Participants will explore the connection between diversity and inclusion, and examine practical strategies for interrupting bias and helping create an inclusive culture where all employees can thrive.

Jensen's research interests focus on the impact of harassment and incivility on employee performance and well-being. Her research has been published in several top academic journals including Journal of Applied Psychology, Journal of Management, and Organizational Behavior and Human Decision Processes, and her work has been featured in Harvard Business Review, Business News Network, and the Chicago Tribune.

She teaches courses on human resource management and organizational behavior and was the winner of the 2016 DePaul University Quality of Instruction Council Excellence in Teaching Award. She is also a member of the editorial boards of Journal of Organizational Behavior and the Journal of Business and Psychology.

In addition to her scholarship and teaching, Jensen consults on applied projects related to diversity training and improving workplace culture

She earned her bachelor's degree in psychology from the Ohio State University, and her master's and doctoral degrees in industrial/organizational psychology from Michigan State University.
The architectural firm SmithGroup supports this lecture series at the Beckman Institute. Formerly Smith, Hinchman, and Grylls Associates of Detroit, SmithGroup designed the Beckman Institute. The firm was particularly proud of this project and presented a modest endowment to support a lecture series in its name. The gift was given in honor of the founding director of the Institute, Theodore L. Brown.

Previous SmithGroup Lectures
Albert-László Barabási (April 2019)
Center of Complex Networks Research, Northeastern University; Division of Network Medicine, Harvard University; and the Department of Network and Data Sciences at Central European University.
Sandra Tsing Loh (April 2018)
Host of the syndicated daily radio science minute and NPR podcast "The Loh Down on Science" and adjunct associate professor in drama and science communication at University of California, Irvine.
L. Mahadevan (April 2017)
England de Valpine Professor of Applied Mathematics, professor of organismic and evolutionary biology, professor of physics, Harvard University
Michael Posner (April 2016 )
Professor emeritus, Department of Psychology, University of Oregon
Chad Mirkin (October 2014)
George B. Rathmann Professor of Chemistry and Director, International Institute for Nanotechnology, Northwestern University
Victor Regnier (April 2013)
Professor of architecture and gerontology at the University of Southern California
Jeff Hawkins (November 2010 )
Founder, Numenta, Inc.
Felice Frankel (September 2008 )
Senior Research Fellows, Harvard
Helen Neville (October 2007 )
Psychology/Neuroscience, Oregon
James Carey (April 2006)
Entomology, University of California-Davis
Douglas Noll (October 2003)
Biomedical Engineering, Michigan
Lawrence Rabiner (October 2001)
Vice President AT&T Labs
George Whitesides (March 1999)
Chemistry, Harvard
Norman Allinger (March 1995)
Chemistry, Georgia
Inaugural speaker: James Watson (October 1992)
Cold Spring Harbor Laboratory