Published on
Aug. 27, 2019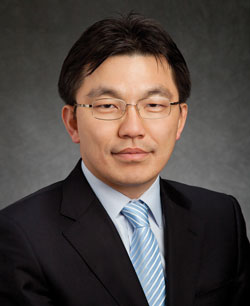 Hyunjoon Kong, a professor of chemical and biomolecular engineering, will be the first fall speaker in the Beckman Institute's Director's Seminar series. Kong will discuss "Biological Applications of Engineered Active Matters" at noon, Thursday, Sept. 5, in Room 1005 Beckman. Lunch is provided.
"Biological Applications of Engineered Active Matters"
Active matters capable of converting chemical energy to mechanical energy present unique features such as self-locomotion and self-manipulation. These matters can discover new physics rules and also have potentials to overcome various technical hurdles in biological applications including anti-fouling and molecular/cell therapies. The Kong group has been working on assembling active matters that modulate molecular transport across biophysical barriers. This talk will highlight some of applications recently demonstrated. These applications include self-propelling microbubblers that can remove bacterial biofilm in confined spaces and colloidal pumps that can discharge molecular cargos in response to an external stimulus.
Speaker Biography
Hyunjoon "Joon" Kong is a professor in the Department of Chemical and Biomolecular Engineering, Carle Illinois College of Medicine, and the Department of Pathobiology at the University of Illinois at Urbana-Champaign. He also is affiliated with the Beckman Institute, the Department of Bioengineering, the Center for Biophysics and Quantitative Biology, and the Neuroscience Program. He received his engineering education from the University of Michigan at Ann Arbor (Ph.D.) and performed postdoctoral research at the University of Michigan and Harvard University. He joined the University of Illinois in 2007. During his academic career, he received the Scientist Development Grant from the American Heart Association, the Career Award from NSF, Center for Advanced Study Fellowship, Engineering Dean's Award for Research Excellence (University of Illinois), Centennial Scholar, and Promotion Award. He was elected an American Institute of Medical and Biological Engineering (AIMBE) Fellow. He has published 150 papers in various peer-reviewed journals.