Published on
July 13, 2018
Bryan Holderfield has been an important part of the Beckman Institute's facilities team since the summer of 1989, the year the institute opened. An electrician with Facilities and Services, Holderfield retired June 30 after serving all but a few months of his 29 years exclusively at Beckman.
"I've enjoyed every aspect of working at Beckman," Holderfield said. "I felt like I was appreciated, and I have always had a lot of freedom to do what needed to get done."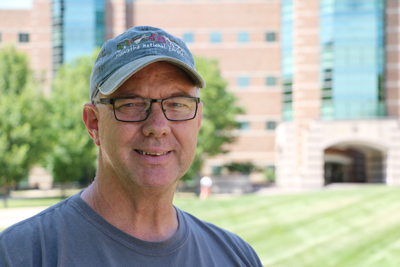 He has many stories—not surprising since he has served Beckman during the tenure of six directors. He remembers the iron gates being opened to drive Arnold Beckman directly to the south doors under the tower, and recalls watching Arnold play on a baby grand piano in the Beckman atrium in honor of Beckman's 99th birthday and the institute's 10th anniversary.
When Holderfield began working at Beckman, research groups and individuals were still moving in to labs and offices—many with special electrical needs for their equipment.
As the only on-site electrician, he has kept busy. Holderfield maintained regular maintenance schedules, but with the building's changing needs, there were always a lot of special projects, such as assisting with the installation of a new electron microscope in the Microscopy Suite or an MRI magnet in the Biomedical Imaging Center.
"I just kept the building going," Holderfield said a few days before he retired. "I keep the supply fans running so the cooling works; change lights; and assist with remodels in labs where their electrical needs might change."
"Bryan has been involved with every aspect of the Beckman electrical system and with his mechanical aptitude, has been a great resource of knowledge in many other areas as well," said Rob Fritz, director of facilities and planning at Beckman. "He has been a dedicated employee and was always willing to drop everything whenever Beckman was in need, day or night."
Advances in technology also have affected his job. "Everything is more electronically controlled now," Holderfield said. "And the last couple years, we've been putting in LED lighting and upgrading as we go. That's where the building is headed, so it just makes sense." He references other improvements coming such as changing the thermostats to electronic controls that will be monitored through computers, and the eventual total switch to LED lighting and security card readers for access to all areas of the building.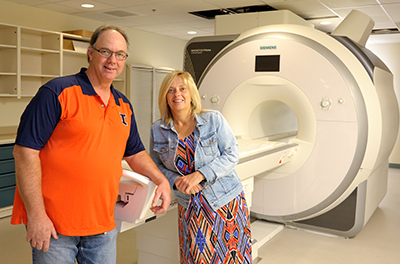 Holderfield felt strongly about staying and serving the Beckman community, which included working with his colleagues in facilities.
"They are really a wonderful group of guys to work with," Holderfield said. "They do their thing and you do yours, but if we have a flood or something, everyone pitches in. We're a team, but also a family. Whereas the other buildings have people come and go, we are based here."
Holderfield—who comes from a family of electricians, including his father and brother—also made contributions to his field in other ways. He was a fiber optics instructor for continuing education at the local electrician's union, #601 IBEW, until the curriculum became part of the apprenticeship program. He also served the local union for 27 years in leadership positions as an officer of the group, and served on an advisory board at Parkland College to consult on course content for the college's electronics degree, to ensure the students were learning what was needed to get work in the field.
His wife, Gayle, won't retire for a few years, but Holderfield doesn't really relax in his down time. Retirement will instead provide time to devote to the myriad projects already underway and others in the planning stages.
He manages several rental properties in Mahomet, where he does all the maintenance (except roofing), and he owns a storage facility in Mansfield, where clients can park boats, motor homes, and campers. He also plans to open a machine shop to grind crank shafts and do motor work.
His daughters—Samantha, 26, and Lauren, 22—are working toward careers in the health care field. Samantha plans to become a physician's assistant; and Lauren wants to be a registered nurse.