Published on
April 15, 2008
Magnetic Resonance Imaging (MRI) pioneers and researchers from across the country gathered in March at the Beckman Institute to honor the late Nobel Laureate Paul C. Lauterbur.
ThePaul C. Lauterbur Memorial Symposium brought together nationally-known experts for discussions of historical developments, current status, and future directions in a field that Lauterbur initiated.
The symposium featured four plenary sessions of invited talks and two keynote lectures by leading MRI researchers, as well as two special sessions of talks by some of Lauterbur's former collaborators and students, and a social program honoring his life and achievements.
Lauterbur and Sir Peter Mansfield won the Nobel Prize for Physiology or Medicine in 2003 for their "seminal discoveries concerning the use of magnetic resonance to visualize different structures. These discoveries have led to the development of modern magnetic resonance imaging, MRI, which represents a breakthrough in medical diagnostics and research."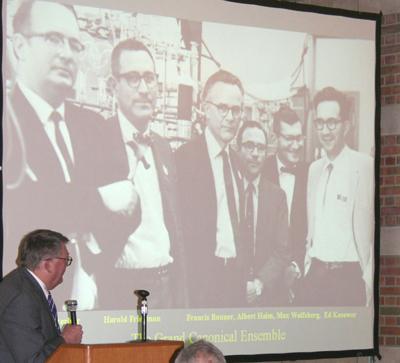 Charles Springer of the Oregon Health and Science University gave a keynote speech "Lauterburian Wit and Wisdom" at the symposium banquet on March 27, 2008.
Lauterbur founded what is now called the Beckman Institute Biomedical Imaging Center (BIC) on campus. BIC Director Art Kramer and fellow Beckman researcher Brad Sutton were on the organizing committee while Beckman Institute Associate Director Van Anderson was a co-chair of the event.
Anderson said it was exciting for Beckman to play host to the Paul C. Lauterbur Memorial Symposium and said the program featured top researchers who provided a glimpse of the history of magnetic resonance imaging and spectroscopy, as well as the state-of-the-art research and the emerging technologies in the field.
Zhi-Pei Liang, a faculty member at Beckman and in the Department of Electrical and Computer Engineering at Illinois, was also a co-chair. Liang was a post-doctoral student under Lauterbur before becoming his colleague on the faculty at Illinois.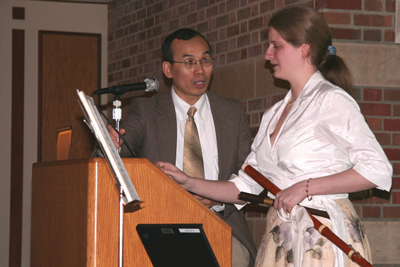 "I worked with Paul for 17 years. He was not only a great scientist but also a very humble, gracious, and caring person," Liang said.
Liang said that Lauterbur, who died in March of 2007, inspired many fellow scientists and students over the years.
"Paul's life and career have been a great source of inspiration for so many people, so having the symposium here not only paid tribute to him but also educated a new generation of students and junior researchers," Liang said. "Paul is one of the greatest scientists of the 20th Century. Being a faculty member here, he brought tremendous visibility to the campus."
The symposium was sponsored by the Office of the Chancellor, Office of the Provost, Office of the Vice Chancellor for Research, Beckman Institute, Department of Bioengineering, Department of Chemistry, Department of Electrical and Computer Engineering, College of Medicine, and the Olga G. Nalbandov Fund.