Conference room capacities and rates
Beginning Aug. 16, Beckman will allow the reservation of previously restricted spaces. Based on CDC guidance, faculty, staff, and students are required to wear a face covering or practice social distancing in university spaces.
Each room will contain cleaning solution. Please wipe down the tables before and after your use of the room.
(Room 5269)
Location: South end of the fifth floor
Dimensions: 38 x 38 feet
Cost: $350
Room arrangements:

Classroom, seats 42
U-shape, seats 21
Square, seats 24
Equipment:
No screen, projector, or lectern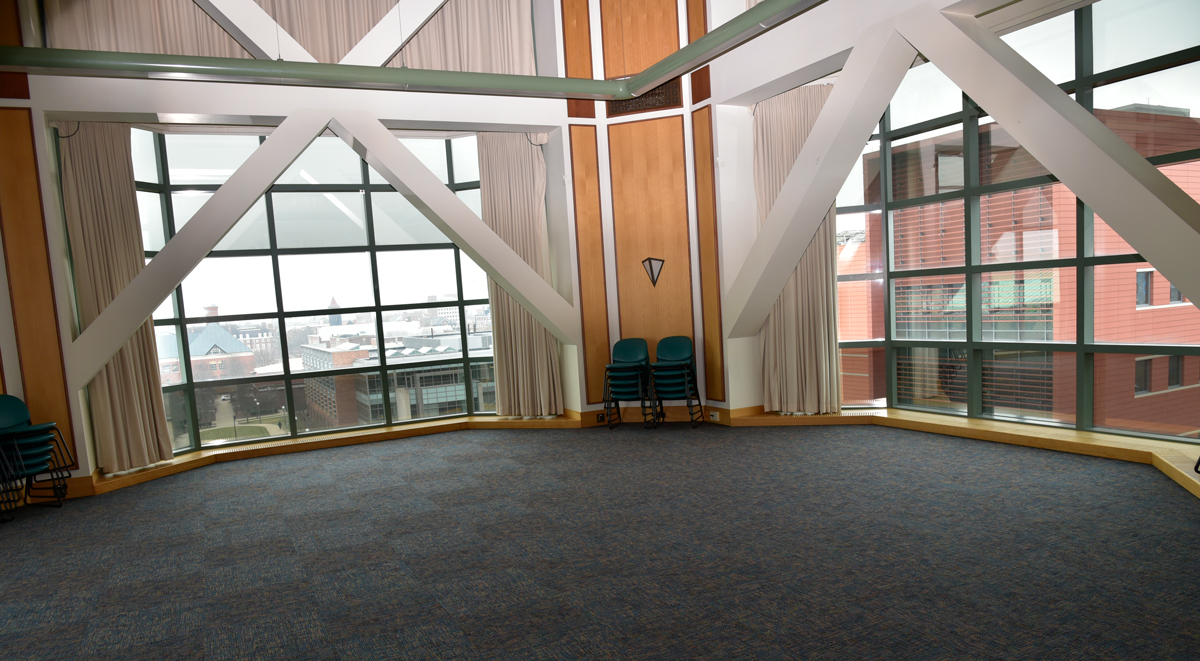 Second-, third-, and fourth-floor tower rooms
(Rooms 2269, 3269, and 4269)
Location: South end of the second, third, and fourth floor
Dimensions: 38x38 feet
Cost: $150
Room arrangements:
Second floor: Theater-style only, seats 40 to promote safe social distancing
Third floor: Classroom only, seats 42 (shown at right)
Fourth floor: U-shape (seats 24) with wings (seats 12)
Equipment:
LCD projectors
HDMI connector
ADA-compliant lectern with Windows computer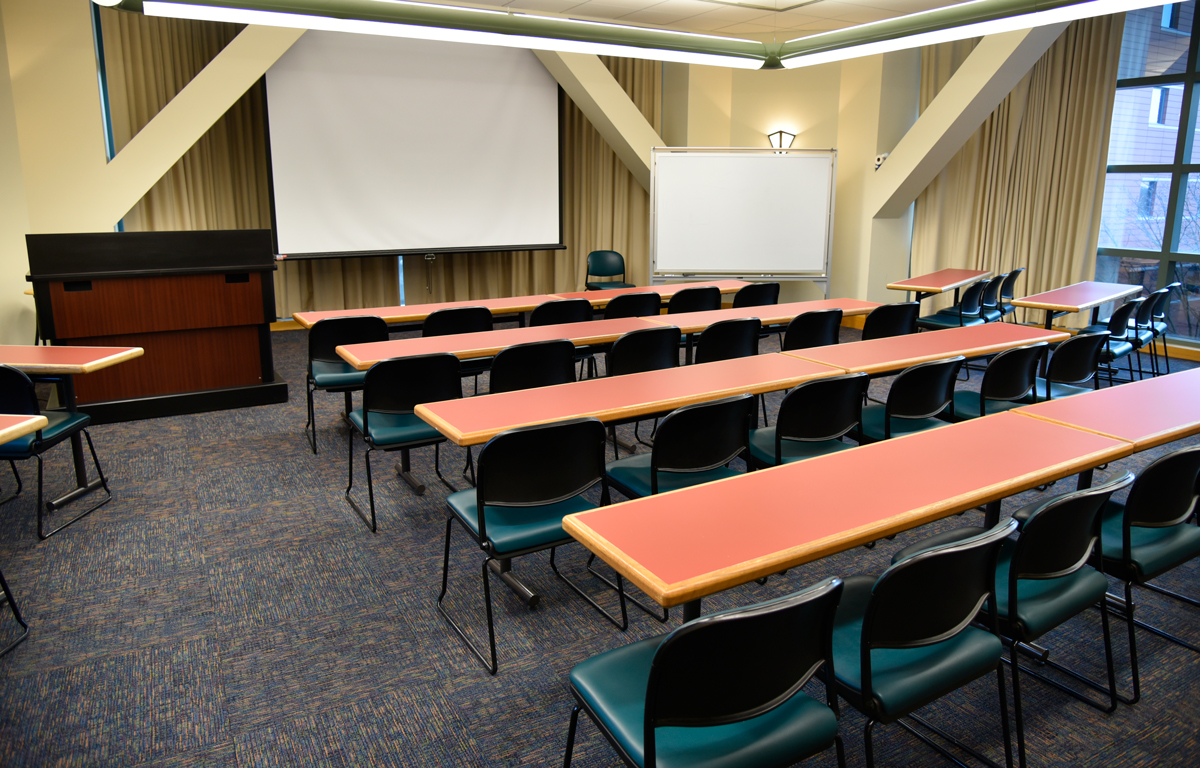 Location: North end of fifth floor
Dimensions: 30 x 55 feet
Cost: $350
Room arrangements:
U-shape conference style, seats 36
Solid conference style, seats 36
Equipment:
Single speaker, single wireless-lapel-microphone sound system
LCD projector
ADA-compliant lectern with Windows computer
Built-in coat rack
Location: West end of first floor
Dimensions: 30 x 60 feet
Cost: $300
Room arrangement:
Dining or conference rounds, seats 80
Classroom, seats 60
Theater style, seats 100
U-Shape conference style, seats 36
Reception area allows 125
Equipment:
Projection screen at the east end
LCD projector is ceiling mounted, with a video connector for connection to a presenter's computer
Audio from the presenter's computer or from a lapel microphone can be sent to the ceiling-mounted speakers located throughout the room
Connected to video and audio signal in auditorium, making it the auditorium overflow room.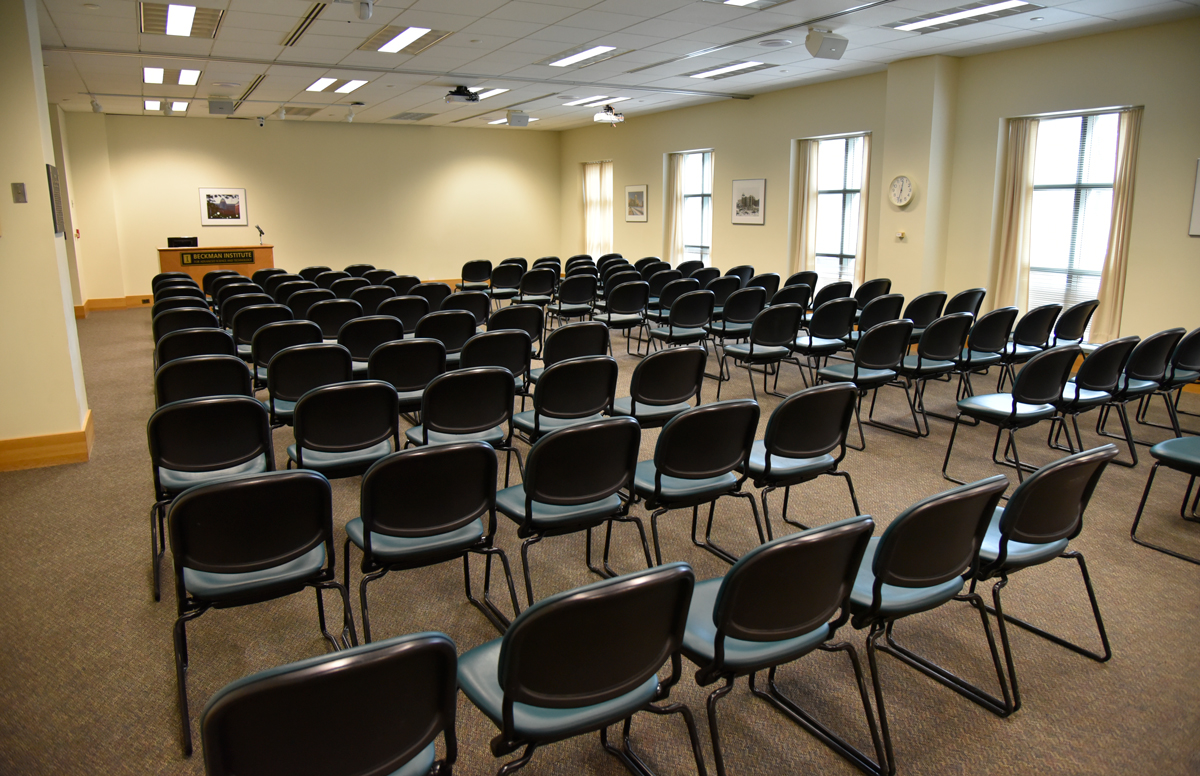 Multimedia Technology Room
(Room 1227)
Location: South end of the first floor
Dimensions: 25 x 27 feet
Cost: $50/hour
Room arrangement:
Herringbone style, seats 20
U-shape, seats 21
Equipment:
State-of-the-art presentation facility for meetings that require advanced videoconferencing or high resolution multi-video-display presentations
Perfect for meetings requiring high-end technology not available elsewhere
Two 60-inch plasma displays
HD projector
Polycom HDX offering single and multiple site connectivity using EagleEye intelligent, auto-zooming cameras for a fully automated system
Ability to share digital content with remote sites or incorporate live video in presentations
Speaker's lectern has a built-in Windows computer, which can be used for presentations or allows for the connection of one or more laptops, and provides touch panel control of room facilities
(Room 1025)
Location: West end of first floor
Dimensions: Seating: 50 x 50 feet; stage: 14 x 34 feet
Cost: $400/two hours; $125 for each additional hour
Room arrangement:
Theater style, seats 230
Food and beverages are NOT allowed in this room
Equipment:
For major lectures and colloquia and as a site of plenary sessions for conferences and workshops
Large meeting room (1005) adjacent to the auditorium to host overflow; connected to the audio and video display systems of the auditorium
HD, ultra-powerful projector is located in a projection room to the rear of the auditorium.
Connectors are provided on the stage to connect to laptops for a variety of needs.
Audio console capable of accepting 24 audio inputs and a control room monitoring output
Eight wireless microphones, including two handhelds and 6 lavalier microphones. They function anywhere in the auditorium, allowing audience participation.
Lectern includes dual wired microphones.
Four corner-mounted powered speakers
An event that requires recording, uses multiple cameras, or includes streaming should contact an A/V specialist such as the Center for Innovation in Teaching and Learning, which has worked at Beckman frequently. Note that CITL charges fees for its services
Location: West end of the first floor
Cost: $50
Room arrangement
Solid conference style, seats 12
Equipment: Has a screen but no projector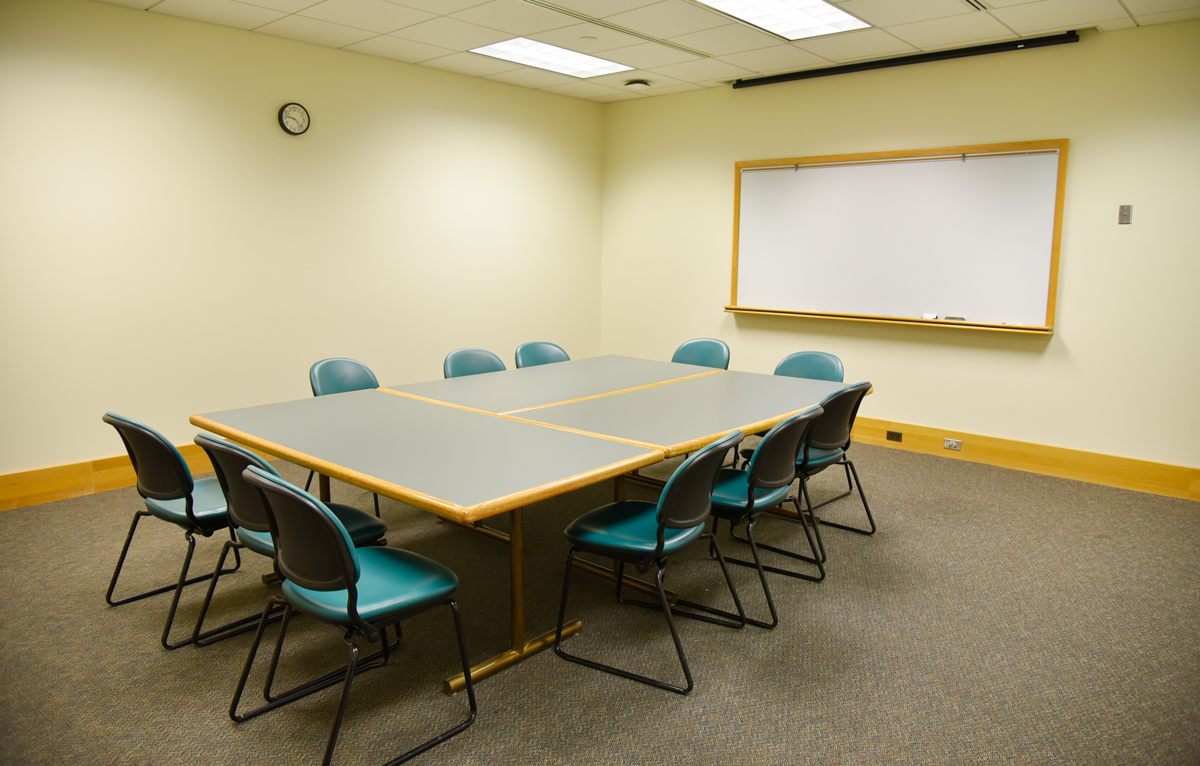 This room is not available to be booked through August 2021 because of the COVID-19 pandemic.
Location: Just inside the east and tower entrances on the first floor
Cost: $500
Room arrangement
Stand-up reception, 200
Allows 12 rounds for dining, seats 96
Theater-style, seats 100
Equipment: No screen or projector available.