Engineering Alumnus Donates Two Paintings to Beckman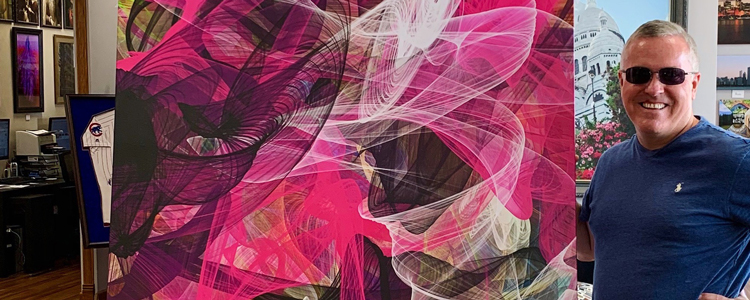 A generous donation from John P. O'Donnell, an engineering alumnus, recently added two large paintings to the Beckman Institute's collection.
Art has always been an important part of the physical space of the Beckman Institute. A generous donation from an engineering alumnus, who paints as a hobby, recently added two large paintings to the institute's collection. The bold pieces now hang in the northeast hallway of the second floor.
John P. O'Donnell, who earned his bachelor's degree in mechanical science and engineering in 1993, donated the pieces to Beckman because he believes "in Beckman's mission and the technical advancements that the Beckman Institute can bring to reality." He also feels a personal connection because he "spent a lot of time studying at Beckman."
O'Donnell is a customer success manager for Okta, an identity management company, in Frankfort, Illinois. "Art is just my hobby and I have gravitated to it more as I've aged, which is kind of crazy," he said.
"Being an engineer from the Urbana campus has been a blessing, but I think even slight abstraction escapades from technical research is needed," O'Donnell said. "Most of my art is related to surfaces, fluids and color field. I discovered painting as a way to release interests in nature, music, and mathematics.
The pieces — which are mixed media: acrylic and ink on canvas and measure 62" X 44" — are stand-alone pieces inspired by nature and abstract impressionism and called "7 Flowers" and "Amorphous." He sometimes uses software to develop his images before using brush and pen to put them on the canvas.
O'Donnell doesn't plan a career change, but he will soon have his art featured in an art exhibition for the first time. About 10 of his paintings will be displayed at the Allegro Hotel in downtown Chicago, November 2019 through January 2020.
The donation adds to a longstanding commitment to art at Beckman. Before the institute opened, a committee of faculty members worked with the School of Art and Design to purchase various paintings and prints, mainly from faculty artists. At that time, the committee also purchased three large sculptures and later purchased (mainly prints) from Chicago galleries.