Science Policy Group Benefits From Beckman Partnership
Support from the Beckman Institute for Advanced Science and Technology has helped the Science Policy Group, a nonpartisan student organization at Illinois, connect with the National Science Policy Network and significantly grow its membership.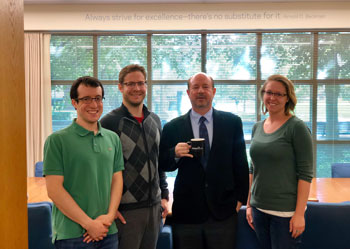 The Science Police Group (SPG) at Illinois has benefited from a partnership with the Beckman Institute for Advanced Science and Technology. The institute's support has helped the nonpartisan student organization connect with the National Science Policy Network and significantly grow its membership.
Established in 2017, the student organization aims to help STEM students — those studying science, technology, engineering, and math —to learn about science policy, get hands-on experience, and network with the larger science policy community.
SPG has held 10 public events during 2018-2019. Four of these events were at the Beckman Institute, which also served as a co-sponsor.
The group has three main arms: the inform committee, which talks about science policy issues; the professional development committee, which aims to equip students with the skills they need to be successful; and the advocacy committee where members advocate for evidence-based policy that is informed by science including basic research funding, environmental policy, and agricultural policy .
"Beckman seems to be interested in organizations that are related to science but not necessarily doing scientific research," said Tony Griffin, a graduate student in materials science and engineering and the former SPG partnerships chair. "I approached Jeff Moore, the director of Beckman, and Patty Jones, the associate director for research, along with some members of our board. We discussed the ways SPG can partner with the Beckman Institute and as a result we've co-hosted many events."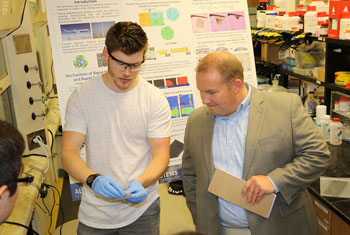 "All of our committees have worked hand-in-hand with Beckman," said Elizabeth Haywood, a microbiology graduate student and the former head of the professional development committee. "The state-of-the-art labs at Beckman are a big draw. When we invited Sen. Scott Bennett, he toured the facility and went to different labs before his lecture."
"Beckman has always been willing to partner with us and support us financially," Griffin added. "A key component of the SPG-Beckman partnership is that we bring high quality content. We have brought in politicians, a congressional candidate, climate-change experts from across the campus, and policy experts."
The SPG also has helped build an interest in science policy careers among students. "I plan on looking into science policy as a career path because I think that my expertise in theoretical biophysics will help politicians battle with complex issues such as advanced biotechnology legislation," said Jordan Sickle, a graduate student in the Center for Biophysics and Quantitative Biology and the president of the SPG.
"Although I am not interested in a career in science policy, I am really excited to bring all of what I've learned through the SPG to my students at a small liberal arts college," Haywood said. "I think science policy is the perfect way to bridge social justice and being a good citizen with a general science curriculum."
The Science Policy Group looks forward to continuing its partnership with the Beckman Institute by continuing to host events that bring the community at-large together with policy makers and researchers. Community members interested in Science Policy Group events can sign up for their monthly newsletter online.