Beckman Institute to get Energy Upgrades in Next Phase of Campus ESCO Project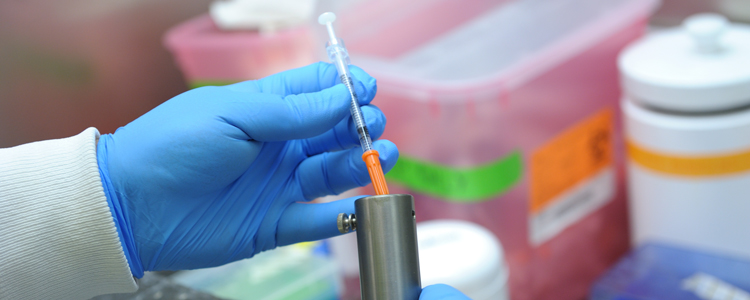 The Beckman Institute is part of the next ESCO project at the University of Illinois, which will focus on lab upgrades.
The Beckman Institute is part of the next ESCO project at the University of Illinois. The project will upgrade laboratory facilities during this phase with three goals: reduce utility consumption, reduce deferred maintenance, and have the savings payback be less than 20 years. In addition to the lab upgrades, LED lighting will be installed in the Beckman atrium.
Representatives of Schneider Electric presented details of the project at a meeting at Beckman on Nov. 13, 2018. If you were unable to attend, members of the Beckman community may access a PDF of the PowerPoint presentation, or view a video of the presentation.
Frequently Asked Questions (FAQs)
What is an ESCO?
ESCO stands for an energy service company. Usually these companies finance utility upgrades with the long-term energy savings the project is expected to generate. The savings are guaranteed by the energy company.
What is Energy Performance Contracting (EPC)?
An EPC is the contract between the energy consumer and the ESCO. It involves a specific project and the company provides a performance guarantee to deliver a specific amount of long-term utility savings. The risk is transferred to the ESCO and the savings are used to pay project costs.
How many ESCO projects have been completed on campus?
Four ESCO projects have been completed on the University of Illinois' Urbana campus since the RFP phase of Project No. 1 began in 2009. The completed projects include: College of Veterinary Medicine, Oak Street chiller plant, College of Engineering (five buildings), and Abbott Power Plant.
Have the completed projects been considered successful?
Yes. The annual dollar reduction has been about $5 million, with to-date savings at around $18 million. In addition, the projects have reduced a backlog of deferred maintenance by about $40 million.
Which facilities are part of the next project phase, Project 5?
The next phase will upgrade laboratory facilities, including the Beckman Institute, Chemical and Life Sciences Lab, Forbes Natural History Building, Illinois Sustainable Technology Center, Natural Resources Studies Annex, and Roger Adams Lab.
Can you tell me more about the company that will complete the work?
Schneider Electric is a global specialist in energy management. It has completed $423 million in ESCO projects for higher education clients, including Penn State and Purdue. They have more than $400 million in guaranteed savings in their portfolio, with more than $167 million in savings achieved to date.
What kind of savings will Beckman achieve?
It is projected that the Beckman Institute alone will achieve $500,000 in annual savings, by achieving a 32.1 percent energy use reduction. It also will benefit from the reduction of $5 million in deferred maintenance backlog. The cost of the operation is about $4.74 per square foot.
How much will the project cost and who is paying for it?
The several million dollars to fund the ESCO upgrades to Beckman Institute come from various campus sources. The campus recovers these funds in energy savings over 10-20 years.
When will the project take place and how will it disrupt operations at Beckman?
The project is estimated to begin in April 2019. Schneider plans to communicate plans three months ahead, so units can be prepared for any displacement that may occur. Most of the work will be in wet labs and they plan to target six to eight labs at a time, if possible, with the project taking four to five weeks in each lab (including moving chemicals and furniture, installing protective measures for sensitive equipment, and moving back in). In order to reduce disruption, some labs may share space during installation. Electrical and mechanical shutdowns will be coordinated with each unit.
What specifically will be done at Beckman?
Plans for the labs (with or adjacent to labs with chemical fume hoods) include new controls on equipment, expanded exhaust systems, variable air volume (VAV) conversion of pneumatic lab spaces with lab grade air valves (improved pressurization, temperature, and humidity control), VAV conversion of fume exhaust system with new duct to basement (provides improved flexibility for expansion), heat recovery chiller plant for reheat hot water, occupancy sensors will be installed in tower rooms, auditorium and large conference rooms for better HVAC control, and LED lighting will be installed in the atrium.
How will we know what the status of the project is?
Schneider Electric will have a website for project updates. As soon as it is set up, we will post a link to it on this page. Your lab will be contacted directly in advance of the scheduled work in your area. Also watch Beckman's social media accounts for photos of ongoing projects.
All questions and concerns should be sent to the Beckman Facilities team: operations@beckman.illinois.edu