3D Scanner and Printer Enable Better Wheelchair Racing Gloves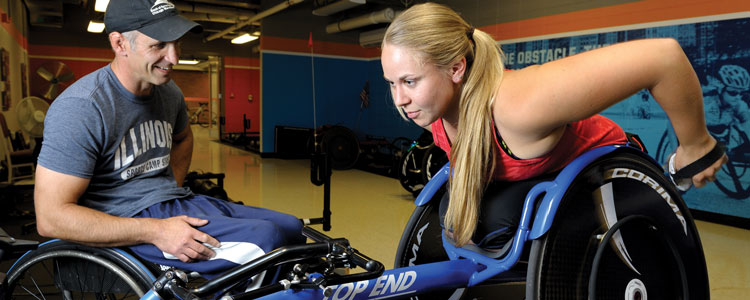 The 3D scanner in Beckman's Visualization Laboratory is helping create new racing gloves for the Illinois wheelchair track team.
Arielle Rausin, an undergraduate student in the College of Business, toured the Visualization Laboratory (Vis Lab) at the Beckman Institute as part of a class that encouraged students to create objects with a 3D printer at the Illinois Maker Lab. 
During her training as a member of the Illinois wheelchair track team, she realized that her project for the class could help her with her sport. Athletes use custom racing gloves that help them rotate the wheels of the specialized racing chairs. These gloves come at a price: Rausin's first gloves were $350, took nearly 12 hours to make, and involved melting plastic and then molding them to custom-fit her hands. 
"I thought, 'Wouldn't it be cool if I could replicate these gloves without having to go through this long and expensive process?' " said Rausin, who is currently training to qualify for the 2016 Summer Olympics in Rio. 
With the help of the 3D scanner in the Vis Lab, Rausin created 3D-printed custom wheelchair racing gloves that are lighter, cheaper, and take less time to make than the standard racing gloves. 
People work on perfecting their stroke for years, so having a good glove really matters. A lighter glove might also help with repeated motion injuries that many wheelchair racers get. - Arielle Rausin
"I took one of my gloves, scanned it using the 3D scanner at the Vis Lab to make a digital file of it, and then used a MakerBot 3D printer to replicate it," said Rausin. 
With the scanned digital file of the glove, Rausin is able to make unlimited copies for $4 per glove. Even better, she says, is that the material used in the printing and the way the glove is printed can improve an athlete's performance. 
"One of the best things about the material is that it's lightweight—over 100 grams less than the other plastic used in standard gloves," said Rausin. "That's really important because when we're climbing hills or doing normal strokes, it's much easier to push with lighter gloves and puts less strain on our muscles." 
The 3D printer uses a honeycomb structure that makes the glove light and durable. 
"The honeycomb structure gives it support while allowing for minimal weight and minimal material cost," said Travis Ross, manager of the Vis Lab. "The array of hollow cells formed between thin vertical walls gives inner strength." 
To use the gloves, racers look at the wheel like a clock. They make contact with a metal ring on the wheel that fits into a groove in the glove at 1 o 'clock, drive to 4 o 'clock, and when they reach 5 or 6 o 'clock, they flick their wrists to send the peg back up to 1 o 'clock and repeat the cycle. Competitive racers can do this motion about two times a second.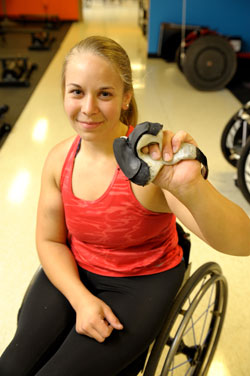 "People work on perfecting their stroke for years, so having a good glove really matters. A lighter glove might also help with repeated motion injuries that many wheelchair racers get," said Rausin. "My teammates were skeptical—they thought the lighter weight would be breakable. So they threw it on the wall of the gym and some of the bigger guys were trying to break it in half. They couldn't." 
Rausin and Ross are working with Deana McDonagh, industrial design professor and Beckman faculty member in the Human Perception and Performance Group, to advance the process even further. Instead of scanning an existing glove, the team hopes to design a process that could scan someone's hand and make a glove based on their exact hand structure. This would eliminate the need to scan an expensive, custom glove. 
"The sport is growing," said Rausin. "If it was easy to make and produce these gloves, it might be one less barrier people have to enter into wheelchair racing."
This article is part of the Fall 2015 Synergy Issue, a publication of the Communications Office of the Beckman Institute.