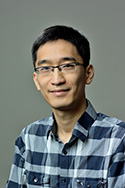 Status Full-time Faculty
Home Department of Bioengineering
Phone 300-3713
Email fanlam1@illinois.edu
Address 4061 Beckman Institute, 405 North Mathews Avenue
Biography

Fan Lam is an assistant professor in the Department of Bioengineering and is and affiliated with Carl R. Woese Institute for Genomic Biology as the personalized nutrition initiative. His primary research area is bioimaging at multi-scale.

Education

B.S., biomedical engineering, Tsinghua University, 2008
M.S., Electrical and Computer Engineering, University of Illinois at Urbana-Champaign, 2011
Ph.D., electrical and computer engineering, University of Illinois at Urbana-Champaign, 2011 and 2015

Honors

2021: IEEE Senior Membership

2020: Trailblazer Award, National Institute of Biomedical Imaging and Bioengineering (NIBIB, NIH)

2020: National Science Foundation CAREER Award

2019: List of Teachers Ranked As Excellent by Students

2019-present: IEEE

Transactions on Medical Imaging

Editorial Board, Associate Editor

2017: Junior Fellow, International Society of Magnetic Resonance in Medicine

Research

Research areas:

Biomedical imaging

Bioinformatics

Biomedical imaging

Image reconstruction

Molecular imaging

MRI

Signal processing

Professor Lam's research program focuses on developing and translating new imaging technologies to visualize biological processes in the brain at a level beyond anatomy and neuronal activation, particularly, the molecular and chemical underpinnings of brain function and diseases.
2021

Li, Y, Wang, Z, Sun, R & Lam, F 2021, 'Separation of Metabolites and Macromolecules for Short-TE 1H-MRSI Using Learned Component-Specific Representations', IEEE Transactions on Medical Imaging. DOI: 10.1109/TMI.2020.3048933

2020

Lam, F & Sutton, BP 2020, 'Intravoxel B0 inhomogeneity corrected reconstruction using a low-rank encoding operator', Magnetic Resonance in Medicine, vol. 84, no. 2, pp. 885-894. DOI: 10.1002/mrm.28182
Lam, F, Li, Y & Peng, X 2020, 'Constrained Magnetic Resonance Spectroscopic Imaging by Learning Nonlinear Low-Dimensional Models', IEEE Transactions on Medical Imaging, vol. 39, no. 3, 8770102, pp. 545-555. DOI: 10.1109/TMI.2019.2930586
Lam, F, Li, Y, Guo, R, Clifford, B & Liang, ZP 2020, 'Ultrafast magnetic resonance spectroscopic imaging using SPICE with learned subspaces', Magnetic Resonance in Medicine, vol. 83, no. 2, pp. 377-390. DOI: 10.1002/mrm.27980

2018

Lam, F, Li, Y, Clifford, B & Liang, Z-P 2018, 'Macromolecule mapping of the brain using ultrashort-TE acquisition and reference-based metabolite removal', Magnetic Resonance in Medicine, vol. 79, no. 5, pp. 2460-2469. DOI: 10.1002/mrm.26896

2017

Li, Y, Lam, F, Clifford, B & Liang, ZP 2017, 'A subspace approach to spectral quantification for MR spectroscopic imaging', IEEE Transactions on Biomedical Engineering, vol. 64, no. 10, 8013142, pp. 2486-2489. DOI: 10.1109/TBME.2017.2741922