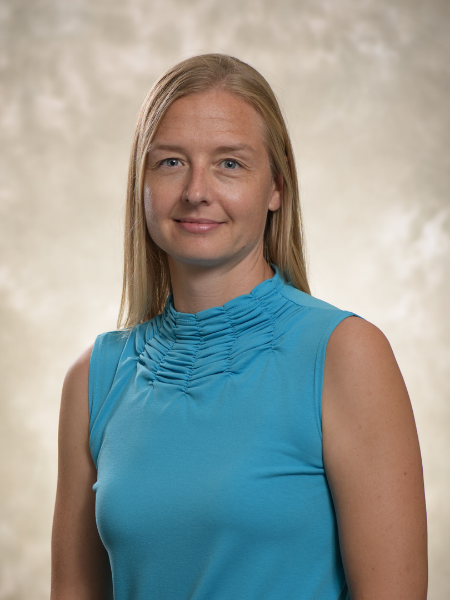 Status Affiliate Faculty
Home Department of Biochemistry
Email bethms@illinois.edu
Address 2734 Beckman Institute, 405 North Mathews Avenue
Biography

Beth Stadtmueller is an assistant professor in the Department of Biochemistry. She is affiliated with Theoretical and Computational Biophysics and BIC - Surface Plasmon Resonance. Professor Stadtmueller is also an assistant professor for Carle Illinois College of Medicine, Beckman Institute for Advanced Science and Technology, and Carl R. Woese Institute for Genomic Biology. Beth grew up on a farm where she was encouraged to explore, question and to spend a lot of time outdoors – that fostered a deep interest in biology. Since then, she has had the great privilege of many inspirational mentors - family members, teachers, scientists, musicians and even athletic coaches - who all played some part in encouraging the curiosity, motivation and determination needed for her to become an academic scientist. At some point, Beth came to realize just how impactful all those teachers and mentors were and thus, how powerful education can be; that led her to commit to an academic career. In the lab she is first and foremost a structural biologist and she loves to teach people how to think about protein structure. In the classroom, Beth teaches Immunology and she thinks her background in structural biology provides some unique perspective on the topic. She teaches MCB 408 Immunology and she also teaches immunology topics in the Carle Illinois College of Medicine.

Education

B.S., University of Wisconsin, Madison, 2003

Ph.D., University of Utah, 2010

Research

Research areas:

Cancer

Eukaryotic virology

Host-pathogen interactions

Immunology

Infectious diseases

Microbial communities/microbiome

Molecular evolution

Protein biochemistry and protein structure

Virology

Research interests:

Host-pathogen interactions

Molecular immunology

Protein dynamics

Protein structure

Virology

The Stadtmueller Lab aims to broaden understanding of immune system proteins, their interactions with microbes and the functional outcomes of those interactions. Specifically, the Stadtmueller Lab investigates the assembly, structures and functions of mucosal antibodies in order to understand how these remarkable complexes protect vertebrates from external factors (e.g. pathogens) and how they can be engineered to treat disease. To accomplish this the lab targets data detailing the structures and biophysical mechanisms of mucosal antibodies from different species as well as mucosal antibody interactions with bacterial and viral antigens and receptors. Common approaches used in the lab include but are not limited to antibody engineering, cryoelectron microscopy, X-ray crystallography, surface plasmon resonance and fluorescence microscopy. Together, Stadtmueller lab projects are expanding our understanding of host-microbe co-evolution, antibody structure-function relationships and antibody therapeutic potential. Please visit our webpage for more information.
2022

Diefenbacher, M., Tan, T. J. C., Bauer, D. L. V., Stadtmueller, B. M., Wu, N. C., & Brooke, C. B. (2022). Interactions between Influenza A Virus Nucleoprotein and Gene Segment Untranslated Regions Facilitate Selective Modulation of Viral Gene Expression. Journal of virology, 96(10). https://doi.org/10.1128/jvi.00205-22

2021

Diard, M., Bakkeren, E., Lentsch, V., Rocker, A., Bekele, N. A., Hoces, D., Aslani, S., Arnoldini, M., Böhi, F., Schumann-Moor, K., Adamcik, J., Piccoli, L., Lanzavecchia, A., Stadtmueller, B. M., Donohue, N., van der Woude, M. W., Hockenberry, A., Viollier, P. H., Falquet, L., ... Slack, E. (2021). A rationally designed oral vaccine induces immunoglobulin A in the murine gut that directs the evolution of attenuated Salmonella variants. Nature Microbiology, 6(7), 830-841. https://doi.org/10.1038/s41564-021-00911-1
Tan, T. J. C., Yuan, M., Kuzelka, K., Padron, G. C., Beal, J. R., Chen, X., Wang, Y., Rivera-Cardona, J., Zhu, X., Stadtmueller, B. M., Brooke, C. B., Wilson, I. A., & Wu, N. C. (2021). Sequence signatures of two public antibody clonotypes that bind SARS-CoV-2 receptor binding domain. Nature Communications, 12(1), [3815]. https://doi.org/10.1101/2021.01.26.428356, https://doi.org/10.1038/s41467-021-24123-7

2020

Bharathkar, S. K., Parker, B. W., Malyutin, A. G., Haloi, N., Huey-Tubman, K. E., Tajkhorshid, E., & Stadtmueller, B. M. (2020). The structures of secretory and dimeric immunoglobulin a. eLife, 9, 1-29. [e56098]. https://doi.org/10.7554/eLife.56098
Kumar Bharathkar, S.*, Parker, B. W.*, Malyutin, A. G., Haloi, N., Huey-Tubman, E. K., Tajkhorshid, E., Stadtmueller, B. M. (2020). "The structures of secretory and dimeric immunoglobulin A." Elife 9. https://elifesciences.org/articles/56098

2018

Stadtmueller B.M. , Bridges M.D., Dam K-M., Lerch M.T., Huey-Tubman K.E., Hubbell W.L., Bjorkman P.J. (2018) DEER Spectroscopy Measurements Reveal Multiple Conformations of HIV-1 SOSIP Envelopes that Show Similarities with Envelopes on Native Virions. Immunity. 2018 Jul 26. [Epub ahead of print] https://www.ncbi.nlm.nih.gov/pubmed/30076100
Stadtmueller, B. M., Bridges, M. D., Dam, K. M., Lerch, M. T., Huey-Tubman, K. E., Hubbell, W. L., & Bjorkman, P. J. (2018). DEER Spectroscopy Measurements Reveal Multiple Conformations of HIV-1 SOSIP Envelopes that Show Similarities with Envelopes on Native Virions. Immunity, 49(2), 235-246.e4. https://doi.org/10.1016/j.immuni.2018.06.017

2016

Stadtmueller, B.M. , Huey-Tubman, K.E., Lopez, C.J., Yang, Z., Hubbell, W.L., and Bjorkman, P.J. (2016). The structure and dynamics of secretory component and its interactions with polymeric immunoglobulins. eLife 5. https://www.ncbi.nlm.nih.gov/pubmed/26943617 Featured in Caltech News: https://www.caltech.edu/news/multitasking-protein-keeps-immune-system-h…
Stadtmueller, B.M. , Yang, Z., Huey-Tubman, K.E., Roberts-Mataric, H., Hubbell, W.L., and Bjorkman, P.J. (2016). Biophysical and biochemical characterization of avian secretory component provides structural insights into the evolution of the polymeric Ig receptor. J Immunol. 197(4): 1408-1414. http://www.ncbi.nlm.nih.gov/pubmed/27412418