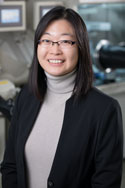 Status Part-time Faculty
Home Chemical and Biomolecular Engineering
Phone 300-3505
Email yingdiao@illinois.edu
Address 3215 Beckman Institute, 405 North Mathews Avenue
Biography

Ying Diao is an associate professor of chemical and biomolecular engineering and chemistry at the University of Illinois Urbana-Champaign. She received her B.S. in chemical engineering from Tsinghua University in 2006, and her M.S. in chemical engineering practice from the Massachussettes Institute of Technology in 2008. She received her Ph.D. in chemical engineering from MIT in 2012; her doctoral thesis was on understanding heterogeneous nucleation of pharmaceuticals by designing polymeric substrates. In her subsequent postdoctoral training in the Department of Chemical Engineering at Stanford University, which concluded in 2014, she pursued research in the thriving field of printed electronics.

Her work has been featured in scientific journals and news media such as the Science Magazine and Nature Materials.

Honors

"Rising Star" series of Advanced Materials (2021)
Soft Matter Emerging Investigator (2021)
Campus Distinguished Promotion Award (2021)
I. C. Gunsalus Scholar, College of Liberal Arts & Sciences (2021)
NASA Early Career Faculty Award (2020)
Rising Star in Materials Chemistry, Chemistry of Materials "Up-and-Coming Series" (2020)
List of Teachers Ranked as Excellent (Fall 2016, Spring 2018, Spring 2020, Fall 2020)
Emerging Investigator, Chemical Society Reviews, the Royal Society of Chemistry (2020)
Lincoln Excellence for Assistant Professor Scholar, College of Liberal Arts & Sciences (2019)
Beckman Fellow, Center for Advanced Study, UIUC (2019)
Early Career Award, AVS Prairie Chapter (2019)
Emerging Investigator in Crystal Growth & Design, ACS Publications (2019)
Emerging Investigator, Molecular Systems Design & Engineering, the Royal Society of Chemistry (2019)
Dean's Award for Excellence in Research, University of Illinois at Urbana-Champaign (2019)
NSF CAREER Award (2018)
3M Non-Tenured Faculty Award (2018)
Alfred P. Sloan Research Fellowship in Chemistry (2018)
Chemistry of Materials Reviewer Excellence Award, ACS Publications (2018)
School of Chemical Sciences Teaching Award, University of Illinois at Urbana-Champaign (2017)
US Frontiers of Engineering Symposium, National Academy of Engineering (2017)

Research

The Diao group, started in 2015 at UIUC, focuses on understanding the assembly of organic functional materials and innovating printing approaches that enable structural control down to the molecular and nanoscales.

Molecular assembly is a subject of long history and inextricably linked to the origin of life, where a set of inanimate molecules can form structures with ever-evolving complexity and emergent properties. With the advent of modern drug development, the rise of nanotechnology, and most recently the renaissance in energy research, the field has resurged into prominence.

Under this backdrop, new questions arise, demanding understanding and control of molecular assembly at smaller length and time scales, and in more complex systems. It is the goal of her research group to control the solid-state properties by understanding the fundamental molecular assembly processes, and ultimately, to achieve sustainable manufacturing of materials and devices for environment, energy, and healthcare applications.