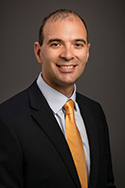 Status Affiliate Faculty
Home Department of Electrical and Computer Engineering
Email vgruev@illinois.edu
Address
Biography

Viktor Gruev is an associate professor in the department of Electrical Engineering at University of Illinois at Urbana Champaign. Prior to joining UIUC, he was an associate professor in the Department of Computer Science and Engineering at Washington University in St. Louis. Gruev received his B.S. in electrical engineering with distinction from Southern Illinois University in Carbondale in 1998. He completed his M.S. and Ph.D. in electrical engineering from Johns Hopkins University in 2000 and 2004 respectively. Gruev was a postdoctoral researcher at the University of Pennsylvania before joining Washington University in St. Louis in 2008 as an assistant professor. He has received numerous awards for his research on imaging sensors and their application in the medical field, including the 2016 IEEE Donald G. Fink Award for an outstanding scientific contribution in the IEEE society. His current research focuses on bringing medical imaging technology to resource-limited hospitals and to the developing world.

Honors

IEEE ISCAS Best Paper Award (2011)

IEEE ISCAS Best Live Demo (2015)

IEEE ISCAS Best Paper in Sensory Track (2015)

IEEE Donald G. Fink Award (2016)

IEEE ISCAS Best Paper in the Sensory Systems Technical Track (2017)

Research

Viktor Gruev's research is focused on the development of a new class of sensors inspired by nature. The visual system of various animals, such as mantis shrimp or morpho butterflies, can detect spectral and polarization information with higher acuity than state-of-the-art man-made imaging systems. Using a combination of CMOS technology and various nanostructures, he is developing a new class of bio-inspired spectral and polarization imaging sensors.

These bio-inspired sensors have extreme sensitivity, enabling many biomedical applications. The sensors are currently used for sentinel lymph node mapping in patients with breast cancer and blood flow evaluation in diabetic patients.

He is currently working with group of marine biologists to deploy the bio-inspired polarization sensors back in nature and understand how and why polarization information is exploited in nature. The sensors are used for field studies ranging from the Florida Keys to the Great Barrier Reef and the Mediterranean Sea.
2021

Blair, S., Garcia, M., Davis, T., Colanceski, R., Ferati, I., Kondov, B., Stojanovski, S., Todorovska, M. B., Dimitrovska, N. T., Jakupi, N., Miladinova, D., Petrusevska, G., Kondov, G., & Gruev, V. (2021). An 18-band snapshot hyperspectral imaging system for sentinel lymph node dissection with multiple near-infrared fluorophores. In S. Gioux, S. L. Gibbs, & B. W. Pogue (Eds.), Molecular-Guided Surgery: Molecules, Devices, and Applications VII [116250E] (Progress in Biomedical Optics and Imaging - Proceedings of SPIE; Vol. 11625). SPIE. DOI: 10.1117/12.2578534
Blair, S., M. Garcia, T. Davis, Z. Zhu, Z. Liang, C. Konopka, K. Kauffman, R. Colanceski, I. Ferati, B. Kondov, S. Stojanoski, M. B. Todorovska, N. T. Dimitrovska, N. Jakupi, D. Miladinova, G. Petrusevska, G. Kondov, W. L. Dobrucki, S. Nie, and V. Gruev (2021). Hexachromatic bioinspired camera for image-guided cancer surgery. Science Translational Medicine 13(592), eaaw7067. DOI: 10.1126/scitranslmed.aaw7067
CHEN, YINGKAI., ZHU, ZHONGMIN., LIANG, ZUODONG., IANNUCCI, LEANNE. E., LAKE, SPENCER. P., & GRUEV, VIKTOR. (2021). Analysis of signal-to-noise ratio of angle of polarization and degree of polarization. OSA Continuum, 4(5), 1461-1472. DOI: 10.1364/OSAC.422541
P. Brady, M. Garcia, V. Gruev and M. Cummings, "In situ measurements of reef squid polarization patterns using two-dimensional polarization data mapped onto three-dimensional STL meshes," Journal of the Royal Society Interface, 2021
S. Kagal, M. Garcia, M. Cummings, V. Gruev and P. Brady, "Comparison of the polarization contrast of gelatinous zooplankton and a transparent single-use plastic bag—implications for marine animals, " Marine Pollution Bulletin, 168(112438), 2021.

2020

Blair, S., Cui, N., Garcia, M., & Gruev, V. (2020). A 120 dB Dynamic range logarithmic multispectral imager for near-infrared fluorescence image-guided surgery. In 2020 IEEE International Symposium on Circuits and Systems, ISCAS 2020 - Proceedings [9180736] (Proceedings - IEEE International Symposium on Circuits and Systems; Vol. 2020-October). Institute of Electrical and Electronics Engineers Inc..
Blair, S., Deliwala, A., Chen, E., Subashbabu, S., Li, A., George, M., Garcia, M., Cui, N., Zhu, Z., Andonovski, S., Kondov, B., Stojanoski, S., Todorovska, M. B., Petrusevska, G., Kondov, G., & Gruev, V. (2020). A 3.47 e- Read noise, 81 dB dynamic range backside-illuminated multispectral imager for near-infrared fluorescence image-guided surgery. In 2020 IEEE International Symposium on Circuits and Systems, ISCAS 2020 - Proceedings [9180737] (Proceedings - IEEE International Symposium on Circuits and Systems; Vol. 2020-October). Institute of Electrical and Electronics Engineers Inc..
Deliwala, A., & Gruev, V. (2020). Optical crosstalk in division of focal plane imagers. In D. B. Chenault, & D. H. Goldstein (Eds.), Polarization: Measurement, Analysis, and Remote Sensing XIV [2560211] (Proceedings of SPIE - The International Society for Optical Engineering; Vol. 11412). SPIE. DOI: 10.1117/12.2560211
Ivanovich, D., Zhao, C., Zhang, X., Chamberlain, R. D., Deliwala, A., & Gruev, V. (2020). Chip-to-chip Optical Data Communications using Polarization Division Multiplexing. In 2020 IEEE High Performance Extreme Computing Conference, HPEC 2020 [9286227] (2020 IEEE High Performance Extreme Computing Conference, HPEC 2020). Institute of Electrical and Electronics Engineers Inc.. DOI: 10.1109/HPEC43674.2020.9286227
N. King, V. Gruev, S. Lake, "Implementation of a logarithmic division-of-focal-plane polarimeter to quantify changes in collagen alignment at varying levels of illumination," Applied Optics, 59(26):7813-20, 2020.
S. Temple, M. How, S. Powell, V. Gruev, N. Marshall, N. Roberts, "Thresholds of polarization vision in octopuses," Journal of Experimental Biology, 224, 2021.

2019

Blair, S., Garcia, M., Konopka, C., Dobrucki, L., & Gruev, V. (2019). A 27-band snapshot hyperspectral imaging system for label-free tumor detection during image-guided surgery. In N. T. Shaked, & O. Hayden (Eds.), Label-Free Biomedical Imaging and Sensing, LBIS 2019 [108900G] (Progress in Biomedical Optics and Imaging - Proceedings of SPIE; Vol. 10890). SPIE. DOI: 10.1117/12.2508944

2018

Cronin, T. W., Garcia, M., & Gruev, V. (2018). Multichannel spectrometers in animals. Bioinspiration and Biomimetics, 13(2), [021001]. DOI: 10.1088/1748-3190/aaa61b
Garcia, M., Davis, T., Blair, S., Cui, N. A. N., & Gruev, V. (2018). Bioinspired polarization imager with high dynamic range. Optica, 5(10), 1240-1246. DOI: 10.1364/OPTICA.5.001240
Garcia, M., Edmiston, C., York, T., Marinov, R., Mondal, S., Zhu, N., Sudlow, G. P., Akers, W. J., Margenthaler, J., Achilefu, S., Liang, R., Zayed, M. A., Pepino, M. Y., & Gruev, V. (2018). Bio-inspired imager improves sensitivity in near-infrared fluorescence image-guided surgery. Optica, 5(4), 413-422. DOI: 10.1364/OPTICA.5.000413
Powell, S. B., Garnett, R., Marshall, J., Rizk, C., & Gruev, V. (2018). Bioinspired polarization vision enables underwater geolocalization. Science Advances, 4(4), [eaao6841]. DOI: 10.1126/sciadv.aao6841

2017

Garcia, M & Gruev, V 2017, 'Optical characterization of rigid endoscopes and polarization calibration methods', Optics Express, vol. 25, no. 14, pp. 15713-15728. DOI: 10.1364/OE.25.015713
Garcia, M, Edmiston, C, Marinov, R, Vail, A & Gruev, V 2017, 'Bio-inspired color-polarization imager for real-time in situ imaging', Optica, vol. 4, no. 10, 302203, pp. 1263-1271. DOI: 10.1364/OPTICA.4.001263
Garcia, M, Zayed, MA, Park, KM & Gruev, V 2017, 'Near-infrared angiography for critical limb ischemia in a diabetic murine model', Journal of Biomedical Optics, vol. 22, no. 4, 046006. DOI: 10.1117/1.JBO.22.4.046006
Marinov, R, Cui, N, Garcia, M, Powell, SB & Gruev, V 2017, 'A 4-Megapixel cooled CCD division of focal plane polarimeter for celestial imaging', IEEE Sensors Journal, vol. 17, no. 9, 7873323, pp. 2725-2733. DOI: 10.1109/JSEN.2017.2679206