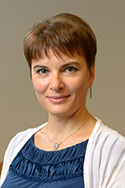 Status Research Staff
Home Department of Chemistry
Phone 300-1932
Email romanova@illinois.edu
Address 2255 Beckman Institute, 405 North Mathews Avenue
Biography

Education

B.S., biology, Belarusian State University

Ph.D., chemistry, University of Illinois, 2005

Research

Overall direction of research is bioanalytical chemistry with emphasis on microanalysis, mass spectrometry and liquid separation techniques for measurement and characterization of biomolecules and/or drugs in nervous and neuroendocrine systems. Specific approaches include but not limited to high throughput peptidomics, direct single cell and tissue chemical profiling by mass spectrometry, differential quantitative assessment of neurochemical changes under pathophysiological conditions or environmental challenges, and mass spectrometry imaging, all with the use of relevant bioinformatics tools. The overarching goal of research is to gain insights into molecular basis of complex physiological responses in various animal models that play critical roles in fundamental or translational research and, respectively, in advancement of human health.
2022

Anapindi, K. D. B., Romanova, E. V., Checco, J. W., & Sweedler, J. V. (2022). Mass Spectrometry Approaches Empowering Neuropeptide Discovery and Therapeutics. Pharmacological Reviews, 74(3), 662-679. https://doi.org/10.1124/pharmrev.121.000423
Chan-Andersen, P. C., Romanova, E. V., Rubakhin, S. S., & Sweedler, J. V. (2022). Profiling 26,000 Aplysia californica neurons by single cell mass spectrometry reveals neuronal populations with distinct neuropeptide profiles. Journal of Biological Chemistry, 298(8), [102254]. https://doi.org/10.1016/j.jbc.2022.102254
De La Toba, E. A., Bell, S. E., Romanova, E. V., & Sweedler, J. V. (2022). Mass Spectrometry Measurements of Neuropeptides: From Identification to Quantitation. Annual Review of Analytical Chemistry, 15, 83-106. https://doi.org/10.1146/annurev-anchem-061020-022048
Lin, P., Gillard, B. T., Pauža, A. G., Iraizoz, F. A., Ali, M. A., Mecawi, A. S., Alim, F. Z. D., Romanova, E. V., Burger, P. A., Greenwood, M. P., Adem, A., & Murphy, D. (2022). Transcriptomic plasticity of the hypothalamic osmoregulatory control centre of the Arabian dromedary camel. Communications biology, 5(1), [1008]. https://doi.org/10.1038/s42003-022-03857-0
Rubakhin, S. S., Romanova, E. V., & Sweedler, J. V. (2022). High-Throughput Image-Guided Microprobe Mass Spectrometric Analysis of Single Cells. In Neuromethods (pp. 115-163). (Neuromethods; Vol. 184). Humana Press Inc.. https://doi.org/10.1007/978-1-0716-2525-5_6

2015

Romanova, E. V., & Sweedler, J. V. (2015). Peptidomics for the discovery and characterization of neuropeptides and hormones. Trends in Pharmacological Sciences, 36(9), 579-586. https://doi.org/10.1016/j.tips.2015.05.009
Romanova, E. V., Rubakhin, S. S., Ossyra, J. R., Zombeck, J. A., Nosek, M. R., Sweedler, J. V., & Rhodes, J. S. (2015). Differential peptidomics assessment of strain and age differences in mice in response to acute cocaine administration. Journal of Neurochemistry, 135(5), 1038-1048. https://doi.org/10.1111/jnc.13265

2014

Romanova, E. V., Aerts, J. T., Croushore, C. A., & Sweedler, J. V. (2014). Small-Volume Analysis of Cell-Cell Signaling Molecules in the Brain. Neuropsychopharmacology, 39(1), 50-64. https://doi.org/10.1038/npp.2013.145

2013

Romanova, E. V., Dowd, S. E., & Sweedler, J. V. (2013). Quantitation of endogenous peptides using mass spectrometry based methods. Current Opinion in Chemical Biology, 17(5), 801-808. https://doi.org/10.1016/j.cbpa.2013.05.030

2011

Rubakhin, S. S., Romanova, E. V., Nemes, P., & Sweedler, J. V. (2011). Profiling metabolites and peptides in single cells. Nature Methods, 8(4), S20-S29. https://doi.org/10.1038/nmeth.1549

2010

Collins, J. J., Hou, X., Romanova, E. V., Lambrus, B. G., Miller, C. M., Saberi, A., Sweedler, J. V., & Newmark, P. A. (2010). Genome-wide analyses reveal a role for peptide hormones in planarian germline development. PLoS biology, 8(10), [e1000509]. https://doi.org/10.1371/journal.pbio.1000509

2008

Romanova, E. V., Rubakhin, S., & Sweedler, J. V. (2008). One-step sampling, extraction, and storage protocol for peptidomics using dihydroxybenzoic acid. Analytical Chemistry, 80(9), 3379-3386. https://doi.org/10.1021/ac7026047