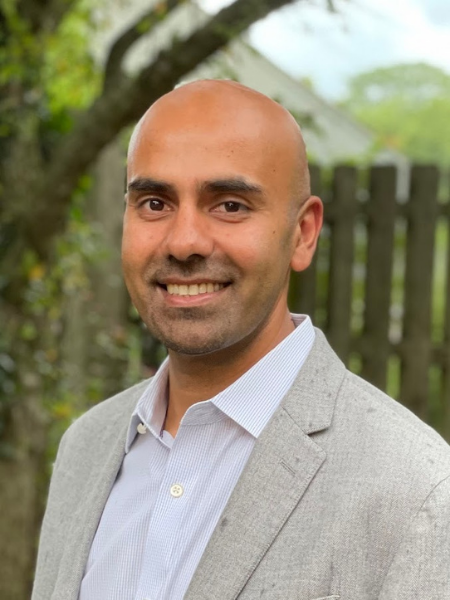 Naiman Khan
Associate Professor
Primary Affiliation
Centers
Affiliations
Status Affiliate Faculty
Home Department of Kinesiology and Community Health
Email nakhan2@illinois.edu
Address
Biography

Dr. Naiman A. Khan is an associate professor in the Department of Kinesiology and Community Health. He completed postdoctoral research training in Neurocognitive Kinesiology at the University of Illinois following recieving his PhD. He currently leads the body composition and Nutritional Neuroscience Laboratory. Dr. Khan has published over 80 research manuscripts and has received funding support from multiple sources including government, private corporations, and non-profit food and commodity boards.

Education

B.S., Nutritional Sciences, Louisiana State University, 2006

M.S., Nutrional Sciences, University of Illinois at Urbana-Champaign, 2009

Ph.D., Nutritional Sciences, University of Illinois at Urbana-Champaign, 2012

Research

Khan's research focuses on the effects of obesity and the lifestyle factors of diet and physical activity on cognitive function across the lifespan. His research takes a multidisciplinary approach to integrate knowledge in the areas of nutrition, kinesiology, and cognitive neuroscience to understand the influence of health behaviors on specific aspects of attention, memory, and achievement. The overarching objective of his research program is to generate foundational knowledge in translating the impact of health behaviors to childhood cognitive function.
2021

Cannavale, C. N., Bailey, M., Edwards, C. G., Thompson, S. V., Walk, A. M., Burd, N. A., Holscher, H. D., & Khan, N. A. (2021). Systemic inflammation mediates the negative relationship between visceral adiposity and cognitive control. International Journal of Psychophysiology, 165, 68-75. https://doi.org/10.1016/j.ijpsycho.2021.03.010
Cerna, J., Anaraki, N. S. A., Robbs, C. M., Adamson, B. C., Flemming, I. R., Erdman, J. W., Labriola, L. T., Motl, R. W., & Khan, N. A. (2021). Macular Xanthophylls and Markers of the Anterior Visual Pathway among Persons with Multiple Sclerosis. The Journal of nutrition. https://doi.org/10.1093/jn/nxab164
Edwards, C. G., Walk, A. M., Cannavale, C. N., Flemming, I. R., Thompson, S. V., Reeser, G. R., Holscher, H. D., & Khan, N. A. (2021). Dietary choline is related to neural efficiency during a selective attention task among middle-aged adults with overweight and obesity. Nutritional Neuroscience, 24(4), 269-278. https://doi.org/10.1080/1028415X.2019.1623456