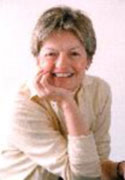 Status Affiliate Faculty
Home Department of Psychology
Phone 244-1121
Email jkbock@illinois.edu
Address 2139 Beckman Institute, 405 North Mathews Avenue
Biography

Kathryn Bock received her Ph.D. from the University of Illinois at Urbana-Champaign in 1975. She is a professor in the Department of Psychology at U of I and a full-time faculty member in the Beckman Institute Cognitive Science group. Bock's fields of professional interest are psycholinguistics and cognitive science.

Honors

Fulbright Fellow (1991); Sloan Fellow (1982); Research Associate, Max Planck Institute for Psycholinguistics; Fellow, American Psychological Association (Division 3); Fellow, American Psychological Society.

Research

Bock's work focuses on the processes that turn thought into speech. These processes translate perceptions or ideas into sounds, using the patterns and elements of a code that constitutes the grammar of a language. The goal is to explain how the brain uses this code to create spontaneous speech in ongoing time. This requires an explanation of the action system that puts language knowledge to use, drawing on a framework that combines elements from models of cognitive processing and from linguistic theory.

Adult speakers of English know between 30,000 and 80,000 words. The words can be arranged in any of countless ways that conform to the grammar of English. Speakers use these resources to construct utterances that convey specific messages, normally initiating their utterances in under two seconds and speaking at average rates of four words per second. Bock's research suggests that the processes behind this performance include combinatorial mechanisms that adapt to recent experience and present circumstances. These adaptations reflect a kind of learning that may support language acquisition in childhood and language change in human history.

To examine the time course and organization of these abilities, Bock uses a variety of methods to elicit spontaneous speech and to tap its cognitive underpinnings. These methods include measurements of the time needed to produce individual words, assessments of changes in sentence structure in response to changes in the linguistic context, induction of speech errors, and tracking the eye movements that precede and accompany the description of perceived events. In addition to normal adult speakers of English, the research extends to brain-damaged speakers and normal speakers of other languages.

Bock's work is supported by the NIH, the NSF, the Knowledge and Distributed Intelligence initiative of the NSF, and the Deutsche Forschungsgemeinschaft.
2012

Bock, J. K.; Carreiras, M.; Meseguer, E., Number Meaning and Number Grammar in English and Spanish. Journal of Memory and Language 2012, 66, 17-37.
Foote, R.; Bock, J. K., The Role of Morphology in Subject-Verb Number Agreement: A Comparison of Mexican and Dominican Spanish. Language and Cognitive Processes 2012, 27, 429-461.

2011

Bock, J. K., How Much Correction of Syntactic Errors Are There, Anyway? Language and Linguistics Compass 2011, 5, 322-335.
Bock, J. K.; Middleton, E. L., Reaching Agreement. Natural Language and Linguistic Theory 2011, 29, 1033-1069.
Kuchinsky, S. E.; Bock, K.; Irwin, D. E., Reversing the Hands of Time: Changing the Mapping From Seeing to Saying. Journal of Experimental Psychology-Learning Memory and Cognition 2011, 37, (3), 748-756.

2010

Becic, E.; Dell, G. S.; Bock, K.; Garnsey, S. M.; Kubose, T.; Kramer, A. F., Driving impairs talking. Psychonomic Bulletin & Review 2010, 17, 15-21.
Spalek, K.; Bock, K.; Schriefers, H., A purple giraffe is faster than a purple elephant: Inconsistent phonology affects determiner selection in English. Cognition 2010, 114, (1), 123-128.

2009

Konopka, A. E.; Bock, J. K., Lexical or syntactic control of sentence formulation? Structural generalizations from idiom production. Cognitive Psychology 2009, 58, 68-101.

2008

Lorimor, H.; Bock, J. K.; Zalkind, E.; Sheyman, A.; Beard, R., Memory for syntax despite amnesia. Language and Cognitive Processes 2008, 23, 769-799.
Onishi, K. H.; Murphy, G. L.; Bock, J. K., Prototypicality in sentence production. Cognitive Psychology 2008, 56, 103-141.

2007

Bock, J. K.; Dell, G. S.; Garnsey, S. M.; Kramer, A. F.; Kubose, T., Car talk, car listen In Automaticity and control in language processing Meyer, A. S.; Wheeldon, L. R.; Krott, A., Eds. Psychology Press: Hove, England, 2007; pp 21-42.
Bock, K.; Dell, G. S.; Chang, F.; Onishi, K. H., Persistent structural priming from language comprehension to language production. Cognition 2007, 104, (3), 437-458.

2006

Bock, K.; Cutler, A.; Eberhard, K. M.; Butterfield, S.; Cutting, J. C.; Humphreys, K. R. Number agreement in British and American English: Disagreeing to agree collectively. Language 2006, 82, (1), 64-113.
Ferreira, V. S.; Bock, K. The functions of structural priming. Language and Cognitive Processes  2006, 21, (7-8), 1011-1029.