Published on
July 25, 2023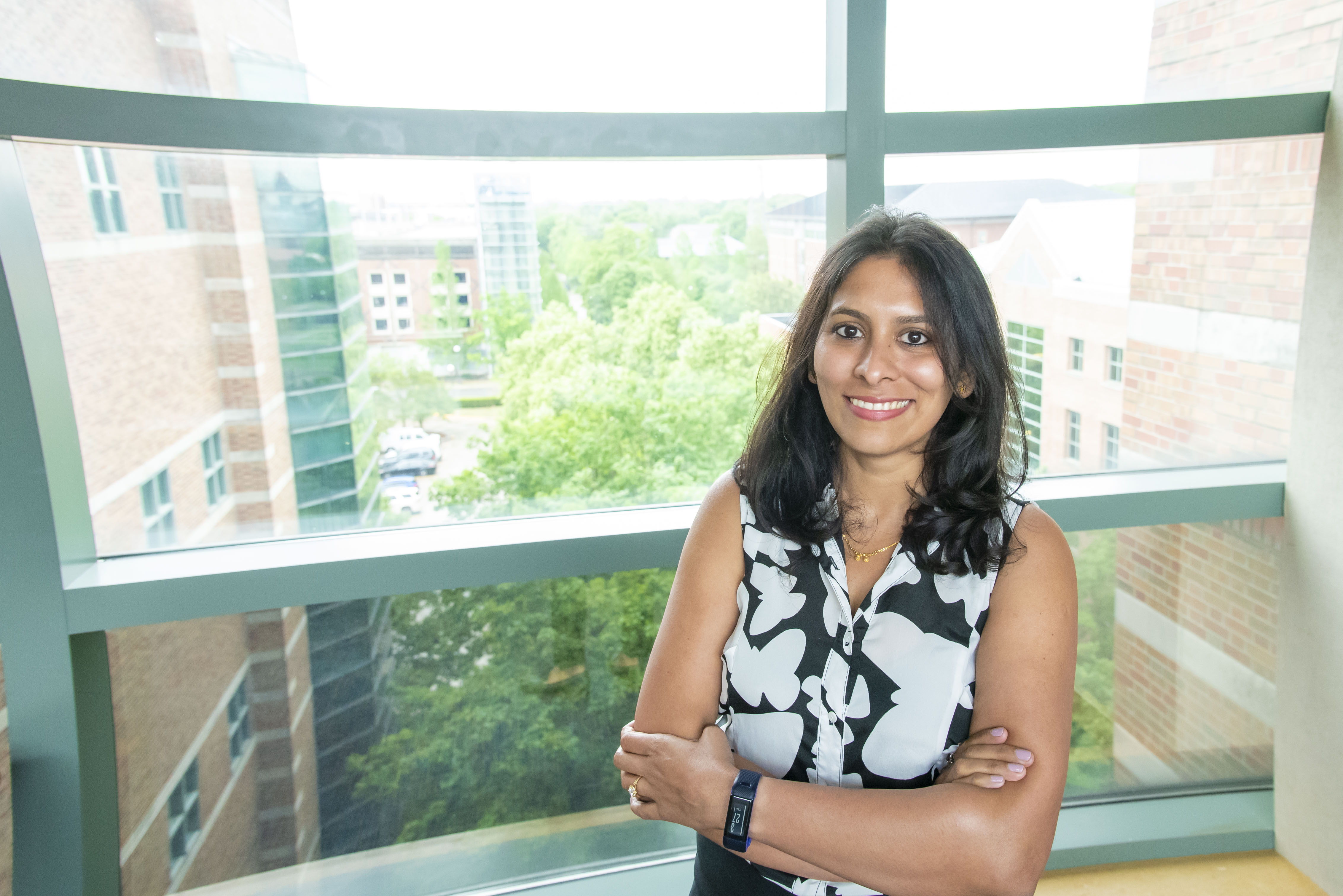 For an amateur photographer with her eye on the Northern Lights, any makeshift studio space will do. On a snowy night in 2016, after fidgeting with her camera's shutter speed for two hours, Yamuna Phal snapped the phenomenon from a frigid rooftop in Swedish Lapland.
"I had to dig through a pile of snow and ice to set up my tripod. At that point, you can't feel your hands anymore," said Phal, who finished her research at the Beckman Institute for Advanced Science and Technology this summer. "But still I thought, 'This is my shot.'"
Phal visited the Arctic Circle for a workshop on soldering space electronics, a specialized skill for hardware engineers like herself.
"But the opportunity to capture photographs was a big part of why I wanted to go," she said.
This summer, the engineer-slash-photographer earned her Ph.D. in electrical engineering from the University of Illinois Urbana-Champaign and wrapped up four years of research at the Beckman Institute. As she prepares for an assistant professorship at the Colorado School of Mines, she credits her professional success to one decision: choosing not to decide between her hobbies and research.
"The frogs weren't for me"
Phal's passion for photography was a gift from her father, but she considers electrical engineering to be her "natural path," she said, and her doctoral research a work-in-progress since the cradle.
"My mom pursued her doctoral degree while raising two children, caring for my elderly grandparents, and working full-time. Growing up, watching her battle challenges successfully was truly inspiring, and that left a profound and lasting impression on me," she said.
As early as high school, Phal and her brother "would open up transistors and remote controls" with equal reverence to their peers dissecting frogs on the biology bench.
"The frogs weren't for me," she said. "Some of my older cousins went into the biology fields, but even in high school I knew I wanted to design electronics."
In the years following high school, two advanced degrees in electrical and computer engineering — a B.S. from the Indian Institute of Technology, Roorkee in 2011 and an M.S. from the California Institute of Technology in 2014 — affirmed Phal's affinity for hardware design. Specifically, circuits: the electrical racetracks through which currents course from point A to point B.
"Most of the guys were not as good as me in electronic circuits or design, which I noticed," said Phal, who would later receive the Nadine Barrie Smith Memorial Fellowship administered through Beckman to support women in engineering.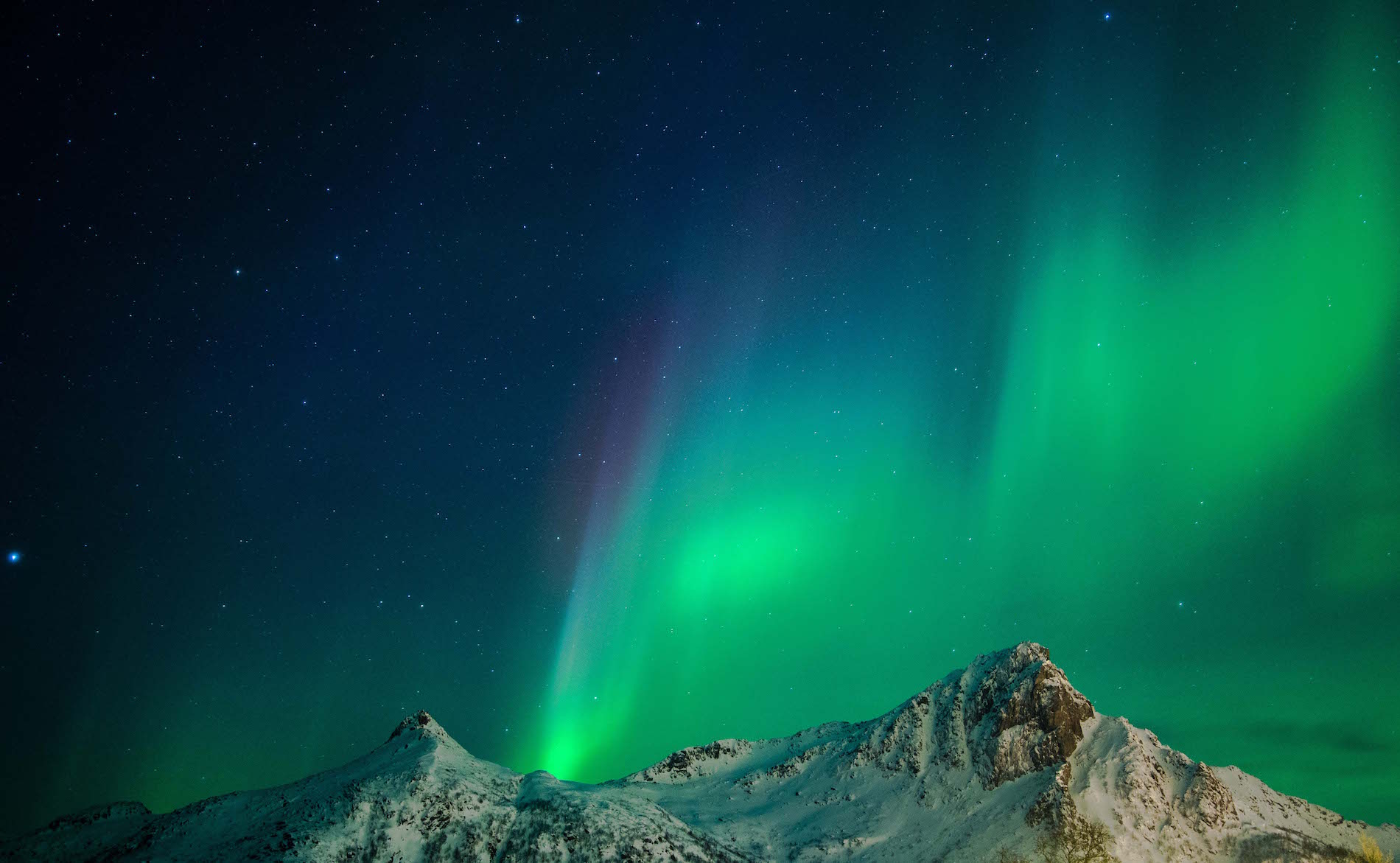 The Northern Lights, as seen through the lens of Yamuna Phal. Photo provided by Phal.With two degrees in hand and her wanderlust not quite sated, Phal set out for Stockholm in 2017 to work with the Swedish Institute of Space Physics. She developed instruments that the European Space Agency used to measure extraterrestrial electrical and magnetic currents.
Between diverse on-site experiences and one unforgettable rooftop photo-op, Phal's stint in Scandinavia provided a new lens through which to approach electrical engineering: optics, the science of sight and light.
"I went to Sweden because of my job in electrical engineering," she said, "and I left with a newfound interest in optics. It stemmed from photography, which was my hobby, and it profoundly shaped my research and career."
A different kind of light
Seeking an environment where electronics and optics overlapped, Phal joined the Beckman Institute in 2019, the same year she began her Ph.D. in electrical engineering at UIUC. She collaborated with Beckman researcher Rohit Bhargava, the Founder Professor of Bioengineering and the director of the Cancer Center at Illinois.
"It was almost ironic that I began working with the director of a cancer center," she said. "My past experiences had come together to create something entirely new."
Just two years after her brush with the aurora borealis, Phal found herself taking pictures of a very different kind of light, through a much smaller lens. She collaborated with members of the Bhargava Group to design microscopy techniques that use infrared light to take clear, detailed pictures of cells. This process is called label-free imaging because light — rather than dye — is used to distinguish certain types of cells from others. In particular, this kind of imaging helps clinicians identify and diagnose cancerous tumors in their earliest stages.
Cancer research was an easy addition to Phal's accumulating cache of passions.
"Around the time I started at Beckman, my cousin in India started [an] oncology clinic. The resources there are so limited that cancer treatment often happens in the emergency stages instead of the preventative ones. If I'm doing research, I want it to be for the betterment of society," she said.
Phal's tasks in the lab included designing and maintaining the microscopes themselves. Before long, she was taking them apart and putting them back together again — dissecting with the same voracity as her high-school self.
"People are used to seeing the pictures that come out of a microscope, but you only see those because of work that's done on the backend," she said.
She never lost her identity as a creator. In her four years at Beckman, Phal supplied the images for three academic journal covers, an accomplishment of which she is "proud as well as grateful," she said.
Crossing paths
During her time at Beckman, Phal's curiosity stretched across and among academic disciplines: she learned about medical research, picked up words like apoptosis (cell death), and dipped a toe into an area she'd previously dismissed.
"Biology is complex and messy, but by incorporating electrical engineering, one can effectively model numerous phenomena," she said, "It's so amazing that I had biologist collaborators at Beckman to talk to and learn from. Great research comes out of people working in such different fields."
Her interest in biology will likely stay theoretical (the only things she'll dissect "are electronic circuits," she said), but Phal did find one new skill that stuck.
"Teaching brings me great joy. I find that I am able to establish a strong connection with students," said Phal, whose experiences instructing undergraduate students, mentoring lab-mates, and participating in the 2021 Rising Stars workshop turned her on to the latest in a rich professional roster.
"My Ph.D. program has been a lot of work, but if not for the amazing students I've gotten to work with through Beckman, it would have been impossible. Working with students is a two-way street; you get to learn so much more every time you talk to them," she said.
This fall, Phal will start an independent research lab as an assistant professor of electrical engineering at the Colorado School of Mines, teaching and training students of her own.
"It's so interesting that all of these things came together in the way that they did: engineering, optics, and teaching," Phal said. "Paths change all the time, and you can change that at any point of your life. Right now, teaching is where I want to make a difference."
When she isn't changing lives in the classroom, Colorado's array of hiking trails and scenic overlooks are just two ways she'll continue to engage her passion for photography and art. To keep hobbies an arm's length from research is to "not do justice to yourself," Phal said.
"It's almost hiding a part of yourself. Hobbies can influence and shape a part of your research and our contributions to the world — that's what makes it unique," she said.
Phal's next makeshift photography studio might even be on top of a mountain.