Published on
April 10, 2023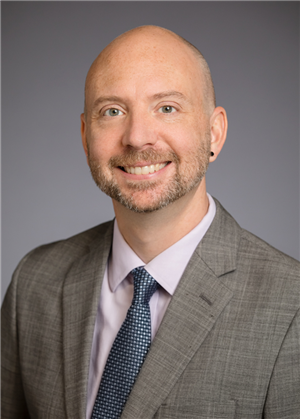 The Beckman Institute for Advanced Science and Technology has honored Charles Schroeder with its 2023 Beckman Institute Vision and Spirit Award. Schroeder is the James Economy Professor in materials science and engineering and a professor in chemical and biomolecular engineering.
The award honors Beckman Institute Founder Arnold Beckman by recognizing a faculty member who has fostered collaboration in their research and exemplifies his vision. Beckman and his wife, Mabel, gave $40 million to the University of Illinois Urbana-Champaign in the 1980s to create the Beckman Institute for Advanced Science and Technology.
Beckman Director Nadya Mason announced the winner at an April 10, 2023, ceremony at the institute. It was the 123rd anniversary of Arnold Beckman's birth. The award includes $50,000 in research funding.
"What sets Charles apart for this award is how much time, energy, and thought he has put into other people and their success, and the success of the institute as a whole," Mason said. "He helped re-imagine the Molecular Science and Engineering theme, bringing in fresh ideas and collaborations, and creating the new Artificial Intelligence for Materials Working Group, which is harnessing the power of automation for materials discovery."
Mason cited several people who nominated Schroeder for the award.
"I can confidently say that my collaborative research interactions with Charles through the Beckman are one of the absolute highlights of my time [on campus]," she quoted. "He engages in collaboration with a genuine curiosity and thoughtfulness that is almost unparalleled."
Another called Schroeder "a forward-thinking leader and collaborator of the highest degree."
Schroeder said he sees relationships and diverse collaborations as a linchpin of scientific research. Former Beckman Director Jeff Moore inspired him with the idea of "super collaborators" when Schroeder joined Beckman five years ago.
In that time, "my research program has undergone a fundamental transformation by becoming highly collaborative with shared projects on diverse topics with multiple colleagues and research groups across campus and beyond," Schroeder said. "In many ways, this award recognizes the collaborative spirit and culture in the Beckman Institute."
Embracing interdisciplinary collaboration is the key to emulating Arnold Beckman, Schroeder said.
"Prioritize the search for fundamental knowledge," he said. "Prioritize the training and mentoring of students and young scientists. Prioritize building teams and developing new ideas rather than seeking personal or singular recognition on shared projects. Prioritize the pursuit of excellence at all levels — including relationship building — while seeking to move the field forward with new ideas."
He and his colleagues will use the funding to support ongoing collaborations and forging new directions of inquiry.
"We will continue to brainstorm creative new ideas — and we will move some of these ideas forward with my colleagues in Beckman using these funds," Schroeder said. "In particular, funds will be spent to seed new research directions in the area of materials discovery using automated synthesis and AI-guided approaches to address grand challenge problems in energy storage and sustainability."
Schroeder thanked Beckman's staff from all departments for their support.