Published on
Sept. 7, 2022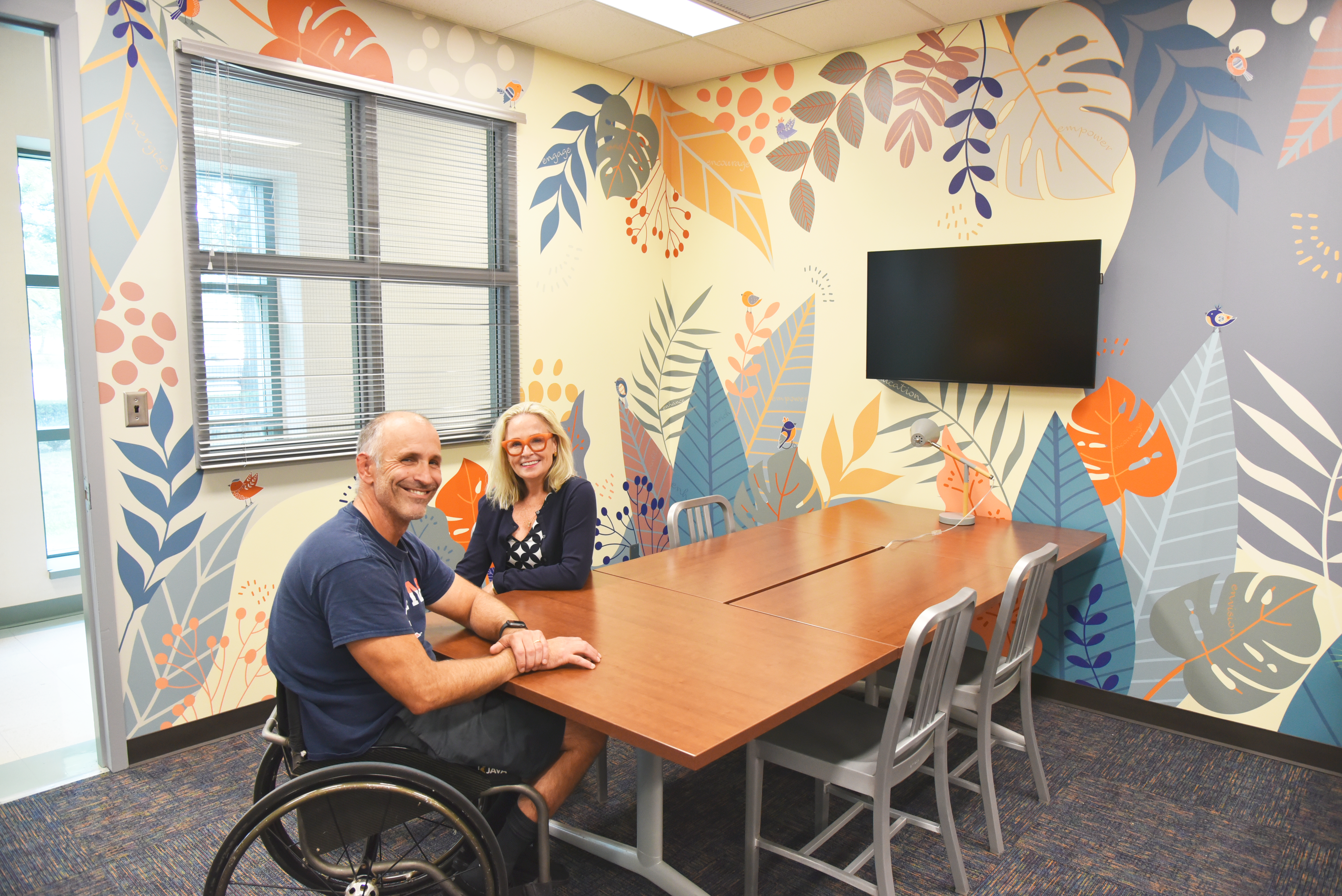 Chirping birds mark the passage of time in the Beckman Institute for Advanced Science and Technology's newest addition, the (dis)Ability Design Studio. The source of the sound, a strategically placed cuckoo clock, was selected for accessibility and atmosphere, two of the studio's hallmarks.
The studio is a product of a partnership between Beckman and the University of Illinois Urbana-Champaign's Disability Resources & Educational Services. It supports interdisciplinary design research centered around the lived experiences of people with disabilities.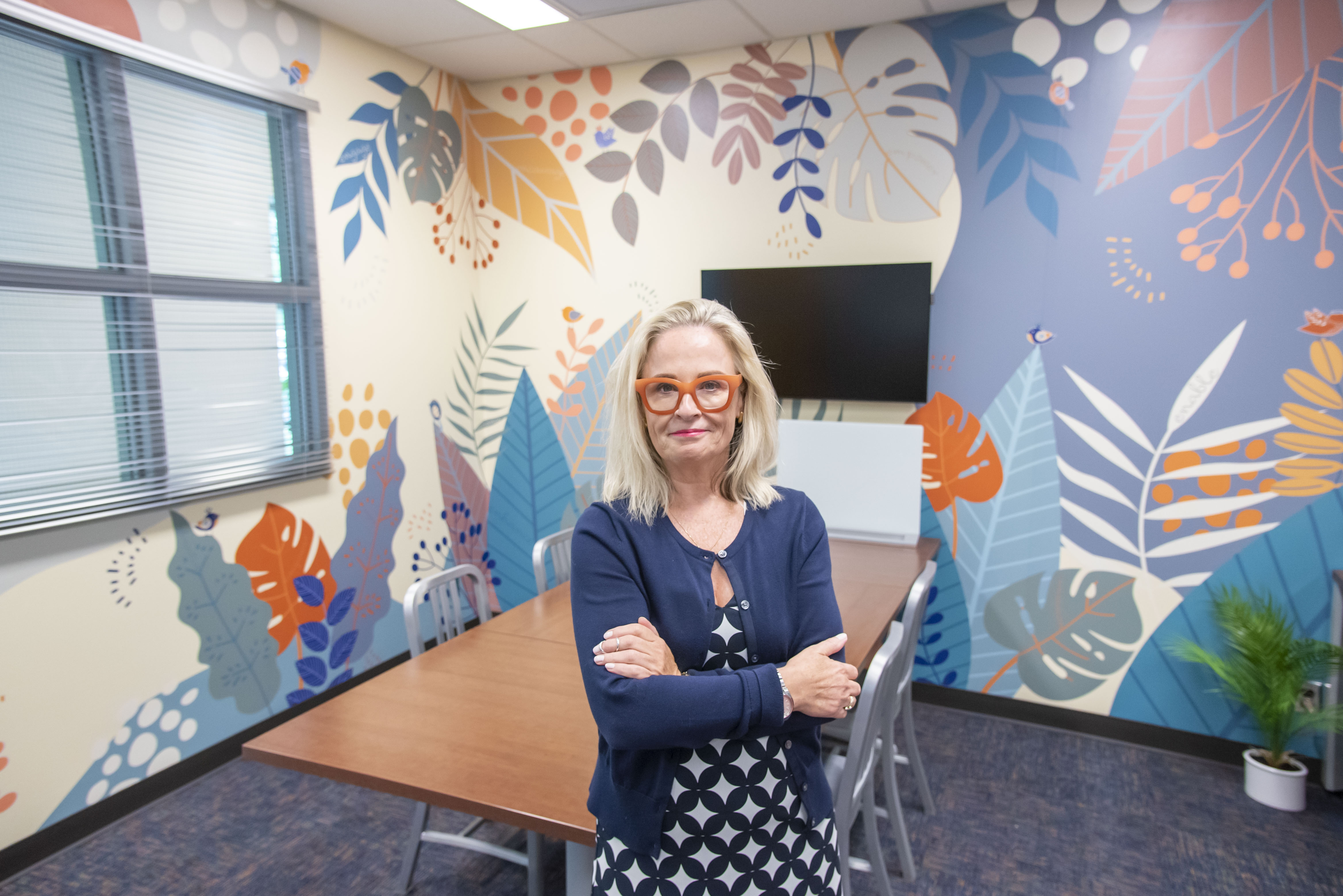 "We're focusing on ability," said industrial design professor Deana McDonagh, the chair of Graphic Design in the School of Art and Design in the College of Fine and Applied Arts and a researcher at the Beckman Institute. "The studio is designed to welcome members of the disability community as contributors to knowledge."
McDonagh co-directs the studio alongside Adam Bleakney, a research affiliate in Beckman and DRES and the head coach of the UIUC men and women's wheelchair track and road-racing team and coach for the U.S. Paralympic Team.
"This partnership will have a very real impact on the lives of individuals with disabilities," he said.
The studio is located on Beckman's first floor and will complement the Human Performance and Mobility Maker Lab within DRES, which Bleakney leads in developing assistive tools and technologies for individuals with disabilities.
"While the HPML provides a space for those with disability insight to develop working prototypes, the (dis)Ability Design Studio is a brainstorming environment, a bridge that connects medicine and the STEM fields with the disability and design communities," McDonagh said.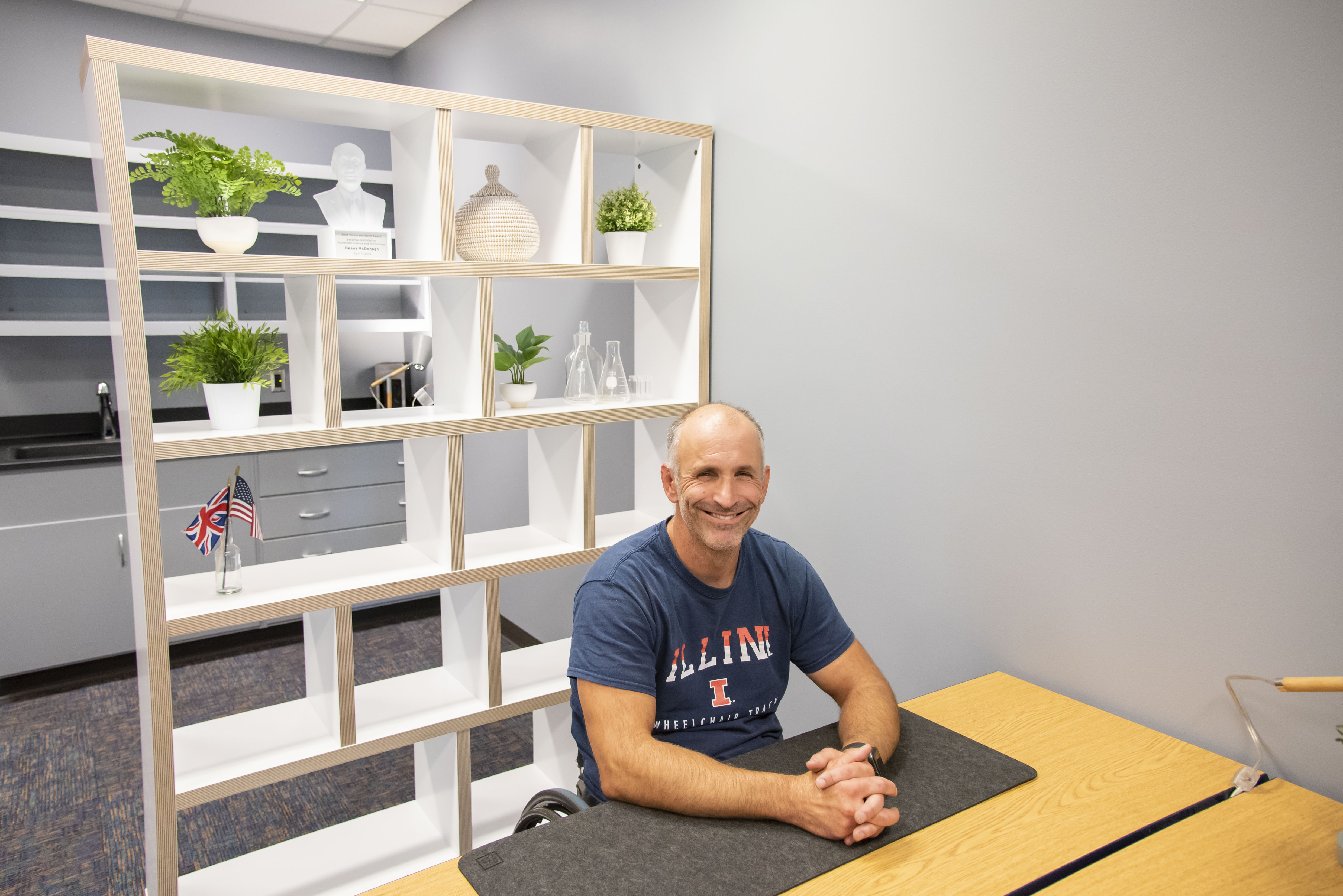 The "sister spaces" prioritize user involvement across every stage of the design process for assistive tools and technologies, from brainstorming to development to testing. User-centered design often comes as a second thought in the disability space, Bleakney said.
"Creating an intentionally immersive environment of disability is impactful for all involved. It drives research and innovation that's closely connected to the disability experience," he said.
McDonagh, the studio's principal designer and Beckman's designer-in-residence, intends for the space to be intrinsically welcoming to researchers of all identities.
"Have you ever touched something and thought, 'This feels like it was designed for me?' In this space, that translates to design that is accessible to all needs and ability levels," she said. "Everyone must be able to participate; the ideas thought up by teams that are inclusive, interdisciplinary, and open to flexible thinking can hugely impact this culture."
Faculty members and postdocs are encouraged to contact Professor McDonagh to discuss opportunities to incorporate user-focused design thinking into their projects and ensure their research messages are easily understood by non-experts. From visually impactful grant applications to patient-centered clinical technologies, creative design can enhance any research journey, she said.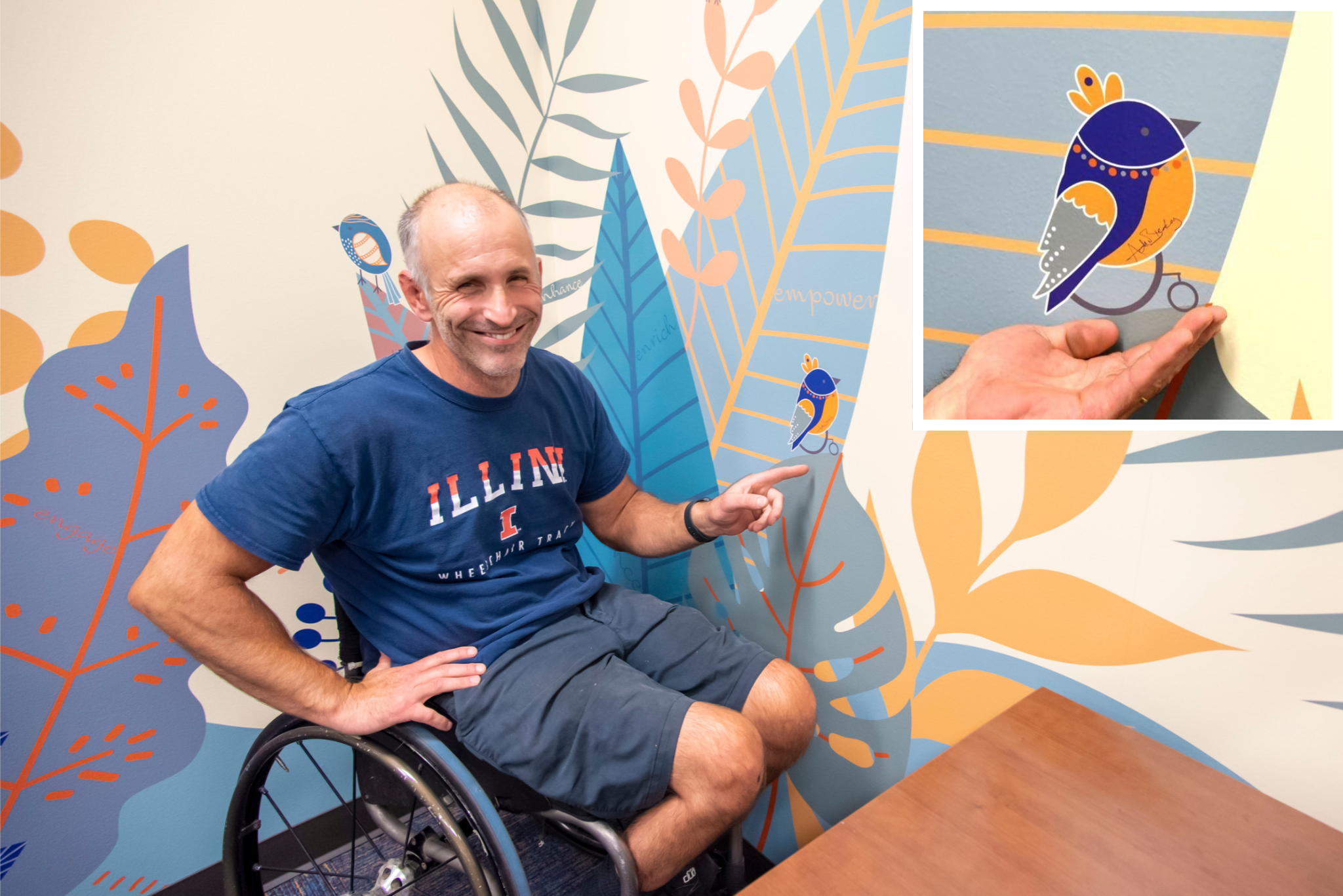 In designing the studio, McDonagh drew inspiration from the natural world. Soft lighting — a relief from the aesthetic harshness of a typical lab or classroom — is remotely controllable from anywhere in the room. Birdsong helps a cuckoo clock tell time visually and aurally. Minimal furnishings and open space increase ease of navigation for people who use wheelchairs. A sweeping mural designed by Lindy Carlisle, a new media specialist in Beckman's Office of Communication, spans the south and west walls, printed with floral patterns in a color palette that "will make visitors think of springtime," McDonagh said.
Food and water bowls await service animals, canines or otherwise, who find themselves in the studio.
"When we say, 'all are welcome,' we really do mean it! If we add something to this space that makes it accessible to anybody, for any reason, even if it's unconventional, then we've succeeded. We're pursuing the unpursued, in pursuit of good science," she said.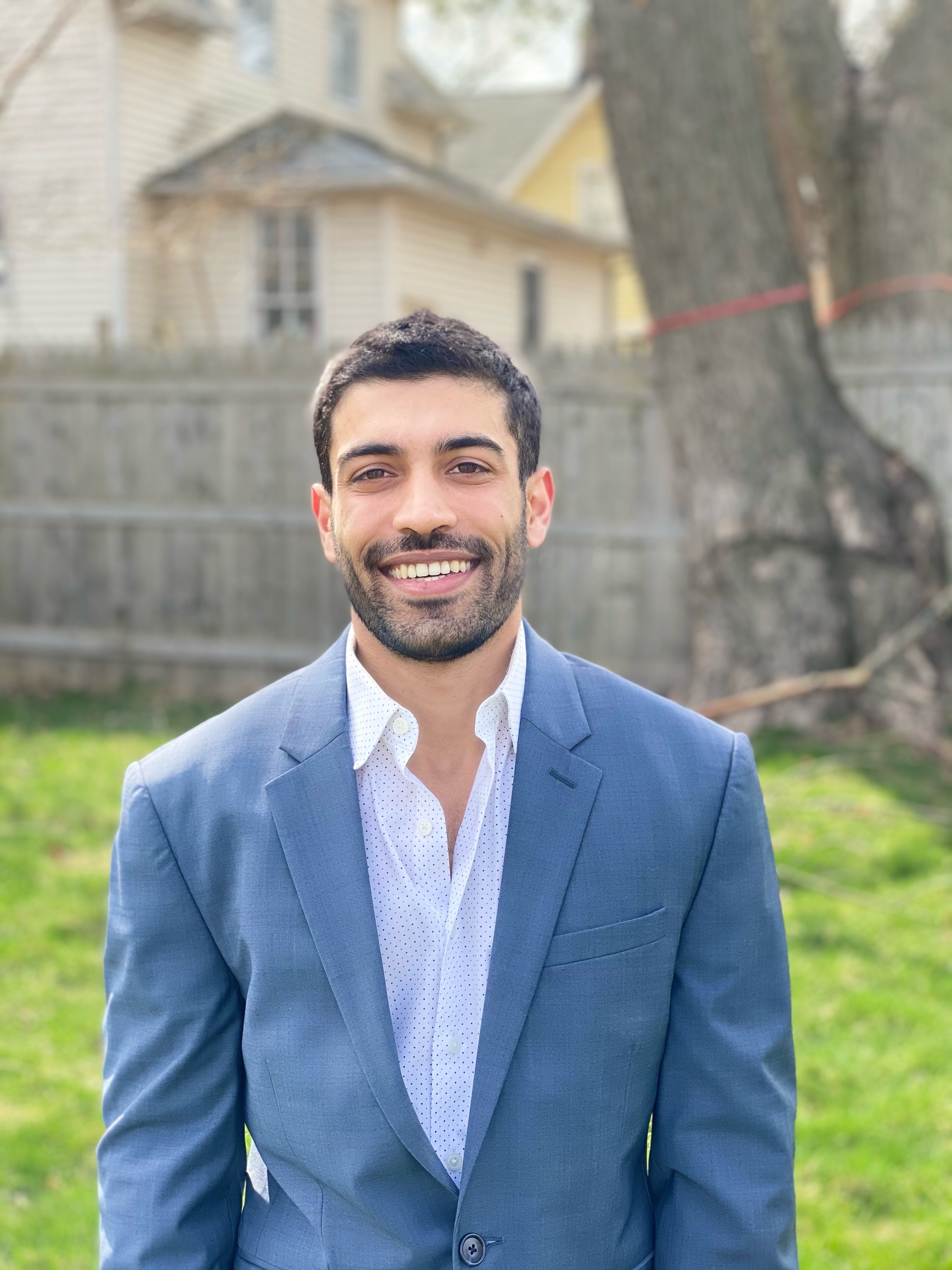 Among diverse scientific pursuits, the studio will serve as north campus's base to design the hands-free "wheelchair of the future," an ongoing project funded by the National Science Foundation. In addition to McDonagh and Bleakney, the interdisciplinary team includes Elizabeth Hsiao-Wecksler, a professor and the Donald Biggar Willett Faculty Scholar in Mechanical Science and Engineering; Bob Norris, a clinical associate professor of industrial and enterprise systems engineering; and Jeannette Elliott, a physical therapist in DRES.
Joey Peters, a postdoctoral researcher advised by Bleakney, will use the space to investigate the lived experiences of individuals with disabilities to better understand the impact of assistive technology on their lives.
"I'm excited about the opportunity to research and innovate out of both DRES and Beckman, leveraging the resources of both sites to enhance the lives of persons with disabilities," said Peters, who also works with Bleakney as the assistant head coach of the wheelchair track and road-racing teams.
UIUC is the first postsecondary institution to offer accommodation to students with disabilities and remains one of the most accessible campuses in the world. The late Tim Nugent, who founded the organization now known as DRES, was one of campus's earliest and strongest accessibility advocates from the late 1940s until his passing in 2015.
"I consider the University of Illinois a gold standard for access, and a best-practice model that other institutions can emulate," Bleakney said. "Ensuring that students on campus have equitable access to research and innovation spaces is an extension of Dr. Nugent's legacy and the almost 75-year tradition of DRES on this campus. I feel fortunate to be a part of that," he said.
Professor Deana McDonagh received the Beckman Institute Vision and Spirit award in spring 2022 for her collaborative, visionary research at the Beckman Institute. Funding from the award was used to create the (dis)Ability Design Studio at the institute.The (dis)Ability Design Studio also honors the institute's founder and UIUC chemistry alum Arnold O. Beckman. Its funding comes from the Beckman Institute Vision and Spirit Award, which McDonagh received for her collaborative, visionary research.
"To be able to create the (dis)Ability Design Studio on our campus, and more importantly, inside the Beckman — this sounds dramatic, but I mean it — it's once-in-a-lifetime," said McDonagh. "This is a space like no other, and our hope is that it becomes the new normal."
Every element within the space — down to the distinctive red rocking chairs and intentional aroma of brewing coffee and tea — is primed to host creative collisions between abilities, disciplines, perspectives, and personalities.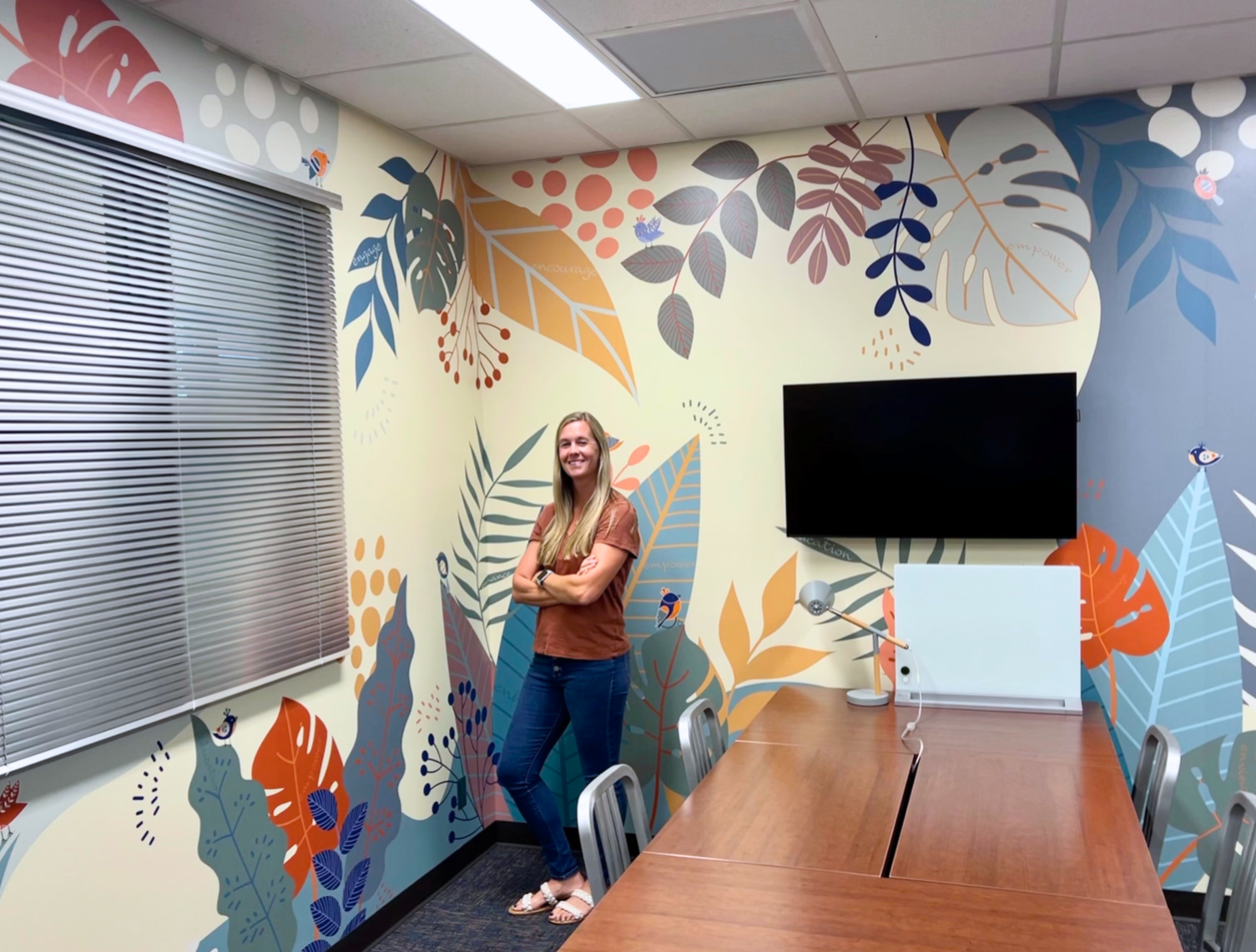 "Design can save lives because design thinking can save lives, and that's what this space is all about," she said. "I would really love for some serious, playful design thinking to happen here."
Remembering to play is incredibly important and often forgotten, McDonagh said.
"Imagining what's never existed and making discoveries that have never been made is exhausting, but at the end of the day, collaborations like this can be cheeky, joyful, even playful. And I hope that people pick up on that when they use the space," she said.
Situated unassumingly on a countertop, one playful nod to diverse collaboration takes the form of a snugly potted houseplant, shooting out of the soil, angling toward the window.
Its container of choice? A ceramic beaker.
---
Editor's notes:
The (Dis)Ability Design Studio is located on the first floor of the Beckman Institute for Advanced Science and Technology at 405 N. Mathews Ave. The building's operating hours are 7:30 a.m.-6 p.m.
Faculty and postdocs interested in using the space can contact Dr. Deana McDonagh directly at mcdonagh@illinois.edu
Media contact: Jenna Kurtzweil, kurtzwe2@illinois.edu