Published on
July 22, 2022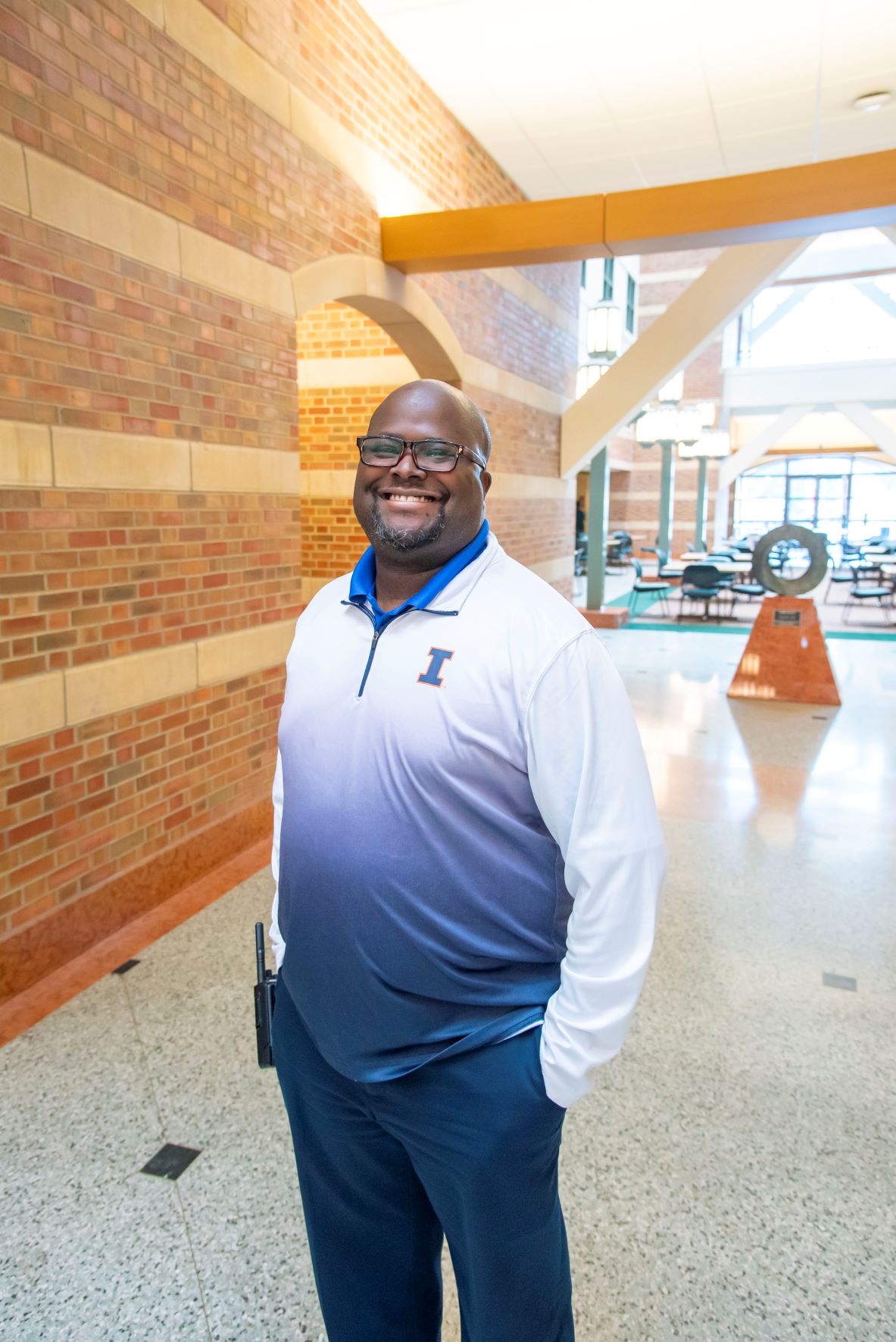 Meet Patrick Holmes, a space reservations coordinator at the Beckman Institute.
Whether he's pursuing his Ph.D, attempting a new recipe on the grill, or finding new ways to help others, he draws inspiration from his family. Read on to learn more about Patrick.
Describe your role at the Beckman Institute.
As the space reservations coordinator, I am responsible for allocating space for meetings, seminars, conferences, and special events. I assist event planners and caterers with the preparation and execution of events to ensure a flawless presentation. These details range from determining what equipment will be needed for the event to which space will be best suited to the event needs.
What is something that people might not know about your position?
Two things: detail orientation is the biggest skill one needs in this position, and my job doesn't end when the event starts. Since I need to work with various units on any event, forgetting the tiniest detail can make or break an event. Once the event begins, I still need to be alert to any and all issues which may arise. There have been times I needed to work with the attendants to get more tables and chairs for an event because more people came than previously expected. I also needed to work with IT when a presentation wasn't working. I need to be able to respond at a moment's notice.
What are you most proud of?
Although I am proud of obtaining my M.P.A. and working toward my Ph.D., I am most proud of my wife, Amber Holmes. She proves to me the importance of hard work. She started working in the math department in 2013. In that time, she has worked her way up from being an office support associate to currently being the student services coordinator for NetMath. During this time, she earned her M.B.A. and gave birth to our son, doing this all while working full time. I am in awe of her.
Outside of your professional experience, what are you an expert in?
I am not really an expert, but I do like to cook. Cooking and video games are how I unwind after a hard day.
When and where are you happiest?
I am happiest when I am lying on my couch with my son and wife watching a movie. A close second is when I meet up with my friends to record our podcast.
Who is your hero of fiction? Who is your hero in real life?
My real-life hero is my mother, Betty R. Holmes. My mother was born and raised in Orangeburg, South Carolina during the 1950s and 1960s. As a Black woman growing up in the south during the Civil Rights Movement, she was exposed to various forms of racism and sexism. Although she had many reasons to give up, she did not let this stop her from achieving her dreams. She knew her purpose was to serve the public, so she joined the Air Force. She showed my sister and me the importance of service to others in the world. How helping others is one of the noblest actions. I am trying to impart this lesson to my own son.
What is your personal motto?
"Don't always follow the directions." This is advice my mother gave me about cooking, but she also applies it to life. Just because the directions on the box instruct you to cook a certain way, it doesn't mean it is the only way. This is true in life as well. Just because everyone accomplished a certain goal one way, doesn't mean that is the only way. Finding your own way is important.
What is your favorite summer activity?
Grilling. I love to cook. Summer gives me an opportunity to try out some cooking techniques I can't use other times of the year. I am going to try to smoke my first brisket this summer. Fingers crossed it comes out good.