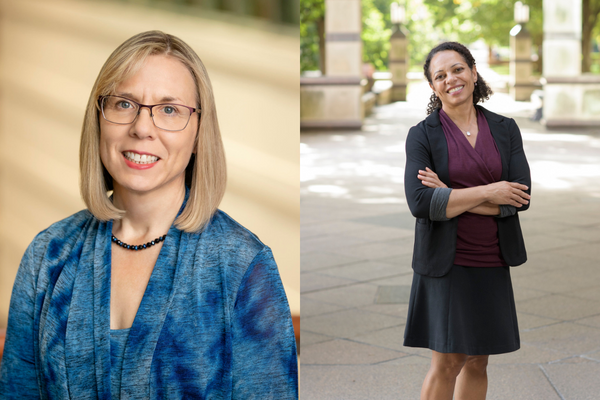 Two Beckman faculty members were recently recognized for their election to the National Academy of Sciences, one of the highest professional honors a scientist can receive. They include Nancy Sottos (pictured left), department head and Swanlund Chair of Materials Science and Engineering, a member of the 2022 class, and new Beckman Director Nadya Mason (pictured right), the Rosalyn Sussman Yalow Professor of Physics at Illinois, who was elected to the 2021 class.
Sottos leads the Autonomous Materials Systems Group at Beckman and is affiliated with the Materials Research Laboratory, mechanical science and engineering and aerospace engineering. She's also a member of the National Academy of Engineering.
"Trained as an engineer, I am humbled by my NAS election and attribute it to my interdisciplinary collaborations at Beckman that helped me to think more like a scientist," Sottos said.
Mason was founding director of the Illinois Materials Research Science and Engineering Center and is also affiliated with the MRL. As a condensed matter experimentalist, she works on quantum electronics and materials. Mason is a fellow and former general councilor for the American Physical Society and former chair of the APS Committee on Minorities.
"Being elected by my peers for the rigor of my scientific work and research is an incredible honor," Mason said. "For me, it validates the idea that you can excel in research while also spending significant time on mentorship and outreach. All of these areas are important to me, and it's gratifying to know I didn't have to fully sacrifice one area for the other."
Both Sottos and Mason were previously elected to the American Academy of Arts and Sciences.