Published on
April 11, 2022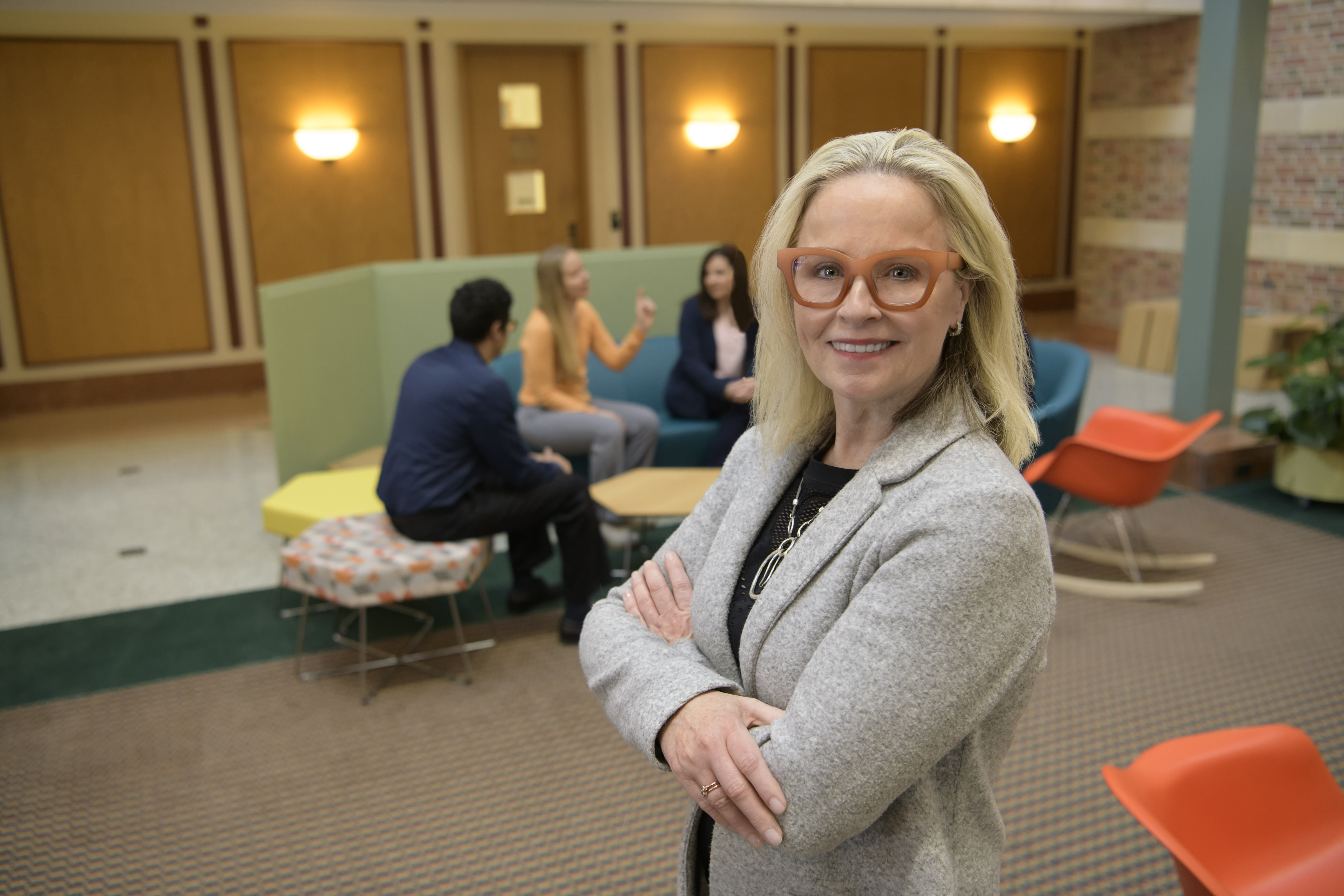 Deana McDonagh, an industrial design professor and chair of Graphic Design in the School of Art + Design in the College of Fine + Applied Arts, received the 2022 Beckman Institute Vision and Spirit Award. Deana McDonagh, an industrial design professor and chair of Graphic Design in the School of Art + Design in the College of Fine + Applied Arts, has been named the 2022 Beckman Institute Vision and Spirit Award winner.
The annual award, which includes $150,000 in research funding, was created to honor Beckman Institute Founder Arnold Beckman by recognizing a faculty member who has fostered collaboration in their research and exemplifies his vision. Beckman and his wife, Mabel, gave $40 million to the University of Illinois in the 1980s to create the Beckman Institute for Advanced Science and Technology.
Beckman Director Jeff Moore announced McDonagh at an April 11, 2022, ceremony at the institute. April 10 was the 122nd anniversary of Arnold Beckman's birth, and the award is often announced as a part of a birthday celebration.
"The thing that will make Beckman endure through the years is the culture," Moore said. "The name of this award, vision and spirit, embodies what Deana has brought to Beckman. She has changed the feel of the entire building. She makes us bolder and more daring."
McDonagh, who serves as Beckman's designer-in-residence, has worked on several long-term projects to revitalize Beckman's physical environment. That includes working with UIUC alumna and fellow designer Amanda Henderson to rethink central spaces in Beckman's various neighborhoods. They've worked with the building's researcher residents to replace rows of cubicles with open spaces and multifunctional furniture.
More recently, they worked together to redesign Beckman's east atrium with furniture that's interactive and playful. Three Spun Chairs complete the experience.
Three Spun Chairs are central to McDonagh (center) and Henderson's recent remodel of the Beckman Atrium, encouraging visitors to take the time to pause and play throughout the day.
McDonagh is an empathic design research strategist who focuses on enhancing the quality of life for all through more intuitive and meaningful products, leading to emotional sustainability. She concentrates on the emotional user-product relationships and how empathy can bring the designer closer to users' authentic needs, ensuring that both functional and emotional needs are met by their material landscape. She joined the Beckman Institute in October 2005.
Moore said McDonagh's presence at the institute has provided more than just her design expertise.
"She has a passion for Beckman and makes sure people who aren't traditional to the institute feel included," he said. "She's participated in strategic planning, and serves on the Beckman Institute Executive Committee and the director's search committee. She's an influential voice and offers a fresh perspective."
McDonagh has also collaborated with many Beckman researchers, including former bioengineering professor Dipanjan Pan and Carle Health physician Dr. Leanne Labriola on a new biosensing eye device. She helped Stephen Boppart of bioengineering, electrical and computer engineering, and the Carle Illinois College of Medicine set up a space at Beckman meant to envision the doctor's office of the future. She's currently working on a National Science Foundation-funded research project with Liz Hsiao-Wecksler of mechanical science and engineering, on the wheelchair of the future. McDonagh is also the designer entrepreneur-in-residence at Research Park at UIUC.
With the award's funding, McDonagh will establish an empathic design studio at Beckman. It will support both the Beckman community and the Human Performance Maker Lab, which is based in UIUC's Disability Resources and Educational Services and led by Adam Bleakney, the head coach of the UIUC men's and women's wheelchair track and road-racing team.
The Beckman Institute Vision and Spirit Award winner is chosen annually, and receives $150,000 to fund innovative research that exemplifies Arnold O. Beckman's original vision for the institute. "The goal is for assistive technology to be designed by people with disabilities, not designed for people with disabilities," McDonagh said. "This (dis)Ability Design Studio will provide a unique opportunity for our disability community to have a maker space at DRES that is supported by a dedicated design studio at Beckman. This space will also support the continued work with the wheelchair of the future, which the National Science Foundation is funding."
McDonagh said the studio will be open to students and faculty who are curious about the value of design thinking beyond styling.
"Design can impact how we communicate, how we figure out the path forward, and most importantly how we collaborate with others," she said.
McDonagh said the award will allow her to have a deeper impact on design research at Beckman, and shows "Beckman is welcoming of non-traditional researchers," McDonagh said. "I truly hope this will encourage more diverse collaborators in the near future."
---
Editor's note: Deana McDonagh was presented with the 2022 Vision and Spirit Award on Monday, April 11, 2022. Watch the full award presentation video below: