Published on
March 28, 2022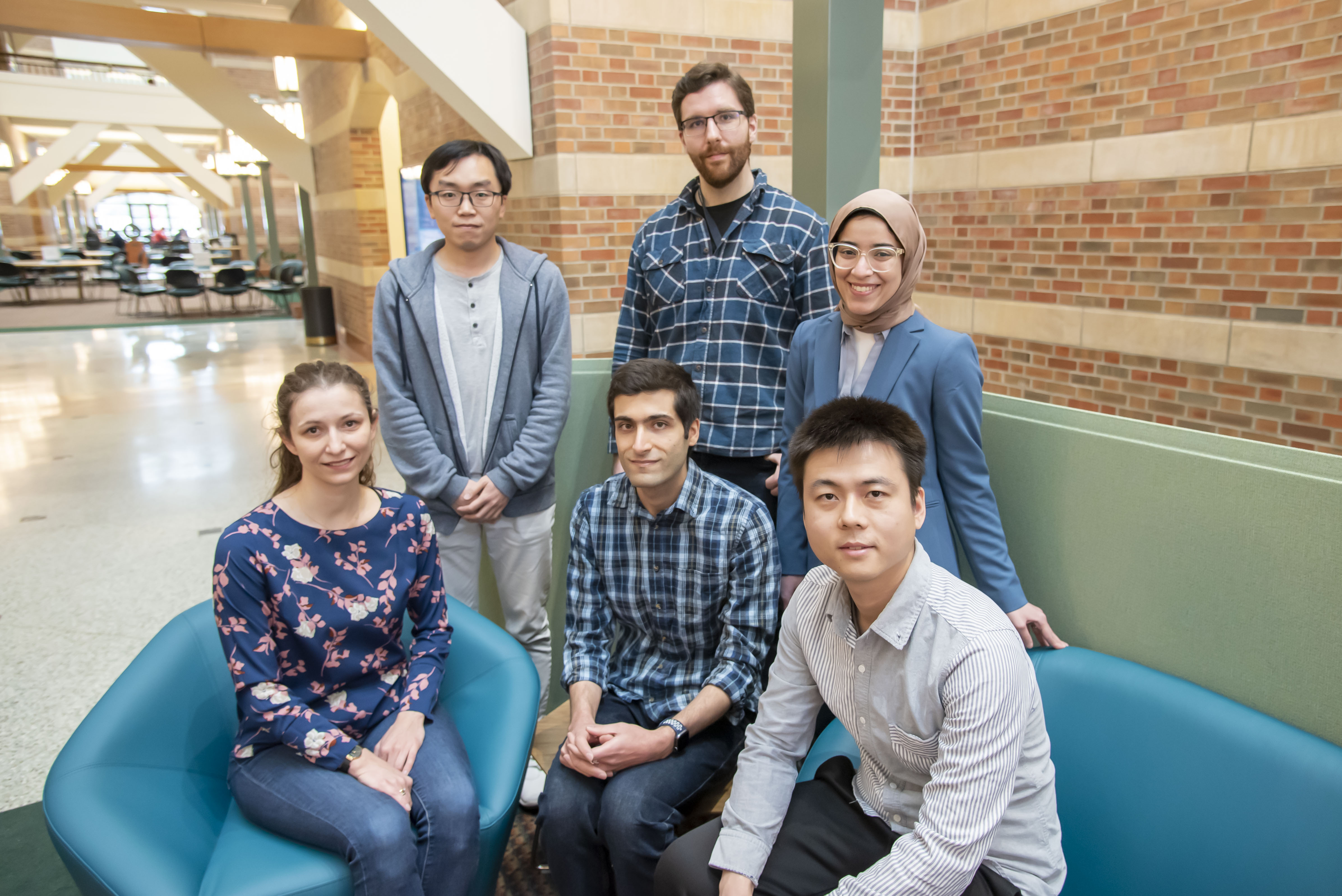 Compassionate patient care and barrier-breaking laboratory science are two sides of the same coin. For proof, look no further than the Beckman Institute for Advanced Science and Technology's latest class of postdoctoral fellows.
With diverse skillsets and a broad range of experience, the six researchers who make up the 2022 cohort seek to transform how we diagnose, monitor, and treat conditions like colorectal and breast cancer, brain tumors and traumatic brain injuries, osteoarthritis, and Alzheimer's disease. Their innovative projects are a product of creative computation, state-of-the-art imaging technology, and interdisciplinary collaborations on campus and in the community.
Read on to learn more about the fellows and their projects.
2022 Beckman-Brown Interdisciplinary Postdoctoral Fellow
Helping the brain detox to prevent neurological disease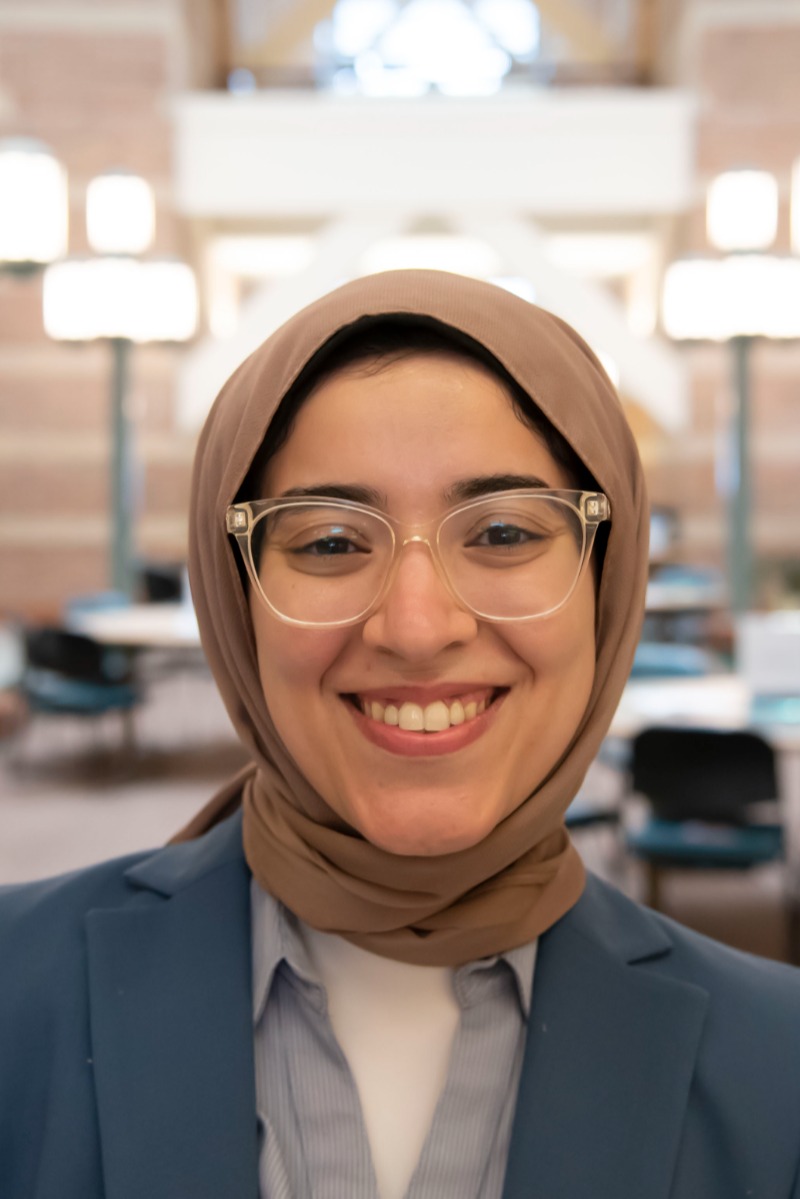 Eman Hamed is a graduate student researcher in Beckman's Neurotechnology for Memory and Cognition Group. She received the 2022 Beckman-Brown Interdisciplinary Postdoctoral Fellowship.
Her research focuses on enhancing glymphatic flow in the brain, a natural process that helps the sleeping brain flush out toxins and clear waste, to ultimately improve brain function in patients suffering from neurodegenerative conditions like Alzheimer's disease.
Problems with glymphatic flow due to poor sleep cycles or disruptions in circadian rhythm can cause or intensify neurodegenerative ailments. Using Beckman's state-of-the-art Bruker 9.4 Tesla MRI scanner in combination with fluorescence microscopy, Hamed will examine the restorative impact of the hormone arginine vasopressin on glymphatic flow, which may lead to better patient outcomes.
In August of 2022, Hamed anticipates completing a Ph.D. in neuroscience from UIUC and an M.Sc. in advanced neuroimaging from the University College in London. She served as a Fellow of the European Board of Neurological Surgery from 2017-2020, and completed an internship in the University of Alexandria's neurosurgery department in 2018. She was also a 2020 Beckman Institute Graduate Fellow and a 2021 Nadine Barrie Smith Memorial Fellow.
Hamed will collaborate with Martha Gillette, a professor of cell and developmental biology; Brad Sutton, the Technical Director of Beckman's Biomedical Imaging Center; and Hyunjoon Kong, a professor of chemical and biomolecular engineering.
2022 Beckman Institute Postdoctoral Fellows

Tracking Alzheimer's disease with novel, noninvasive imaging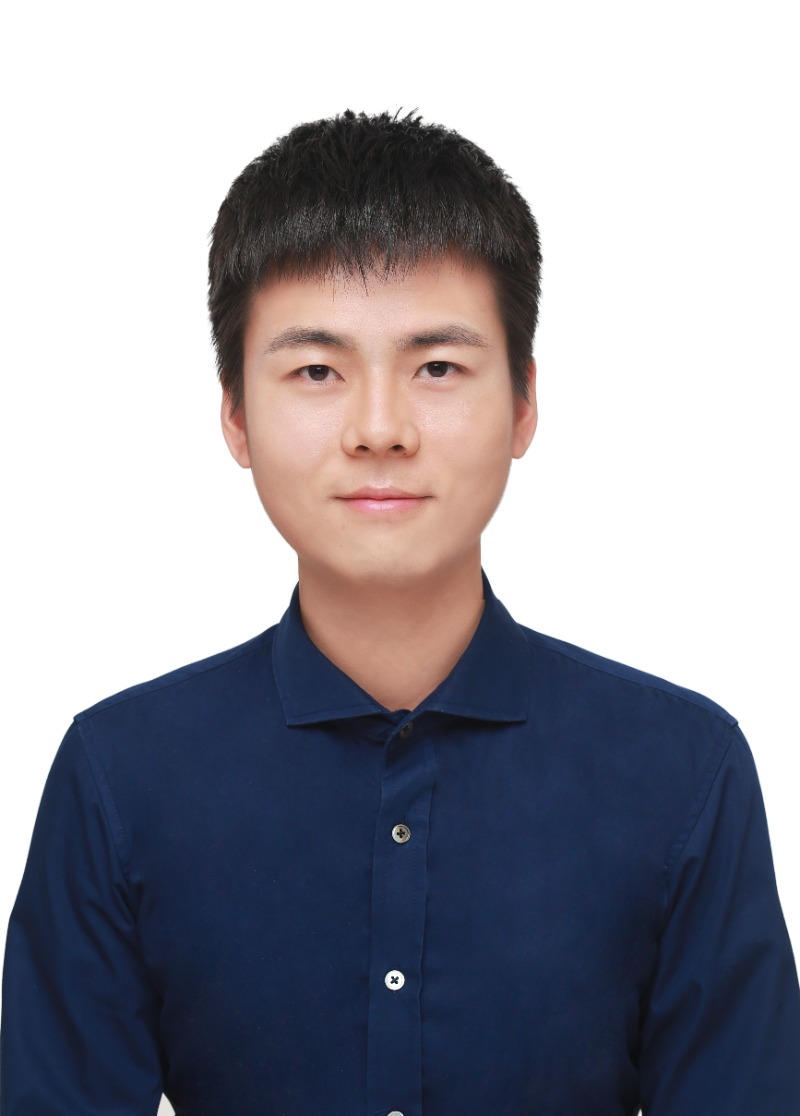 Chang Cao is establishing a first-of-its-kind brain imaging method to safely track the progression of Alzheimer's disease in patients. His research will inspire new diagnostic and treatment strategies to combat a variety of neurological ailments.
He will use a novel, noninvasive imaging method called eMRI to study epigenetic factors in the brain, which impact gene expression without rewriting the genomic sequence. In one such process called DNA methylation, a compound called a methyl group is added to a DNA molecule, potentially impacting how Alzheimer's disease develops in the brain. Cao's team will use eMRI to track DNA methylation — first in pigs, then in healthy humans, and finally in patients of different ages with varying severities of Alzheimer's disease.
In May 2021, Cao received his Ph.D. in neurochemical regulation of food intake from Virginia Polytechnic Institute and State University. He currently conducts research in the Nutrition, Health, and Neuroscience Laboratory in the UIUC College of ACES.
Cao will collaborate with Fan Lam, an assistant professor of bioengineering; and Ryan Dilger, a professor of animal sciences.
Mapping the molecular fingerprints of brain function and disease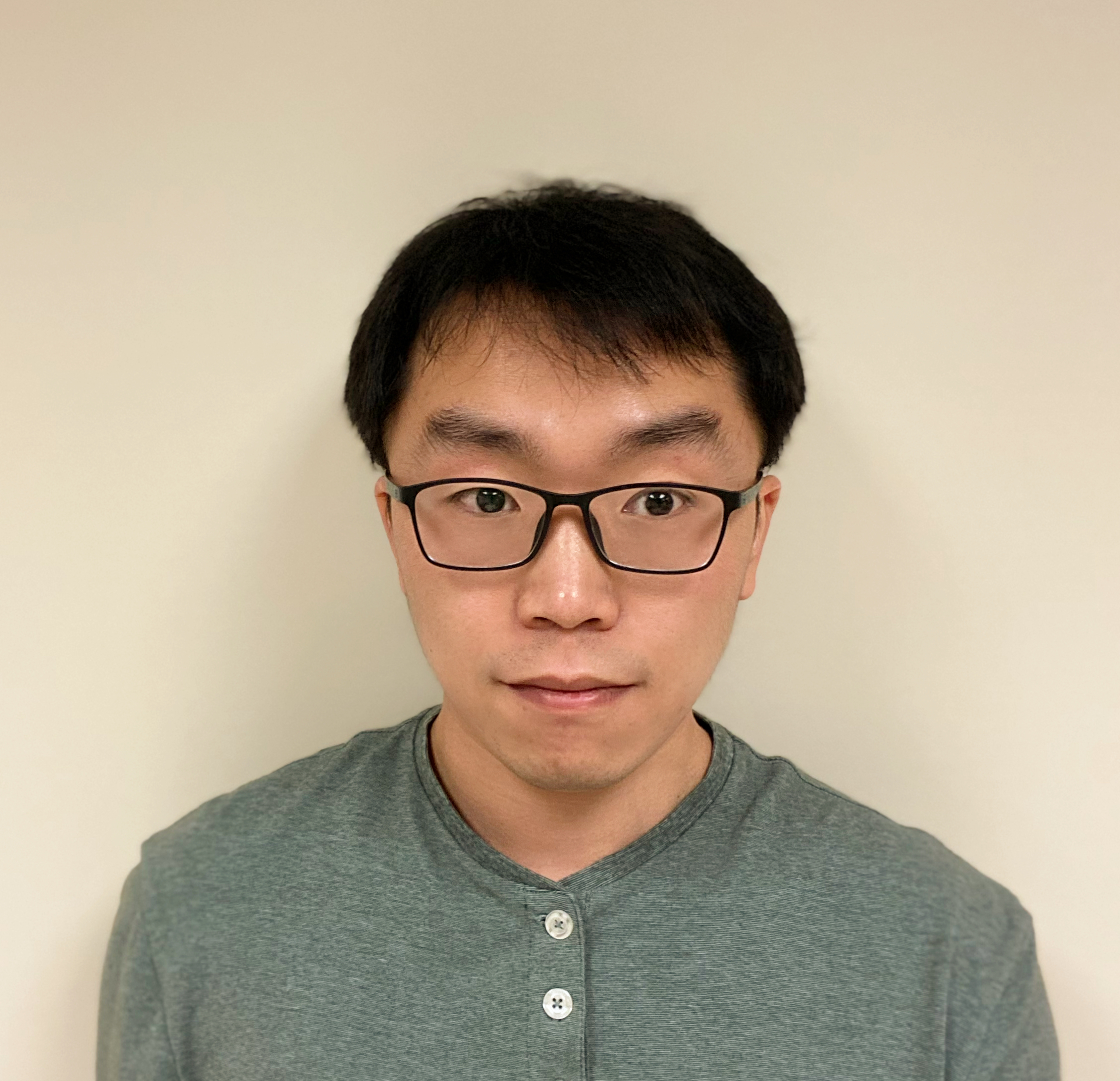 Ronny Guo Rong (Ronny) Guo is developing a medical imaging tool to help clinicians safely and noninvasively pinpoint early indicators of conditions like brain tumors and traumatic brain injuries.
Despite advances that have made imaging technologies like MRI, EEG, and ultrasound more available to researchers and patients, no technology currently exists for routine, high-resolution molecular imaging. Guo's new tool — an MRI variation known as magnetic resonance spectroscopic imaging, or MRSI — will look at molecules like metabolites and neurotransmitters that signal brain diseases and chemical imbalances.
This work will be conducted at an ultra-high magnetic field using the Siemens MAGNETOM Terra 7 Tesla MRI scanner at the Carle Illinois Advanced Imaging Center. The center is a partnership between Carle Foundation Hospital and the Beckman Institute. The scanner is the only one of its kind in the state of Illinois, and one of the few being used for patient care today.
Guo expects to receive his Ph.D. in electrical and computer engineering from UIUC in summer 2022. He received an M.S. in electrical and computer engineering from UIUC in 2018, and was awarded a Beckman Institute Graduate Fellowship in 2021.
He will collaborate with Zhi-Pei Liang, a professor of electrical and computer engineering; Brad Sutton, the technical director of Beckman's Biomedical Imaging Center; and Bruce Damon, the director of clinical imaging research at Carle Foundation Hospital.
Targeting extracellular vesicles to treat breast cancer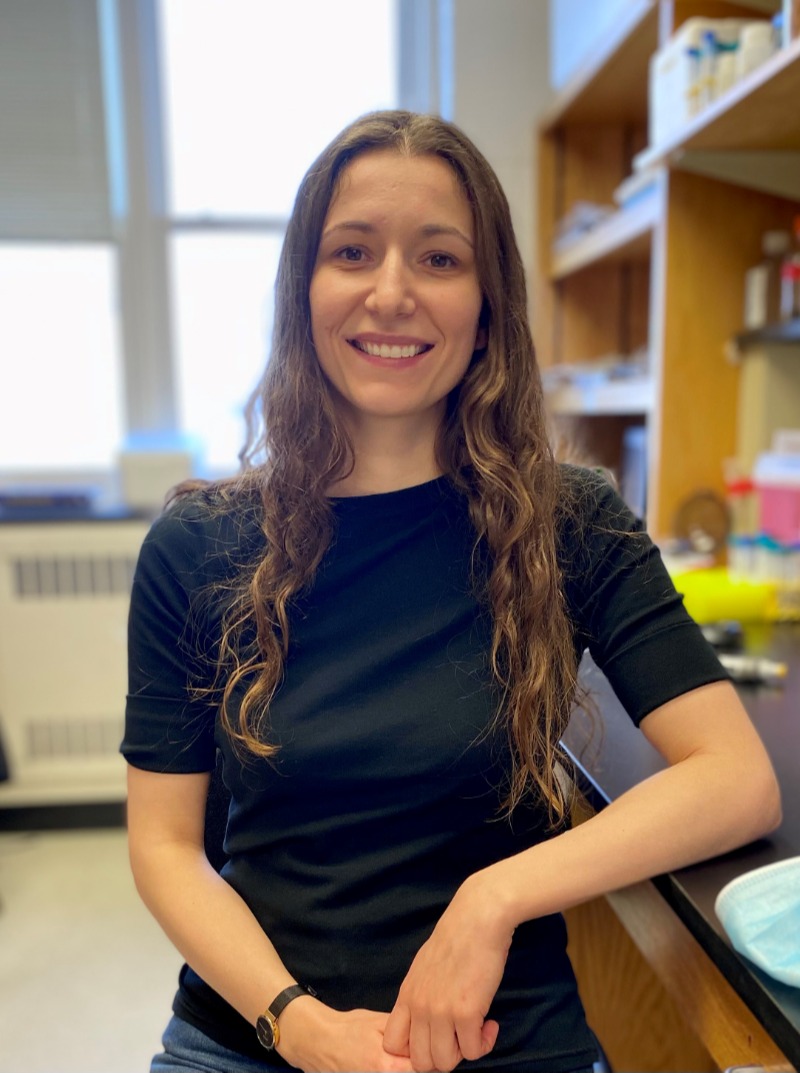 Natalia Krawczynska is researching metastatic breast cancer. She is studying how the presence of cholesterol impacts extracellular vesicles — tiny, fluid-filled sacs that can communicate and transport cargos of materials between cells — and and how EVs can be targeted to treat cancer patients quickly and safely.
Using advanced imaging and microscopy, Natalia will study how host immune cells, EVs, and their cargo can change in the presence of cholesterol. Previous research shows that affected immune cells' EVs can spread a pro-cancer environment from cell to cell, increasing the likelihood of metastasizing. Solidifying the link between cholesterol, EVs, and metastatic breast cancer will pave the way for clinicians to intervene with novel therapies and drugs that proactively target EVs rather than cancer cells.
An expert in human genetics and familial diseases, Natalia received a Ph.D. in biology and medical genetics and an M.S. in laboratory medicine from the Medical University of Gdansk, Poland.
She will collaborate with Marni Boppart, a professor of kinesiology and community health; and Erik Nelson, an associate professor of molecular and integrative physiology.
Evaluating colorectal cancer therapy
Matthew Lowerison Matthew Lowerison is refining a method for gauging the effectiveness of colorectal cancer therapy. He will combine super-resolution imaging with computer-driven blood measurement techniques to develop a comprehensive diagnostic tool.
Studying tumor microvasculature, or the network of blood vessels flowing in and out of a malignant tumor, can help predict the tumor's potential for growth and response to current and future treatments. However, no clinical imaging methods exist with high enough resolution to accurately capture the tumor microenvironment. Lowerison will use a novel combination of deep learning and super-resolution ultrasound localization microscopy to examine how a tumor's microvasculature is impacted by anti-angiogenetic agents, or a type of therapy that mitigates growth of new blood vessels, and chemotherapy.
Lowerison received his Ph.D. in medical biophysics from the University of Western Ontario in Canada in 2017. In 2019, he completed a postdoctoral research fellowship in the Department of Urology at Mayo Clinic in Rochester.
He will collaborate with Pengfei Song, an assistant professor of electrical and computer engineering, and Timothy Fan, a professor of veterinary clinical medicine, both affiliates of the Cancer Center at Illinois.
Understanding the tissue microenvironment to improve patient care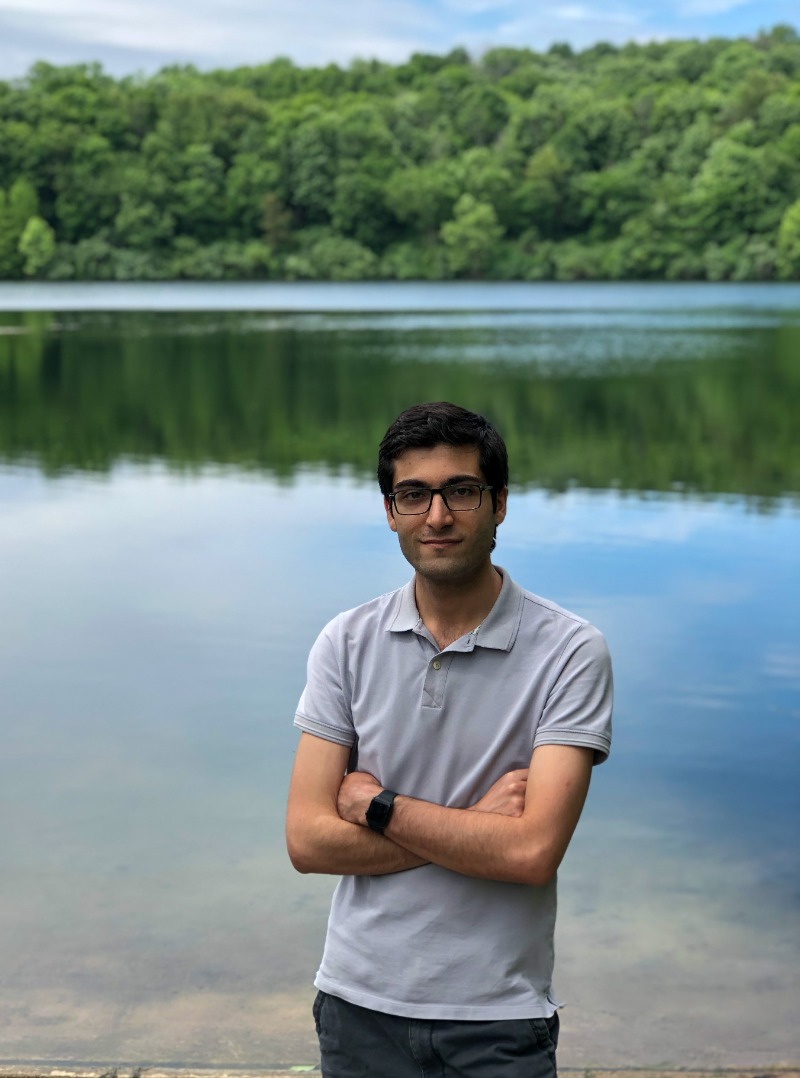 Amir Ostadi Moghaddam will study the biophysical properties of collagenous tissue — like the tissue found in human skin — to improve diagnosis and treatment for conditions like osteoarthritis.
He will combine advanced medical imaging, microscopy, and deep learning to examine the three components of tissue biophysics: microstructure, composition, and mechanical function. Focusing on cervical and ligament tissues, both of which serve distinct yet common functions, will ensure that the results are highly translatable to a variety of applications in the human body. His novel technique will allow non-invasive, comprehensive in vivo imaging — and ultimately diagnostics — to facilitate safe and speedy patient care.
Ostadi Moghaddam anticipates receiving his Ph.D. in mechanical engineering from UIUC in 2022. In 2016, he received an M.Sc. in mechanical engineering from the University of Tehran. He also participated in the 2020 Tissue Microenvironment Training Program.
He will collaborate with Mariana Kersh, an associate professor of mechanical science and engineering; Brad Sutton, the technical director of Beckman's Biomedical Imaging Center, and Amy Wagoner-Johnson, a professor of mechanical science and engineering.

---
The 2022 Beckman Institute Postdoctoral Fellows were selected for their highly innovative research, which fills critical societal needs while aligning with the institute's core values: excellence, collaboration, integrity, transdisciplinarity, exploration, and diversity.
The Beckman-Brown Interdisciplinary Postdoctoral Fellows Program selects one outstanding researcher annually. The program was initiated in the fall of 2015, when the Arnold and Mabel Beckman Foundation provided an endowment in honor of Dr. and Mrs. Arnold Beckman and the founding director of the Beckman Institute for Advanced Science and Technology, Dr. Theodore "Ted" Brown.
The Beckman Institute Postdoctoral Fellows Program recruits four to six outstanding scientists annually to work at the Beckman Institute. The program was established in 1991 by the Arnold and Mabel Beckman Foundation.
Contact the Beckman Communications Office at communications@beckman.illinois.edu.