Published on
Dec. 9, 2021
Building on previous research manipulating molecules at the electrochemical interface, chemistry professor Joaquín Rodríguez-López is leading a multi-institutional research team that will explore new electrochemical methods for removing carbon dioxide directly from the atmosphere known as direct air capture.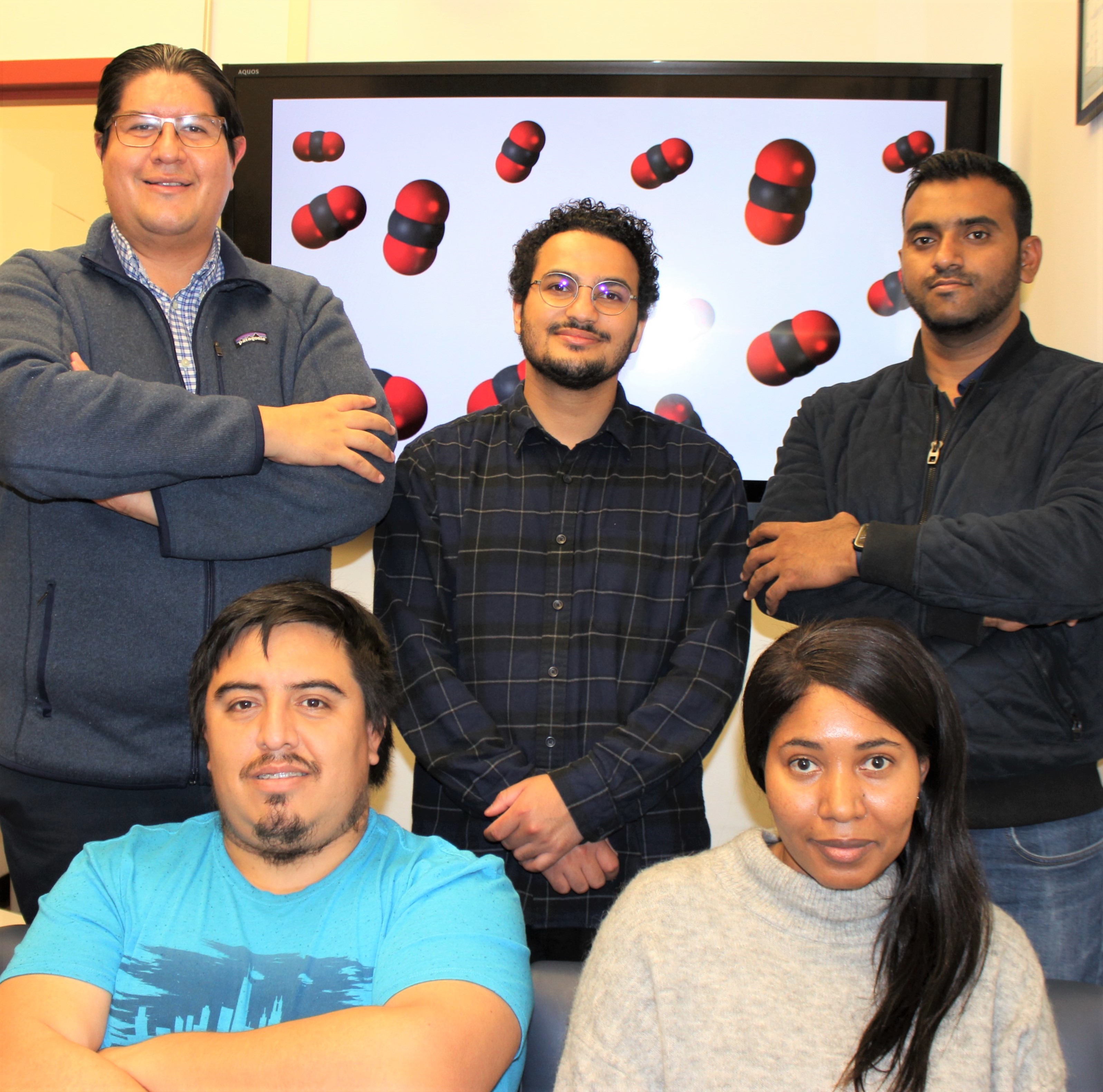 The members of the Rodríguez-López lab who are working on the carbon capture project are: back row (from left) professor Joaquín Rodríguez-López, graduate student Abdur-Rahman Siddiqui, and postdoctoral researcher Md. Sazzad Hossein; and in the front row (from left) postdoctoral researcher Adolfo Barros Romo, and Jeanne N'Diaye, a Beckman-Brown postdoctoral researcher. Photo courtesy of Tracy Crane, UIUC Department of Chemistry. The project has been awarded $1.8 million by the U.S. Department of Energy, one of nine projects the DOE is funding to advance cost-effective carbon capture technology. Current DAC methods are expensive and not economically viable on a large commercial scale, but the emerging technology is an expanding field in decarbonization and a key factor in the challenge to combat global warming and achieve net-zero emissions by 2050.
In addition to researchers in the Rodríguez-López Lab at UIUC, the research team includes Veronica Augustyn, an associate professor of materials science and engineering at North Carolina State University, and Jahan Dawlaty, an associate professor of chemistry at the University of Southern California.
Their project, "Reversible Electrochemical Capture/Release of Carbon Dioxide Mediated by Electrostatically Enhanced Charge Transfer," is the result of collaboration sparked by an award made in 2019 as part of Research Corporation for Science Advancement's Scialog Advanced Energy Storage initiative. Scialog Fellows collaborate in high-risk discovery research on untested ideas and communicate their progress in annual closed conferences.
The previous work of the research team involved better understanding fundamental questions about how molecules interact with electrodes.
"I had read a work from Jahan Dawlaty which I thought would help to quantify many effects that we had observed in other electrochemical systems that our lab works with such as redox flow batteries and modified electrodes," Rodríguez-López said.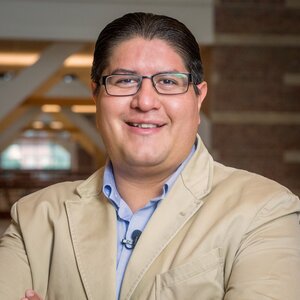 Joaquin Rodríguez-López. "When I attended Scialog and I met with Dawlaty and Augustyn, I knew this was the perfect opportunity to gather a strong team to give some answers to these fundamental questions and potentially start developing technologies based on what we learned."
The new objective of the research team led by Rodríguez-López is to exploit an energetically inexpensive electrostatic charge transfer mechanism for the capture and release of carbon dioxide in a reversible and controllable fashion at electrode surfaces.
"We have some ideas about how we can manipulate the chemistry of certain types of molecules at the electrochemical interface, and CO2 seems an excellent candidate," Rodríguez-López said. "Our job now is to explore this new territory by designing the interface, find the rules of reactivity, and evaluate how well it might work to capture CO2."
The researchers believe the approach could create the opportunity to integrate DAC into renewable energy sources such as solar and wind energy and could also be an alternative that dramatically decreases the energy used in current state-of-the-art thermochemical approaches to DAC.
"We'll be putting our expertise together in materials, electrochemical interfaces and spectroscopy to see if we can come up with a new mechanism of capturing carbon dioxide," Augustyn said in a Research Corporation story about their Scialog collaboration.
Rodríguez-López said this project is really at the forefront of how we understand electrochemical interfaces.
"Our seed project has already exposed us to some unexpected results, and it has been thrilling to elucidate a consistent story from our various experiments," he said. "I love the feeling of learning something new as we are doing it in the lab, and suddenly making connections to many other observations we have made on so many other projects."
Of course, he added, the speed of the discovery process determines how fast their idea could be developed into a concept device.
"I feel confident that with the excellent students and postdocs here at Illinois, we will advance swiftly," said Rodríguez-López, whose UIUC chemistry team on this project includes Md. Sazzad Hossain and Adolfo Barros Romo, two postdoctoral researchers with the JRL group; Jeanne N'Diaye, a 2021 Beckman-Brown Postdoctoral Fellow collaborating with the JRL group, and Abdur-Rahman Siddiqui, a first-year chemistry graduate student.
Rodríguez-López said that Romo and Hossain have been working a completely different system, but the team's hypothesis is that the basic science they have learned so far will apply to this particular carbon dioxide project.
Romo is already making some of the molecules the research team will be using for this particular project, and for more than a year, Hossain has been laying out the framework of how the new methods that will be introduced are going to work.
"This project not only aims at solving a global problem, but it will also establish a new benchmark in fundamental electrochemical sciences - and the opportunity to achieve that is quite exciting," Hossain said.
In addition to his affiliation with the Beckman Institute, Rodríguez-López is also a Materials Research Lab professor and the J. Andrew and Susan S. Langan Professorial Scholar in the Department of Chemistry at Illinois. His research group focuses on developing powerful methods of analysis at the nano- and micro-scale for understanding how electrode structure and electrochemical reaction intermediates impact the performance of materials and interfaces for batteries, electrocatalysts, and sensors, with the intention of advancing energy conversion and storage, as well as electrochemical technologies for environmental applications.
---
Editor's note: this article was originally posted on the UIUC Department of Chemistry website. Read the original article here: https://chemistry.illinois.https://chemistry.illinois.edu/news/2021-12-01/rodriguez-lopez-leads-research-team-exploring-new-carbon-capture-methods