Published on
Nov. 16, 2021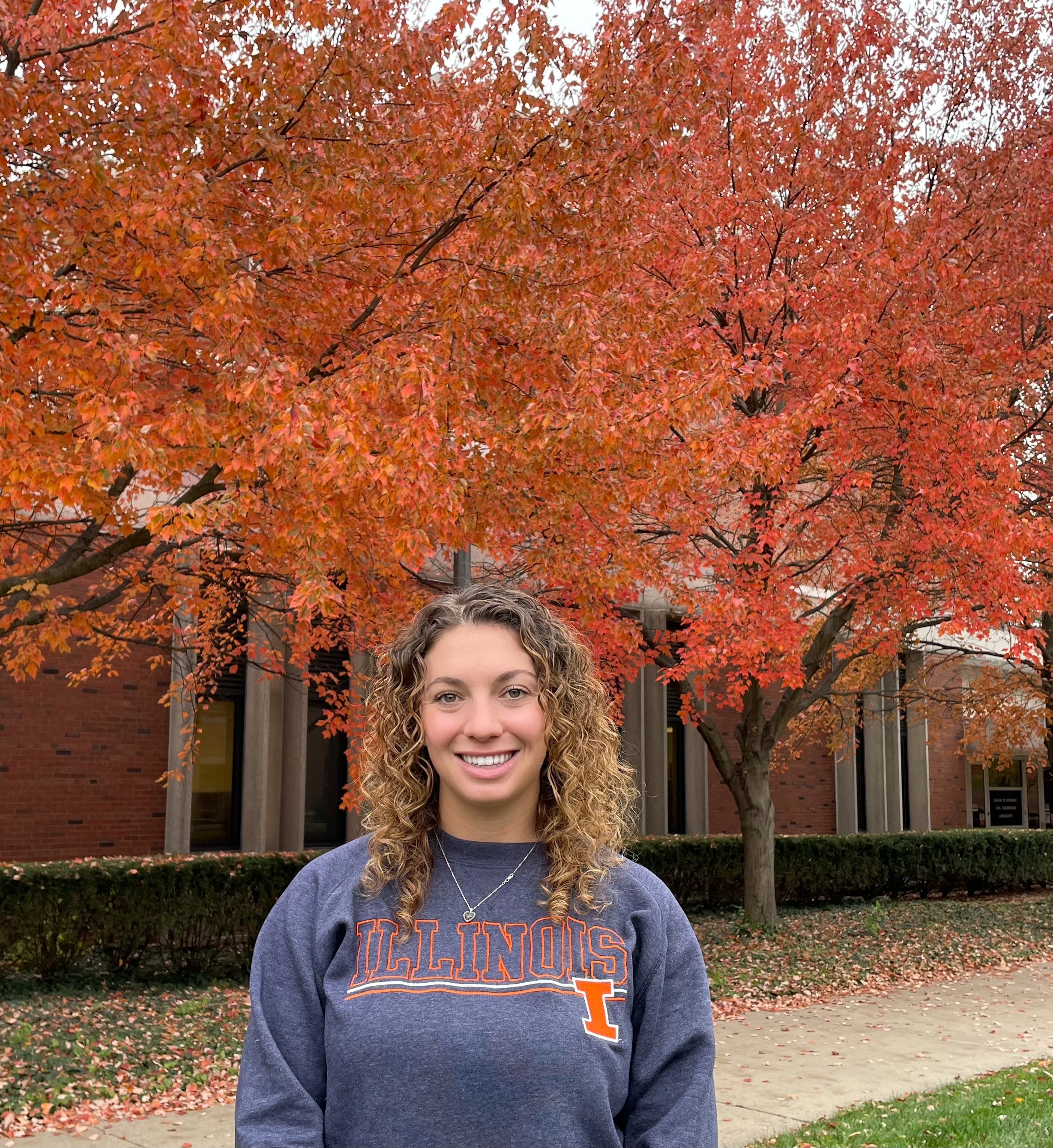 Justine Paul is a fourth-year Ph.D. student studying materials science and engineering. At Beckman, she collaborates with Nancy Sottos, Jeffrey Moore, and Philippe Geubelle in the Autonomous Materials Systems Group. Her current research focuses on harnessing the instabilities that arise during the frontal ring opening metathesis polymerization (FROMP) process for the fabrication of functional materials.
Hometown: Ashland, Pa.
When did you first take an interest in your field?
I first got interested in materials science and engineering during my sophomore year of my undergraduate career. I had the opportunity to conduct biomaterials-related research in Dr. Patrick Mather's lab at Syracuse University working on a project that was at the cross-section of bioengineering and materials science. During this time, I was also enrolled in the Introduction to Materials Science class which also sparked my interest and passion for the field.
What kind of research are you working on?
My research focuses on the development of new manufacturing techniques that aim to fabricate functional materials utilizing a rapid, energy-efficient polymerization process. More specifically, I am primarily interested in understanding how different types of instabilities arise during this process in both open- and closed-mold geometries such that we can begin to harness the instabilities for the fabrication of functional materials that other manufacturing techniques are unable to achieve.
Beckman's mission is to build a better world. How does your research make our world better?
The research I am working on seeks to improve current manufacturing techniques for functional materials that will ultimately cut down the time, cost, and energy needed for fabrication. My research also focuses on how we can incorporate deconstructable segments into our final polymer such that we can begin to create a more circular economy for the materials we fabricate and begin working towards reducing the amount of plastic waste generated.
How has your affiliation with the Beckman Institute helped you?
My affiliations with the Beckman Institute have helped me grow not just as a scientist but also as a professional and a person. With state-of-the-art facilities only a few steps away from our lab, I have had the privilege to learn from the staff scientists on a wide variety of instruments that have been crucial to the advancement of my research.
The Beckman Institute has also provided me with many opportunities to present my research in front of a larger audience, which has allowed me to learn how to effectively communicate my research to those outside of my field. In 2020, I was selected to be a Beckman Institute Graduate Fellow, which allowed me to further grow as a scientist and a professional.
The Beckman Institute has been a really great place to work as a graduate student; all the staff that I have interacted with have been a true pleasure to work with and have made my graduate experience better than I could have ever imagined.
Describe a transformative moment or experience you have had at Beckman.
There are two transformative moments that stick out the most for me that I believe have further prepared me and given me the confidence for taking on the role of being a manager in my future career. The first one being completely shutting down and restarting our experimental labs safely during the pandemic. And the second one being organizing and coordinating the complete move of our five lab spaces during the ESCO project in Beckman. These two moments have allowed me to learn how to effectively communicate with others in and outside of our lab, prepare and plan for all possible scenarios, and most importantly, how to balance being a lab manager as well as a graduate researcher.
Tell us about your post-university plans!
My current plans are to pursue a career in industry with a focus on research and development. During my career, I plan to continue sharing my passion for science and engineering with others to advocate for equal access to higher education through the participation or establishment of an outreach group at the company I am hired at. I also hope to be able to further bridge the gap between industry and academia by creating more opportunities for students to interact with members of industry to learn more about the types of careers that are possible.
While I have these plans in mind for my future career, I hope to achieve far more than what I have in mind for myself. I believe it is important to keep an open mind with a willingness to learn and adapt as you never know what new opportunities may arise that you never thought imaginable.
What do you like to do outside of the classroom or lab?
During my free time, I volunteer with a local nonprofit, Makergirl, where I help facilitate 3D printing workshops for girls ages 7 to 15. Outside of the lab, I also enjoy spending time outdoors, golfing, running, boxing, skiing, cooking, and gardening.
---
Speed Round
Favorite local restaurant: This is a tough one, but I would probably have to go with San Maru
Top three songs at the moment: "Damage," H.E.R; "True Love," Wizkid; "Sunbathe," Tainy & Miguel
Plans for fall break: I typically stay in town and host a Friendsgiving at my place but this year I will be traveling to New York City to meet up with my entire immediate family for the first time in two years.
Favorite autumn activity: Roasting marshmallows over a fire
Currently streaming/watching: "Insecure" and "The Morning Show"