Published on
Sept. 17, 2021
In days gone by, cartographers signaled uncharted territory by sketching dragons, sea monsters, and mythical creatures on their maps. Now, UIUC researchers are using magnetic resonance imaging to craft atlases of their own. In a very different way, these contain dragons as well.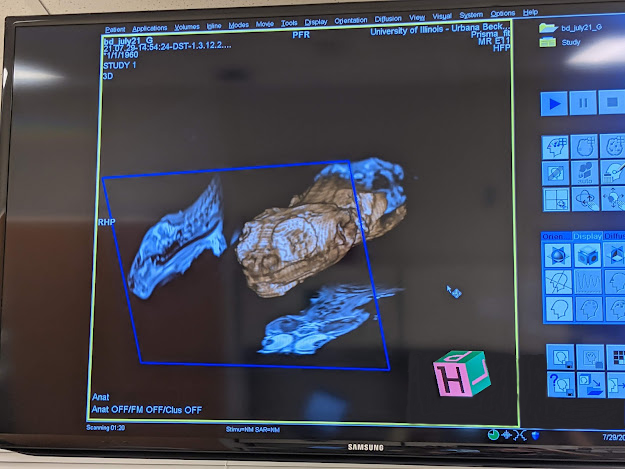 An MRI scan of a bearded dragon taken during this study. No protocol currently exists for conducting MRI scans of the most common companion reptile.Researchers from the Beckman Institute for Advanced Science and Technology and the College of Veterinary Medicine performed MRI scans on bearded dragons to generate a detailed brain atlas: a high-res­­olution map of regions in the creatures' brains. The interdisciplinary team included Kari Foss and Krista Keller, assistant professors in the Department of Veterinary Clinical Medicine, and Brad Sutton, a professor of bioengineering and the technical director of Beckman's Biomedical Imaging Center.
Despite the increasing number of people welcoming bearded dragons into their families, no standardized protocol exists for performing MRIs on the most common companion reptile.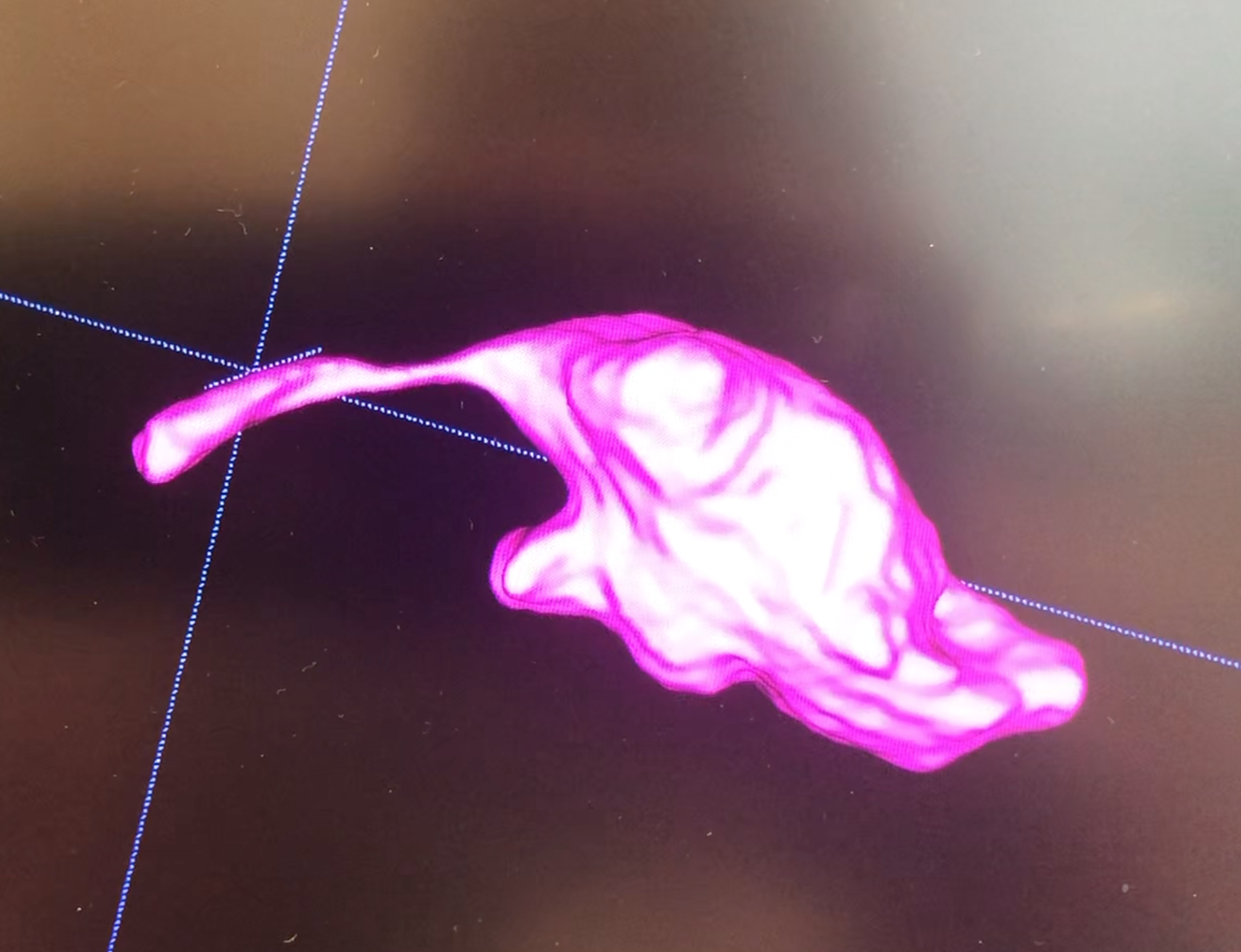 Bearded dragon mid-sagittal slice, imaged using a 3 Tesla MRI scanner located in Beckman Institute. The dragon is facing left, with the top of its head corresponding to the top of the photo."It is challenging to get spatial resolution sufficient to see disease in the brain of a bearded dragon using a clinical MRI machine designed for humans," Sutton said. "It is important to understand what a healthy bearded dragon's brain looks like, and to understand the variation across different animals."
Anesthesia is routinely used for animals during MRI scans. Because the scanner contains a strong magnet, specialized metal-free anesthetic monitoring equipment is also required.
"There are several instances when a bearded dragon would benefit from an MRI exam. However, a strong consideration prior to ordering this diagnostic would be the risks associated with anesthesia," said Keller, who is also the service head of zoological medicine at the Veterinary Teaching Hospital.
The work performed by Sutton, Foss, and Keller identified a safe and predictable anesthetic protocol that can be used in future clinical cases.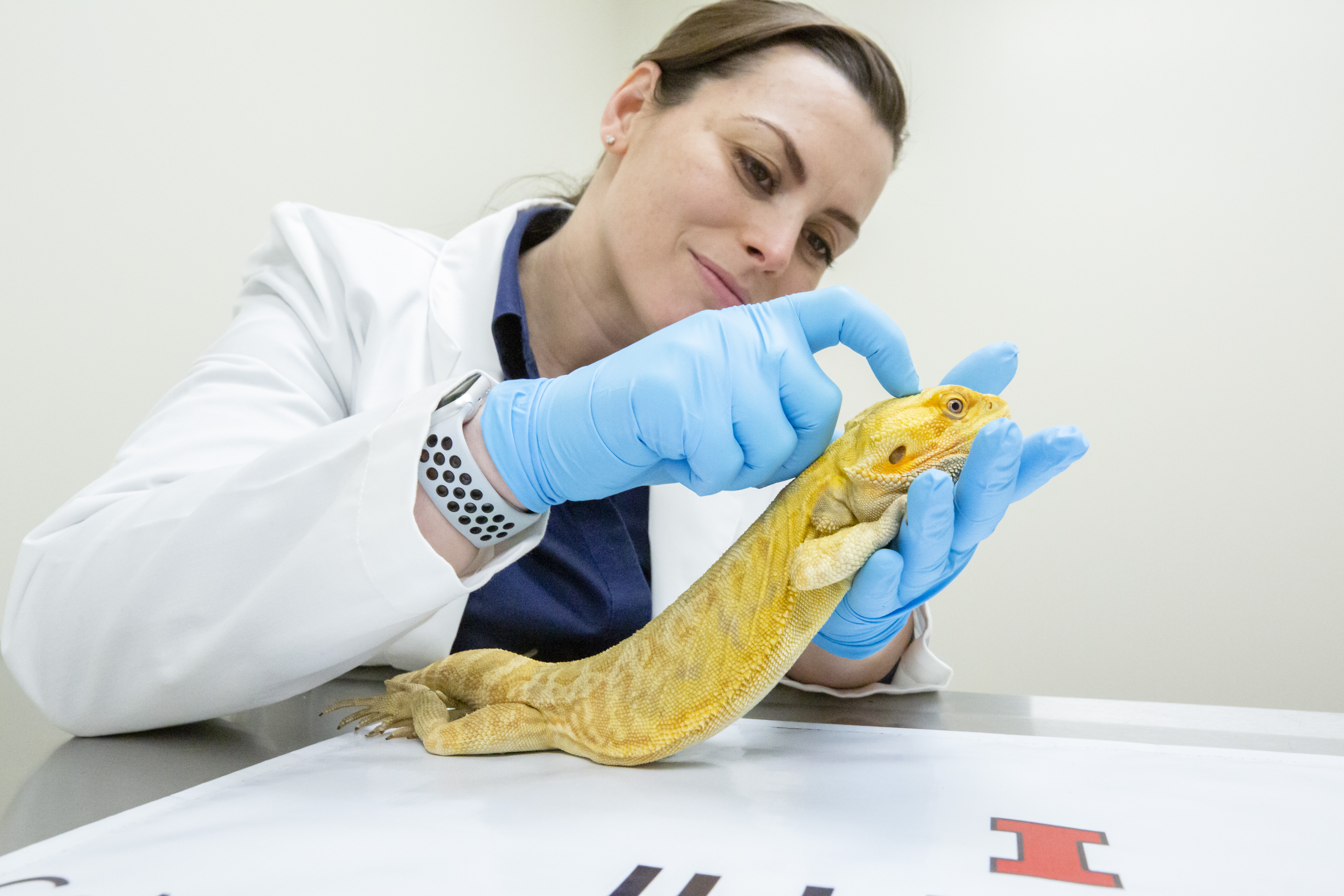 While bearded dragons could certainly benefit from MRI exams, the risks associated with anesthesia are significant, according to Krista Keller (pictured with a bearded dragon at the College of Veterinary Medicine). This photo and news widget photo courtesy of L. Brian Stauffer.In addition to establishing safety protocols, data from this study expands the clinical information available for performing high-resolution MRI scans of bearded dragons. The scans will be used as reference materials in the unfortunate event that a bearded dragon arrives at the clinic for diagnosis and treatment of a neurologic disease.
"Our goal for this study was to not only provide clinicians with an anatomic reference of the bearded dragon brain, but to also establish a safe and efficient MRI and sedation protocol that can be utilized in practices with access to either a 1.5 or 3 Tesla MRI," Foss said.
The interdisciplinary team used a 3 Tesla MRI scanner located in the Beckman Institute's Biomedical Imaging Center to image seven bearded dragons safely and non-invasively. The bearded dragons came from a research and study colony and represent the most common lizard species encountered in veterinary medical practice.
In addition to Sutton, Keller, and Foss, the project included collaborator Spencer Kehoe, a UIUC clinical instructor in Zoological Medicine at the Veterinary Medicine South Clinic.
This study is currently in progress.