Published on
Aug. 20, 2021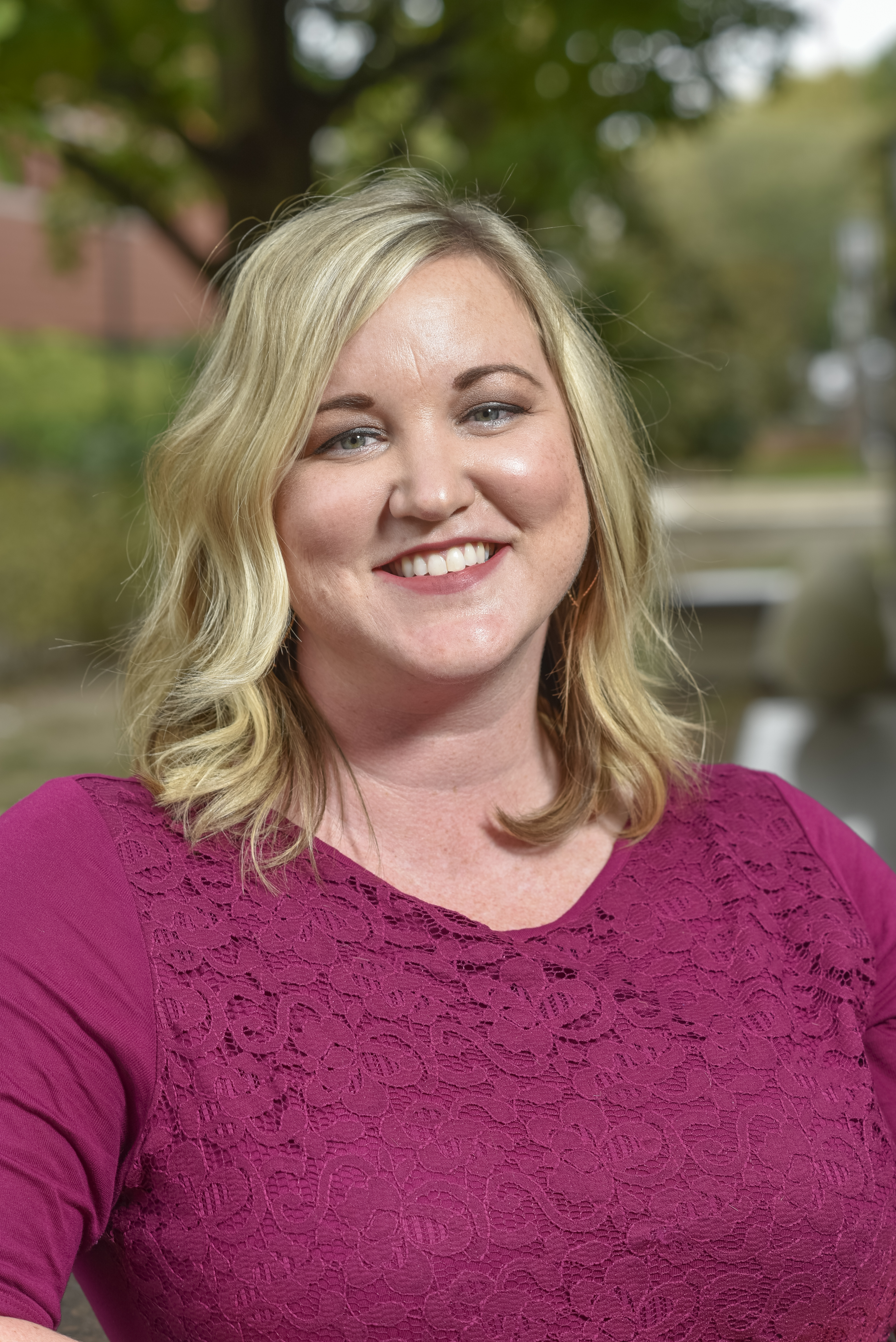 Ashley Trimmell, a senior coordinator of research programs at the Beckman Institute, was recently recognized with an Outstanding Service Award from the UIUC Office of Sponsored Programs and Research Compliance for her service in support of research administration at Beckman and Illinois.
Trimmell's time at Beckman comprises a decade of diverse projects, partnerships, and positive impacts. An Illinois alumna, she began working for the U of I Foundation in 2008 and moved to Beckman two years later to be a research programs coordinator for the Autonomous Materials Systems Group.
Trimmell's wealth of experience serves her well on the Beckman Institute administrative team, where she ensures smooth operation of professors Jeff Moore and Nancy Sottos' labs – two of the most robust teams within Beckman's AMS Group. Together, they total roughly 35 students and postdocs and exceed $3.5 million in annual research expenditures.
In a position this dynamic and demanding, no two days are alike. Among other responsibilities, Trimmell manages a steady stream of grants, proposals, research funds, budgets, manuscripts, and patents. She also coordinates recommendation letters for the many postdocs and students who pass through Beckman's doors.
"My favorite thing about my job is all the different people I get the opportunity to meet and work with," Trimmell said. "Amazing people who are inspiring, motivating, and passionate about what they do. In this position, you really feel like you are part of something bigger, something that is making changes and solving problems."
While Trimmell describes herself as a behind-the-scenes "woman behind the curtain," her dedication and work ethic are far from unnoticed. In his nomination letter, Beckman director Jeff Moore cites Trimmell's versatility, wisdom, breadth of knowledge, and desire to help others. He specifically describes the Business Process Improvement project, which evaluated Beckman's full inventory lifecycle for assets – from procurement all the way to removal.
Moore writes of the comprehensive project: "Ashley served an invaluable role in seeing this project completed in a timely manner. Her expertise and commitment to improving the process and the Beckman Institute was invaluable."
Trimmell was also instrumental in producing a winning proposal from the National Institutes of Health to support construction of a new Tissue Engineering and Phenotyping Core Facility. She collaborated alongside leaders from Beckman and the Cancer Center at Illinois to develop the proposal, which received a perfect score from the review team and won the institutes a total of $3.3 million.
A true team player, Trimmell embodies Beckman's mission of interdisciplinary collaboration in all aspects of her work.
"I am grateful to have such a skilled and productive individual as Ashley as part of the Moore Group and Beckman Institute team," Moore writes. "It is no understatement to say that the tremendous research achievements of the Moore Group and my own professional accomplishments during this highly productive decade would never have occurred without Ashley's dedicated and expert talents."
And she is committed to continuing that excellent work.
"I look forward to sharing the knowledge I've gained over the last 11 years, continuing to learn new and better ways to manage grant portfolios, and doing my part to help Beckman Institute remain on the cutting edge of research," Trimmell said.
All award recipients will be honored at SPaRC's annual retreat that will be held virtually on Sept. 17th.