Published on
Aug. 2, 2021
Everyone has their "moment of inspiration." Shachi Mittal's happened at Beckman Institute.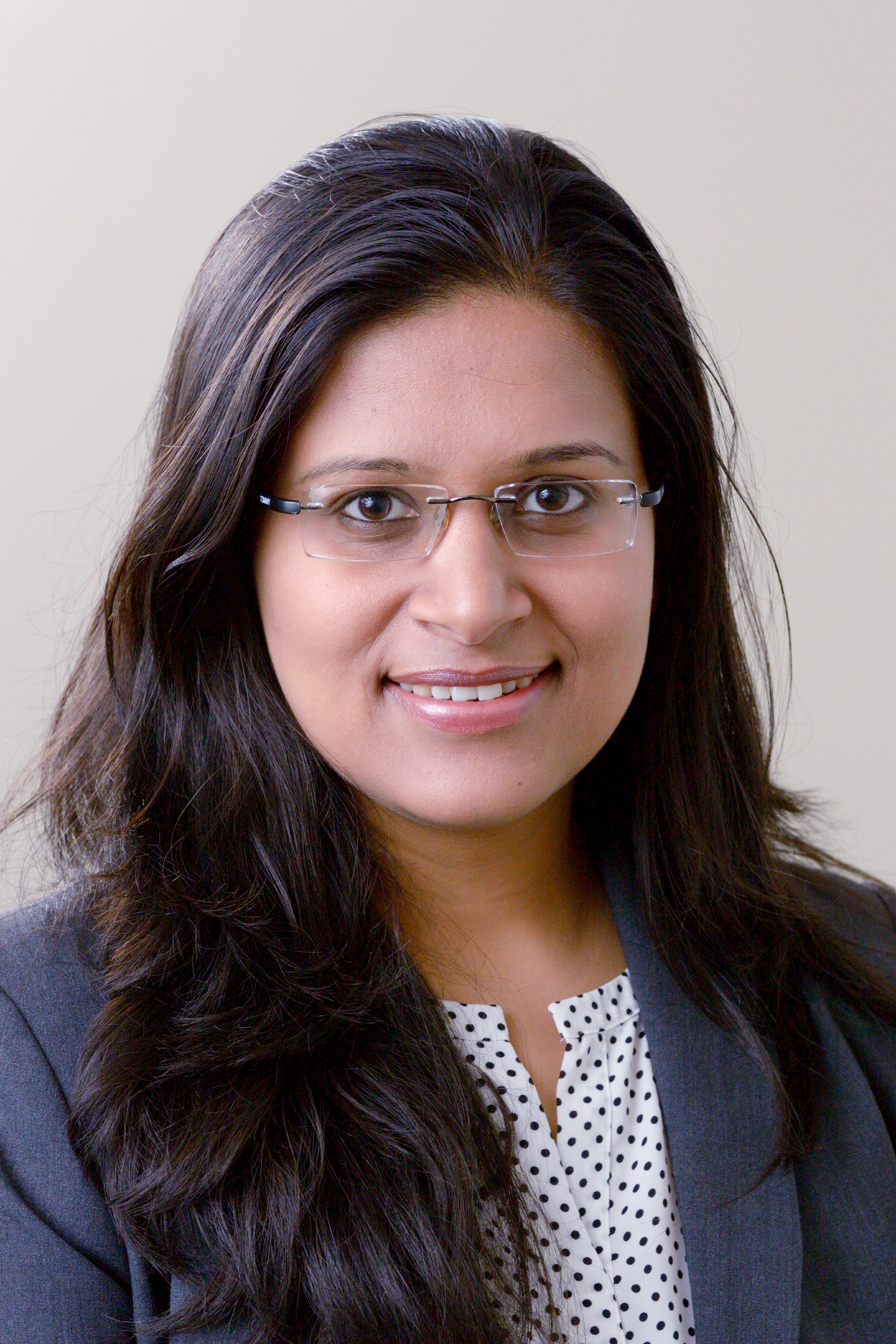 Shachi MittalA member of the Beckman community since 2013, Shachi Mittal was named a Beckman Institute Postdoctoral Fellow in 2019. In September of 2021, she relocates to Seattle to begin a new chapter as an assistant professor at the University of Washington. Looking back on her eight-year Beckman career and ahead to her promising future, Shachi reflects on lessons learned from the institute, the art of collaboration, and her "moment of inspiration."
Your relationship with Beckman has spanned almost eight years! Let's start at the beginning. How did you first become involved with the institute?
Shachi Mittal (SM): The first time I visited Beckman was as an undergraduate researcher back in 2013. I was in my final year at the Institute of Technology in Delhi, India, and I was among 30 applicants selected for the Khorana Program for Scholars, which allowed students to pursue hands-on research programs at different universities. Through this program, I came to Beckman for a summer internship in Professor Rohit Bhargava's lab.
What was your first impression of Beckman?
SM: I used to be this very timid, nervous undergrad, as this internship was my first time being out of the country! I was very confident in my research, but not super confident in reaching out to people. Right away, I noticed the welcoming vibe in Beckman, providing an atmosphere where one can grow both as a professional and an individual.
Because of interdisciplinary space the Beckman is, people are closely connected to each other, both scientifically and personally. People keep bumping into each other in the hallways, elevators and various social events at Beckman and conversations about science and life naturally happen. There are no barriers at Beckman. I as a grad student could effortlessly talk to many professors and even to the Beckman director about my research.
And that summer internship prompted you to apply for graduate school at the University of Illinois.
SM: I loved [the internship] so much that I knew I wanted to go to grad school, and I wanted to go to grad school right here. I finished my undergrad in Delhi, and applied to the U of I. I joined Beckman as a grad student in 2014, again in Professor Bhargava's lab. My work was predominantly focused on applying machine learning and imaging technology for breast cancer diagnosis.
I'm probably one of the very few females in my entire family – and my extended family as well – to have gotten this opportunity. My father used to walk four miles just to get a primary school education. When he first entered Beckman, he couldn't speak for the first five minutes because he was amazed at where I had the opportunity to grow. He felt his daughter is being trained at a place he couldn't even have imagined. Every time I would enter Beckman, I would feel so happy and fortunate as well.
Being a Ph.D. student isn't easy. Where did you find inspiration in your most challenging moments?
Mittal poses beside a portrait of Arnold and Mabel Beckman, two of the many mentors who provided inspiration throughout her Ph.D. program.SM: Any Ph.D. program is filled with up and downs. Sometimes your research is working, sometimes it isn't. I would often walk near the Beckman's tower rooms, because that's where the large windows are, just to brainstorm and look at nature. Whenever I asked myself, "What if I'm not doing exactly what I should be doing?" or, "Could I be doing something better?" I would walk there to clear my head.
When I applied for a postdoc fellowship and got it, I continued to do that. At that time, the portraits of past Beckman directors had been hung there. I remember thinking: "Such great people have formulated this institute, have come out of this institute, have led to the foundation of this institute." I experienced such a positive energy, and I felt that if I just keep going, I can achieve big things, and there's nothing stopping me.
Being a part of Beckman, I feel like these directors and founders, particularly Arnold Beckman, are also my mentors. If they have achieved such big things, and I am in this atmosphere that they created, then I have what I need to be successful. I just need to keep going.
The history of Beckman is certainly one of inspiration and growth. How do you see those core values coming through today?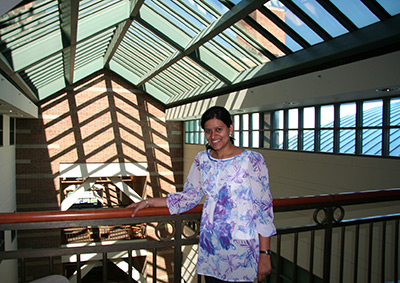 Mittal as a Beckman grad student in 2013. She stands on one of Beckman's famous bridges linking the north and south wings. SM: It's so important for people like me to come out and say that some workplaces are so good. There are workplaces where you are literally pushed in the right direction, and Beckman is one of those. In 2014, if someone would have asked me, 'Shachi, you can be a professor at the University of Washington at Seattle?' I wouldn't have been able to even imagine that.
If you look at it, the Beckman community and atmosphere is one of respect and equity. Being a young scientist, a female scientist, an immigrant, and brown in color, I always felt the same respect and felt that all my interactions were based on what I brought to the table – not where I'm from, or whether I am a male or female.
Beckman is such an atmosphere of growth. Be it mentors or collaborators, the people here have always motivated me. They'd say: 'Shachi, I know you can do this, I have seen you!' Beckman helped me dream even bigger than I could have anticipated.
What's next for you in the future? Where are you going from here?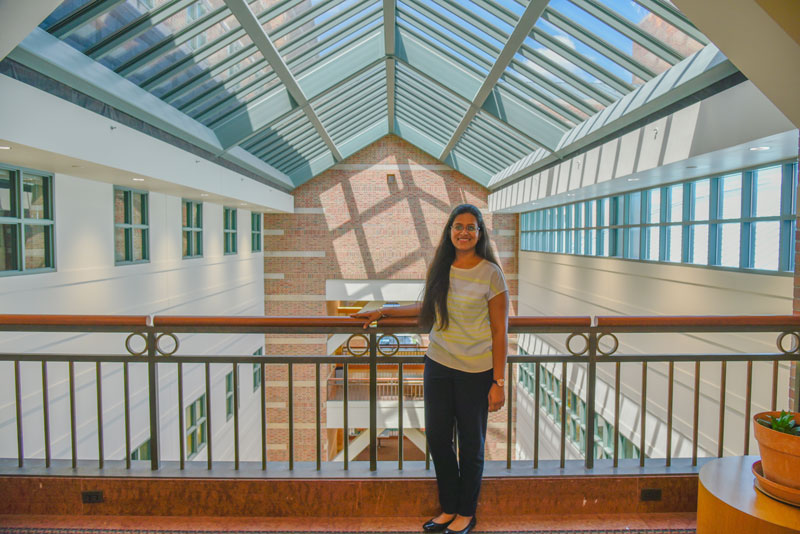 Mittal in 2021, in the final days of her Beckman Institute Postdoctoral Fellowship. Like the bridge she stands on, her upcoming research at the University of Washington will "bridge the gap" between engineering and cancer care.SM: In September, I will be starting as an assistant professor in the Department of Chemical Engineering at the University of Washington in Seattle. I am excited about the opportunity to bridge the gap between engineering innovation and clinical care in cancer. This is something I'm passionate about, and I am sure that UW will be great place to pursue this. My lab's focus will be combining new advancements in imaging, genomics, and artificial intelligence for an enhanced understanding of breast cancer. Once we have the pipelines that are clinically translatable, we can ask ourselves how to extend that to other types of cancers.
I'm grateful to the Beckman community to have given me the exposure to work closely with clinicians at the Carle Foundation Hospital and at the University of Illinois at Chicago. It gave me the ability to think about how we can bridge some of these gaps and communicate together to create something that patients can really benefit from – be it early diagnosis or better treatment.
What lessons learned at Beckman will you be carrying with you to this new chapter?
SM: Something that immediately comes to mind is the art of collaboration. Collaboration is not just about working on the same thing together. It's understanding what you bring to the team, knowing what is needed, having that mutual respect, reaching out, and making an effort to communicate with an open mind.
The second thing is being accessible. Even though Beckman has a hierarchy, it's more for organization and less for communication and day-to-day work. A lot of people are accessible to one another, which really helps students and young scientists grow. People really need mentorship, and that's something I'd like to incorporate into my own professional journey.
What words of wisdom do you have for the next generation?
SM: The most important thing, in my opinion, is to dream big and to continuously work towards achieving your goals. It's the big goals and ambitions that help us tap our full potential and grow in ways we never imagined. Nothing is impossible if we put our mind, heart, and constant effort into it. Also, reach out to people, seek mentorship, and learn from their journeys.
Finally, don't forget to give back to the ecosystem where you got the opportunity to grow. Every little bit that we do to make our systems better and to enable other people will have a compounding effect on the quality of science and our society.
Editor's note: this interview was lightly edited for print.