Published on
June 14, 2021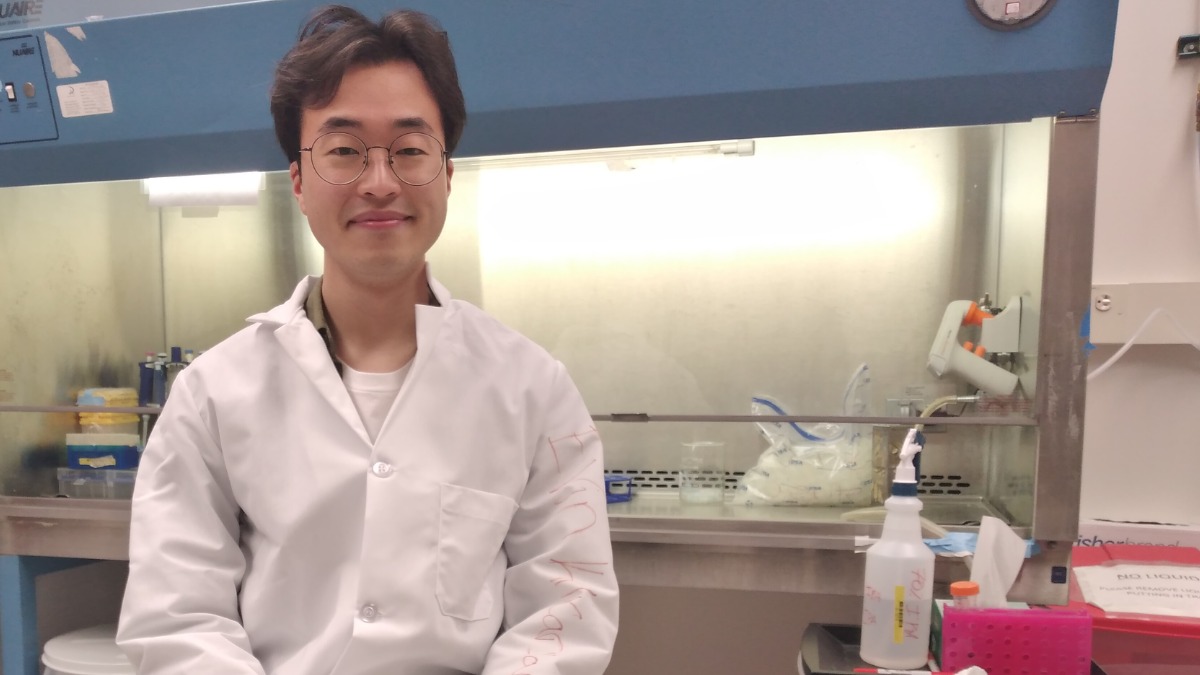 Ki Yun LeeThey say that exercise is good for the body and great for the mind…but what makes this true?
Ki Yun Lee is a Beckman researcher and second-year graduate student pursuing a Ph.D. in mechanical engineering at the University of Illinois Urbana-Champaign. Working in the Neurotechnology for Memory and Cognition Group, Lee collaborates with Beckman professors Taher Saif and Justin Rhodes to study the correlation between exercise and cognitive health in vitro (outside of a living organism), examining the structural and functional ways that neurons respond to exercise.
Hometown: Ann Arbor, Mich.
When did you first take an interest in your field?
The short answer? When I arrived in Illinois. Frankly, I had never imagined myself working in neuroscience. I have always liked exploring new things, and this took me in many different research directions during my undergraduate years, such as solar wind in space engineering and microrobotics in mechanical/electrical engineering. When applying to graduate school, I once again had a strong desire to explore a new field, and I was confident that I would be able to learn, adapt, and prosper.
Although my interest in neuroscience does not have a long history, it keeps growing.
What kind of research are you working on?
Currently, I study how exercise has an impact on cognitive health in vitro. The media from exercising muscle cells, which is like blood serum from exercising animals in an in vivo case, is collected and applied to primary mouse hippocampal neurons. Then, the morphological development of the neuronal environment is observed, and functional quantification of neuronal activity is measured.
Beckman's mission is to build a better world. How is your research making our world better?
We all have an idea or hear that cognitive health can be improved by exercise. However, the mechanism of how is still elusive. Is it simply that exercise causes more creation of synapses which relates to memory ability? Does exercise nudge not directly neurons, but surrounding cells to release some reinforcers or energy sources for neurons?
From a scientist's perspective, the discovery of this mechanism can take us one step further to understanding nature. From an engineer's perspective, understanding nature can guide us on how to apply and utilize it in our lives. Imagine… human brainpower can be improved, the aging process can be slowed down, and mental diseases can be unraveled through a deeper understanding of exercise.
How has your affiliation with the Beckman Institute helped you?
Beckman Institute is the starting point and sound knowledge base of my research. In fact, the research cannot even get started without the institute's resources, staff, and faculty members. Additionally, my engineering background was supplemented by the expertise in biology provided by Beckman scientists. Collaborating with the Rhodes lab gave us biological insights to determine what makes more sense to look for, how to interpret phenomena, and how new findings link to previous observations.
What are your post-university plans?
I am open to many opportunities, but I am leaning towards a career in industry. While working in the industry, I will prepare myself so that once my capital gain exceeds the labor gain, and many attributes in entrepreneurship are acquired, then ultimately, I would like to start my own business.
In terms of field, I would like to continue my contribution to neuroscience. In the era of upcoming artificial intelligence, it is crucial to understand the neural network since this is what the AI network is based on. As an engineer, I want to understand neural network and design applications for people.
What do you like to do outside of the classroom or lab?
I love swimming! I swim at least twice a week and it is not an exaggeration to say that the swimming day makes my entire week. Other than swimming, I spend most of my day reading books, and I read at least 10 books a month. I am an omnivorous reader, but the post-COVID-19 economy has been my favorite topic these days.
---
Speed Round
Favorite local restaurant: Beckman Café
Three songs that are on your summer playlist: Summer Nights, John Travolta and Olivia Newton-John; Summer Skin, Death Cab for Cutie; Summer, Joe Hisaishi
COVID-conscious summer plans: Road trip to the Upper Peninsula of Michigan