Published on
May 27, 2021
The United Covid Survivor Study is currently recruiting 10,000 participants who have tested positive for the COVID-19 virus, either recently or in the past year. Individuals who have recovered from COVID-19 can use an online survey to describe their experiences, while those who are currently ill can use a smartphone app to track their daily symptoms and any action they are taking to alleviate those symptoms, including taking over-the-counter medications or employing home remedies. The UCSS aims to identify which at-home treatment strategies encourage a fast recovery from COVID-19 for those who recover without hospitalization.
Learn more about the United COVID Survivor StudyThe substantial population of individuals who have tested positive for COVID-19 provides an unprecedented opportunity to analyze the factors that affect symptom severity and recovery time.
"It's a very unusual situation where, in the United States alone, there are over 32 million people who all have had the same lab-verified illness in the past year," said Edward Clint, the UCSS project coordinator and a neuroscience graduate student at the University of Illinois Urbana-Champaign.
The UCSS is a collaboration between eight researchers from the University of Illinois, University of California, Los Angeles, and University of California, Merced. This multi-institution collaboration was, in part, facilitated by Clint's prior master's degree research at UCLA under Daniel Fessler, who serves as the UCLA liaison for this project. The UCSS team is rounded out with experts from statistics, software engineering, and psychology, including Clint's Ph.D. advisor, Justin Rhodes.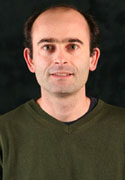 Justin Rhodes"I am hopeful that through this project we will discover how people behave in response to the illness and how their behavior may impact the severity and progression of the disease," said Rhodes, a professor of psychology and researcher at the Beckman Institute for Advanced Science and Technology.
The UCSS intends to collect data from COVID-19 survivors — those who have previously tested positive for the virus and since recovered — and people who have recently received a positive COVID-19 test result. COVID-19 survivors will be asked to fill out a short survey documenting their symptoms and any action they took to alleviate symptoms during their illness, while those who have recently tested positive will use the UCSS smartphone app to log their experiences during the recovery period
The UCSS smartphone app, which is currently available for iPhone users in the Apple Store and will hopefully soon be available for Android users in Google Play, is used to journal the user's daily experience and symptoms. The app asks about a variety of symptom relief strategies, from over-the-counter medications and vitamins to essential oils and aromatherapy. In all, the UCSS team hopes to determine what steps COVID-19 positive individuals can take to lessen the severity and duration of their symptoms.
Visit the UCSS website to participate in the study."People who are sick from COVID-19 do a lot of different things to cope with their illness," Clint said. "We largely don't know which of these actions have positive effects, negative effects, or no effect at all."
While the UCSS team hopes that widespread vaccination efforts will stem the spread of COVID-19, their work will help the significant population of individuals who will test positive in the future to safely recover at home. For Clint, who has temporarily pivoted from his prior thesis work to coordinate this study, this work is a moral obligation.
"We take science as a public good," Clint said. "When something as devastating as a pandemic happens, it's incumbent on researchers to help to whatever degree they can and alleviate human suffering. With the vaccine effort well underway, we think it's time to turn our attention to those who are still suffering from COVID-19."
Editor's note: For more information about the United Covid Survivor Study, visit their website at unitedcovidsurvivorstudy.org.