Eleven students were recently named recipients of the 2021 Beckman Institute student fellowships and awards. The awards, which are presented to undergraduate and graduate students, will be celebrated with a virtual celebration in July. The awards and honorees:
Beckman Institute Undergraduate Fellowship
Supported by funding from the Arnold and Mabel Beckman Foundation, the fellowship offers University of Illinois undergraduate students the opportunity to pursue interdisciplinary research at the institute during the summer.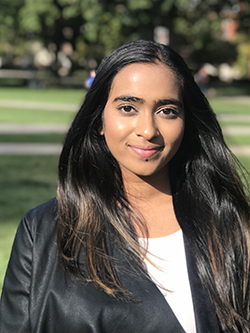 Nisaa Aleem is a junior majoring in interdisciplinary health sciences. She'll conduct her summer project with molecular and integrative physiology Professor Daniel Llano. She'll work to identify neurochemical pathways of information flowing through the lateral cortex of the inferior colliculus, which is a major integrative hub in the auditory system. She hopes to find neuronal cell types and projection pathways in the lateral cortex, which will help her and others better understand the segregation and integration system of the lateral cortex of the brain. That work could eventually lead to better understanding hearing loss and auditory processing difficulties in the brain.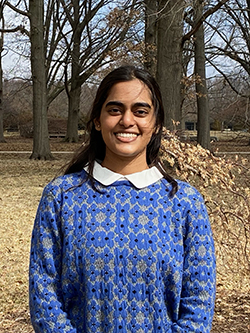 Yamenah AmbreenYamenah Ambreen is a junior majoring in bioengineering and psychology. She'll work with Llano and Wawrzyniec Dobrucki, an associate professor of bioengineering, to study the link between age-related hearing loss and Alzheimer's disease. She hopes her work will open a new avenue of research into what causes Alzheimer's disease and whether preventing hearing loss in older adults can decrease its prevalence.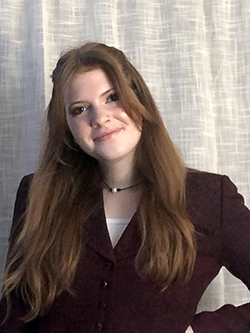 Abigail HistedAbigail Histed is a junior majoring in psychology and gender and women's studies. She'll work with psychology Professor Justin Rhodes in studying a species of anemonefish that undergoes adult sex change from male to female. She'll work to identify a recently discovered cell population in the brain of the fish that's twice as numerous in females as in males. Her work could lead to understanding the feminization process across development and offer insight into reproductive health.


Lina IssaLina Issa is a senior majoring in molecular and cellular biology. She'll also conduct research with Llano. Her project will examine descending connections originating from the auditory cortex of the brain. She hopes to gain insight into the functional organization of this massive system, which could help researcher better understand the role of top-down processing in hearing and hearing-related disorders.




Shreyas RajagopalanShreyas Rajagopalan is a sophomore majoring in integrative biology honors and clinical psychology. He'll work with Marianne Alleyne, an assistant professor of entomology, to study leafhopper brochosomes, which are intricately structured microscopic granules the insects secrete. The brochosomes are a promising material believed to have structural and material properties that could aid in development of synthetic coatings with antireflective and hydrophobic behavior. Rajagopalan is hoping to eventually discover a material that could be used in hospital settings to decrease contamination.
Carle Neuroscience Institute Undergraduate Research Award
This award allows promising undergraduates to pursue research in magnetic resonance neuroimaging at the Beckman Institute or at Carle Foundation Hospital during the summer.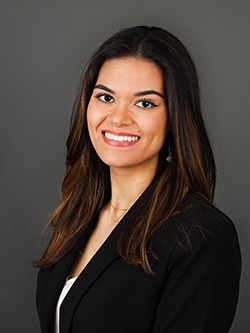 Elizabeth SpurlockElizabeth Spurlock is a senior majoring in psychology and molecular and cellular biology. She'll work with Beckman clinical affiliate Dr. Graham Huesmann, who is an epileptologist at Carle Foundation Hospital. She'll study whether magnetic resonance elastography can detect focal cortical dysplasia earlier than other magnetic resonance imaging contrasts. FCD is a type of focal epilepsy that's commonly known to be resistant to medication. By understanding how MRE can detect this type of epilepsy, it's possible to improve the outcomes of patients who have it.

Erik Haferkamp Memorial Award for Undergraduate Research
In honor of Erik Haferkamp's life and achievements, his family, friends, and colleagues established the Erik Haferkamp Memorial Fund, which provides awards to undergraduate students who are conducting research in neuroscience at the Beckman Institute.
Julia RaduJulia Radu is a sophomore psychology major who will conduct research with psychology Professor Florin Dolcos. She's working to gain a more mathematical and statistical understanding of how individuals learn, act, and evaluate others in social situations. She hopes to develop both a theoretical and practical understanding of the psychological processes at play during social interactions. This work will allow for society to better promote communally favorable actions among citizens.

Nadine Barrie Smith Memorial Fellowship
In honor of Nadine Barrie Smith's life and achievements, Smith's husband, Andrew Webb, established the Nadine Barrie Smith Memorial Fund that is supported by Smith's family, friends, and colleagues. The fund provides fellowships to female engineering graduate students who are conducting research in the general field of medical imaging (e.g., ultrasound, optical, magnetic resonance) at the Beckman Institute.
Eman HamedEman Hamed is a graduate student in the Neuroscience Program at Illinois, and is also a neurosurgery trainee who studied at the University of Alexandria Faculty of Medicine. She conducts research with Martha Gillette of cell and developmental biology, Hyunjoon Kong of chemical and biomolecular engineering, and Brad Sutton of bioengineering. She'll use MRI imaging to understand how restorative sleep removes brain toxins and metabolites through the glymphatic system. Her goal is to better understand the system's role in cognitive function, and will be testing for drug treatments that may improve such function.

Neha GoswamiNeha Goswami is a graduate student in bioengineering working with Gabriel Popescu, a professor of electrical and computer engineering. She is developing a COVID-19 breath test using label-free imaging and artificial intelligence. When an individual exhales on a microscope slide, her research will allow the slide to be fed into a spatial light interference microscopy microscope equipped with a computer that runs deep-learning pre-trained algorithms for identifying the virus. She then hopes to make the technology usable in clinics and testing locations, and estimates patients could get results in a few seconds.
Thomas and Margaret Huang Award for Graduate Research
In honor of Thomas and Margaret Huang's contributions to science, technology, and society, the Thomas and Margaret Huang Fund for Graduate Research was established by the Huang family and their friends and colleagues. The fund provides awards to graduate students who are conducting research in the broad area of human-computer intelligent interaction at the Beckman Institute.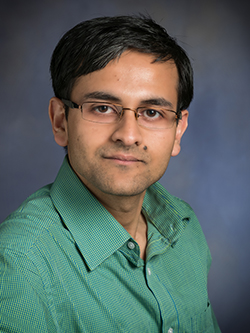 Moitreya ChatterjeeMoitreya Chatterjee is a graduate student in electrical and computer engineering, and conducts research with Professor Narendra Ahuja of the same department. He's working to develop environmental intelligent perception, which advanced artificial intelligence requires. While AI is able to use audio or video to understand environments, Chatterjee hopes to use both to help AI systems predict the future and to help humans better understand the world around them.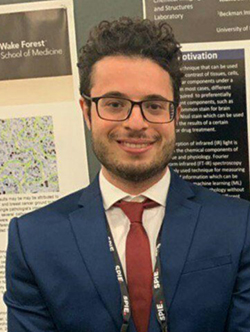 Kianoush FalahkheirkhanKianoush Falahkheirkhah is a graduate student in chemical engineering who conducts research with bioengineering Professor Rohit Bhargava. He's working to develop accurate, reliable, and clinically translatable frameworks for using machine learning to make diagnoses. He's especially focusing on using label and label-free microscopy data to do so. Just as Thomas Huang was a pioneer in using machine learning to recognize patterns, Falahkheirkhah hopes to use it to develop computational tools to automate the process of detecting and diagnosing cancer.