Published on
April 14, 2021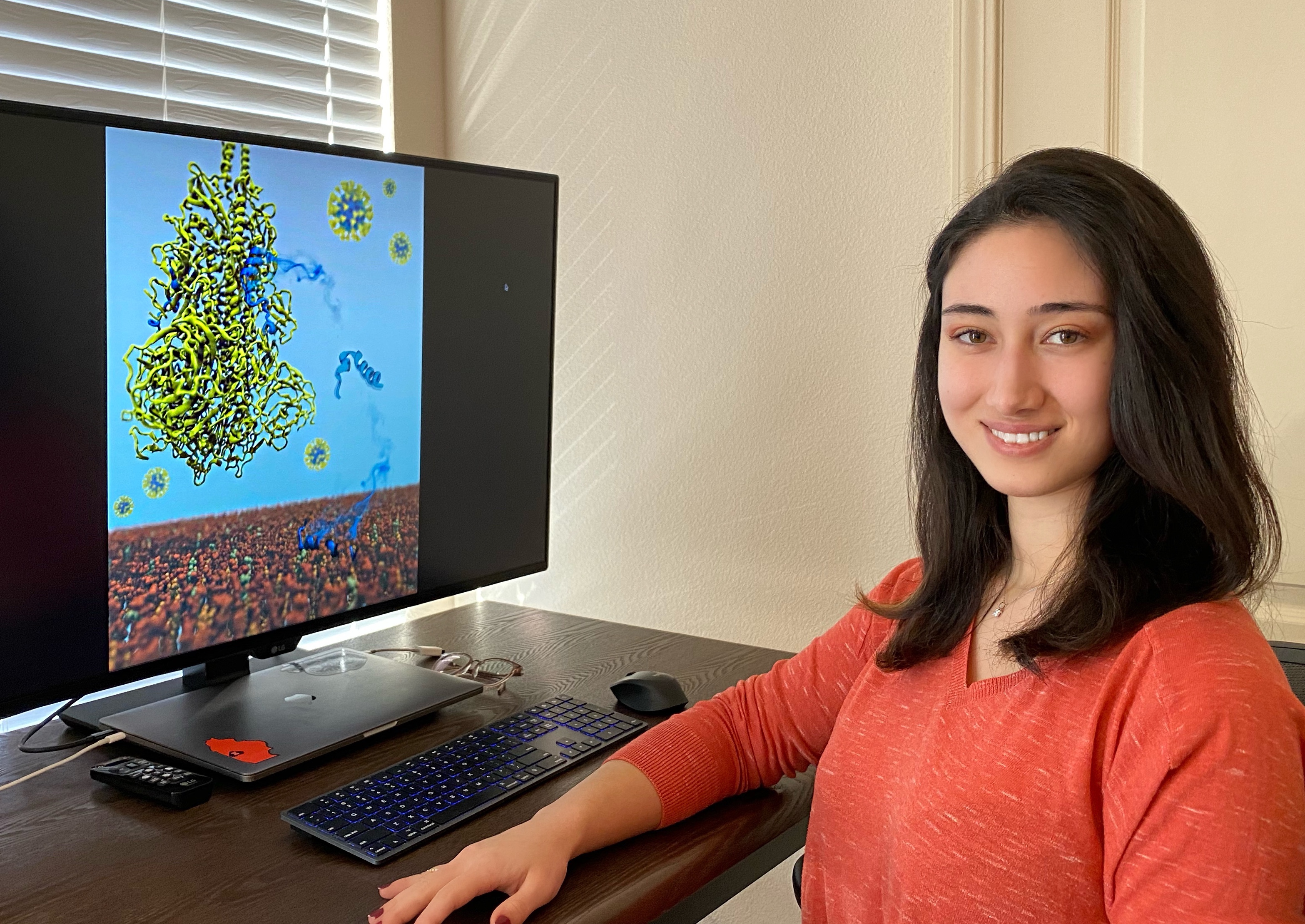 Defne Gorgun is a graduate student pursuing a doctoral degree in biophysics at
the Center for Biophysics and Quantitative Biology.
She works in the Theoretical and Computational Biophysics Group with her advisor, Professor Emad Tajkhorshid. She is also involved in the research projects that are in collaboration with Professor Nicholas Wu in biochemistry and Wonhwa Cho of the University of Illinois Chicago's Department of Chemistry.
Hometown: Ankara, Turkey
What kind of research are you working on?
I mainly study the interactions of proteins involved in complex biomolecular processes and cellular membranes, aiming to characterize the mechanism of binding and insertion of various proteins to the lipid bilayers using all-atom molecular dynamics simulations. This allows for providing atomistic details in dynamic evolution of the biological processes and help guiding experimental work. When the pandemic began, I quickly pivoted my studies to understand how SARS-CoV-2 fused with cells using the experience I gained from my previous studies.
Why is this important and why do you find it interesting?
A key step in cellular infection by SARS-CoV-2 is its attachment to and penetration into the plasma membrane of human cells. These processes hinge upon the membrane interaction of the viral fusion peptide. Uncovering this key interaction between the virus and our cells in help discover novel therapeutics to prevent COVID-19 disease.
How has your affiliation with the Beckman Institute helped you?
Beckman Institute provides a healthy and interdisciplinary environment that drives researchers for high quality and collaborative work. The workshops and seminars help students, scientists, and pioneers in the field communicate and exchange valuable experiences. The Beckman Institute is equipped with computational tools that are essential and invaluable for our research.
What are your career plans?
I am planning to work in industry as a researcher.
What do you like to do outside of the classroom or lab?
I enjoy yoga, working out, playing cello, playing beach volleyball, and snowboarding if the season is right.
How did your work change during the stay-at-home order over COVID-19 concerns?
Since I am a part of a computational group, my research has not been significantly affected. We were able to adjust to the new situation and carry out our research and meetings thanks to the remote visualization tools in our lab and the prompt help of our system administration and developer teams. Nothing can replace going to lunch with colleagues after working hard and asking for advice from my officemate and other lab mates that are across the hall.
What has been the hardest adjustment for you during the pandemic?
Being involved in social activities was a major part of my life including scientific, sports-related, or casual social activities. Living a more isolated life has been a challenge for me, though I feel grateful to be living with my fiancé and our four-legged companion.
What has been a hidden benefit of the stay-at-home order?
Not worrying about parking and being close to the kitchen at all times.