Published on
April 9, 2021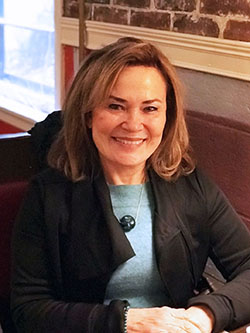 Martha Gillette, director of the Neuroscience Program and Alumni Professor of cell and developmental biology, has been named the Beckman Institute's 2021 winner of the Vision and Spirit Award.
The annual award, which includes $150,000 in research funding, was created to honor Beckman Institute Founder Arnold Beckman by recognizing a faculty member who has fostered collaboration in their research and exemplifies Beckman's vision. Beckman and his wife, Mabel, gave $40 million to the University of Illinois to create the Beckman Institute.
Beckman Institute Director Jeff Moore announced Gillette as the 2021 winner during a virtual award ceremony April 9. April 10 is the 121st anniversary of Arnold Beckman's birth.
Gillette said she's "extremely thrilled," and that the award also recognizes the members of her research group and her interdisciplinary collaborators at Beckman.
"I met Arnold and Mabel Beckman several times when the ideas that became founding principles for the Beckman Institute were being discussed with Bill Greenough and Ted Brown," Gillette said, referring to the mid-1980s when the institute was founded. "The decision to foster Arnold's vision of innovation and cross-disciplinary research was extremely forward-looking. It continues to generate discoveries that could take place only in this environment. For me, being here has opened up exceptional opportunities and new discoveries."
Gillette has been a Beckman faculty member since the institute opened, and she became a full-time faculty member in 2015. She works closely at Beckman with a long list of faculty collaborators from chemistry; bioengineering; electrical and computer engineering; chemical and biomolecular engineering; evolution, ecology, and behavior; and molecular and integrative physiology.
Moore recognized her enthusiasm for learning and growing, despite the challenges that come with interdisciplinary research.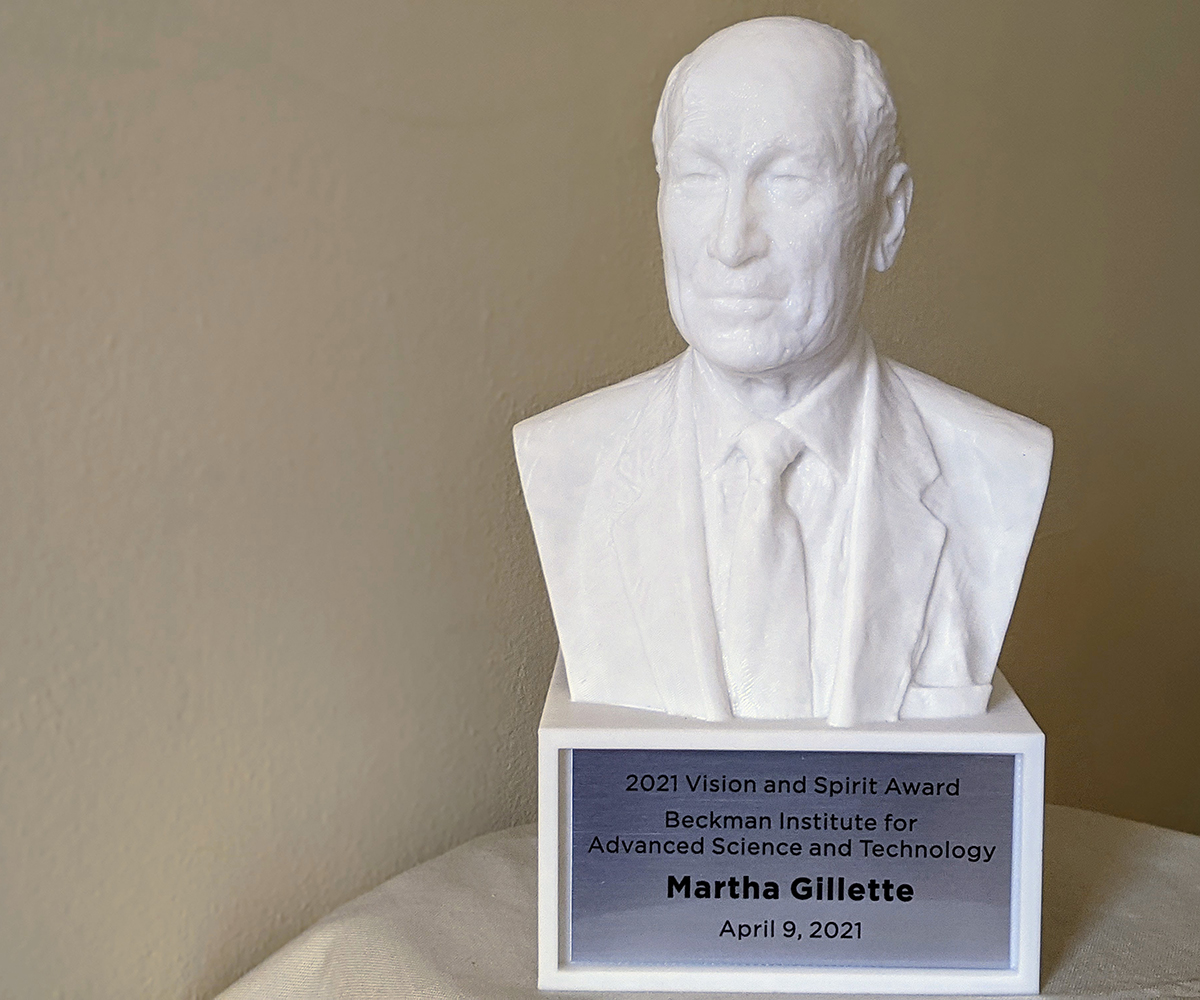 "This attitude has propelled her research to the cutting edge of understanding the cellular and systems-level mechanisms of sleep, as well as the behavior of connected cellular systems," Moore said. "By valuing a team-oriented approach, Martha pursues big research questions that draw upon the interdisciplinary skills of experts who share common research goals. The results are consistently spectacular.Martha is the common denominator of many collaborative projects — she is the driver of convergence."
When Gillette finished a stint as head of her home department 13 years ago, she decided her career was at a turning point.
"The Vision and Spirit Award is a vindication of my decision to sail away from the safe shore of research that I had built my career on, and out into uncharted waters of new technologies and collaborators that would enable me to engage in novel, innovative approaches to understanding the brain," she said. "It was the right decision. There is nothing as exciting as novel discovery in science and engineering—seeing and deciphering what no one has known before."
With the award's funding, Gillette said she will gather pilot data, in collaboration with a host of other Beckman researchers from all over campus, to learn more about the dynamic changes in fluid systems of the sleeping brain compared to the awake brain.
"This includes time-of-day changes in flow and composition of the fluid that perfuses brain tissue, washing out metabolites and toxins. Our focus is on how this makes sleep restorative," she said. "Also, the National Institutes of Health has encouraged us to think about day-night dynamics in cerebrovascular blood flow and how it leads to microbleeds in brain tissue, which is damaging to neurons. … There are several specific calls for proposals where the cutting-edge approaches enabled by Beckman collaborations will enable us to successfully compete."
Gillette said interdisciplinary collaborations have "emerged as the zeitgeist, the sign of our times in the funding landscape." Large, multi-investigator grants are at the forefront of major funding opportunities at NIH, the National Science Foundation, and the Department of Defense, as well as private foundations.
"They are part of most researchers' future, if they are not already engaged in such collaborations," Gillette said. "Interdisciplinary collaborations require curiosity and trust. You need to come together as equals, as team members, to the extent possible and invest part of your analytical brain in a common problem outside of your comfort zone. The possibilities are truly rewarding. Arnold Beckman was a visionary, indeed!"