Published on
March 12, 2021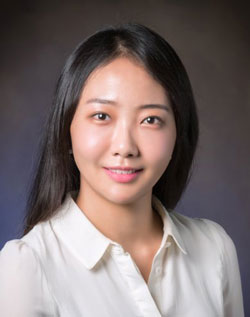 Ahyoung Kim is a graduate student pursuing a doctoral degree in materials science and engineering. She is also a PPG-MRL research assistant fellow this year.
She joined Qian Chen's group at the University of Illinois in 2016 for her Ph.D. study, and she's been developing a universal strategy for patchy nanoparticles synthesis and assembly.
Hometown: Seoul, Korea
What kind of research are you working on?
My research focuses on developing polymer-patched nanoparticles as "nano-Legos" to assemble them into exotic structures with desired mechanical and optical properties.
Why is this important and why do you find it interesting?
In our lab, we can control the fate of polymer adsorption at the nanometer precision. For example, polymers can be located only onto the specific corners or faces of nanoparticles. These polymer patches not only provide chemical and functional patterns that can be beneficial for targeted delivery, but also serve as directional "glues" to bond nanoparticles into certain arrangements. The assembled structures from these nanobricks are periodic and highly porous. Thus can be used as metamaterials, potentially aiding applications in cloaking coatings, high-gain antennas, and smart power management.
How has your affiliation with the Beckman Institute helped you?
The Beckman Institute provides many exciting opportunities to communicate science. I enjoy attending/giving talks at the Beckman Institute, where I can meet brilliant researchers from various backgrounds and learn how they approach scientific questions from different angles. Also, I had a lot of fun at the 2019 Beckman Institute Open House as there was a hands-on module instructor to deliver the excitement of science to young students with other enthusiastic volunteers.
What are your career plans?
I am open to any career path where I can continue to turn my own ideas into feasible concepts or results that contribute to the society.
What do you like to do outside of the classroom or lab?
I like to play with my cat. Our favorite games these days are fetch and hide-and-seek.
How did your work change during the stay-at-home order over COVID-19 concerns?
Mostly I work at home. Since we have a rotation system in our lab, I try to plan my time in the lab and instrument time more carefully, so that other users can use the space when they need to.
What has been the hardest adjustment for you during the pandemic?
At first, it was just hard to believe that we were in a pandemic. It took me some time to fully embrace the changes we have had to make. Once I got past that stage, I found it got easier for me to stay hopeful and positive.
What has been a hidden benefit of the stay-at-home order?
Now I can cook a greater variety of dishes. I realized it's quite important and also fun to treat myself with healthy homemade foods.