Published on
March 11, 2021
Editor's note: See our Director's Seminar webpage for when fall seminars are announced, as well as videos of past lectures.
Sam Tawfick, an associate professor of mechanical science and engineering, will discuss the "future of work" at the next Beckman Director's seminar at noon April 1. His talk will explore how ubiquitous automation and artificial intelligence are driving changes. Registration is required for Zoom access.
"Morphing hair, artificial muscles, and the future of automation"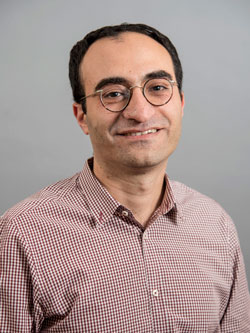 The future of work is shaped by the synergy between ubiquitous automation and artificial intelligence. Automation is currently driven by electric motors, which deliver clean mechanical actuation and are even already replacing engines in transportation, in addition to their role in robotics, prosthetics and energy. In this talk, Tawfick will describe a roadmap to replace bulky electric motors and exploit instead bioinspired materials, processes and self-organization phenomena for automation.
First, he will describe the use of liquid surface energy to manufacture surface texture by self-organization, as well as for actuating morphing surfaces. Next, he will describe the design and production of artificial muscles which use electric, thermal, or chemical energy to generate contractile motion.
These examples shed light on the future of work propelled by new materials, nonlinear mechanics and unusual manufacturing processes.
Speaker biography
Tawfick is an associate professor of mechanical science and engineering and a part-time faculty member at the Beckman Institute at the University of Illinois Urbana-Champaign. He earned his Ph.D. from the University of Michigan and was a Postdoctoral Associate at MIT.
He is the recipient of the AFOSR Young Investigator Program, the Chao and Trigger Young Manufacturing Engineer from ASME, the Outstanding Young Manufacturing Engineer by SME, The Everitt Award for Teaching Excellence from The Grainger College of Engineering, and the Two-year Alumni Teaching Award from the University of Illinois.