Published on
Dec. 9, 2020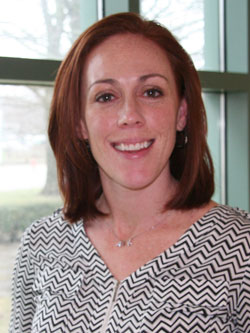 Kara Johnson, associate director for administration at the Beckman Institute, was one of 40 young professionals honored by The News-Gazette with its annual Forty Under 40 award. Johnson and other recipients were featured in Central Illinois Business magazine, which recognized the recipients for their achievements, leadership, and community involvement.
A PDF of the issue is available.
Kara Johnson, 38
Beckman Institute for Advanced Science and Technology at the University of Illinois
Associate Director for Administration
Community involvement:
Board of Directors for the United Way of Champaign County
Board of Director for Girls Go For It
United Way Emerging Community Leaders Committee Member
University of Illinois Leadership Center Coach
Leadership Illinois Power of the Individual Conference Co-chair
I attribute my success to: Being open to new opportunities, working hard, determination, and having amazing mentors. Best advice I can give or received is: It is the same advice I give to my kids: choose to be kind. Be kind because it is the right thing to do, be kind because you do not know what someone is going through, be kind because you would want someone to treat you in the same way, and be kind because you have a chance to make someone's day better.
Most important lesson I've learned in my professional career: Do not be afraid to say that you need help or that you made a mistake. Be wary of those that will not admit those things.
From the nominator: "Her work ethic is second to none, and she does it all while raising two young girls and volunteering her time to mentor other women in the community." — Abbie Osterbur, Merrill Lynch Financial Advisor: