Published on
Nov. 16, 2020
Amanda East is a Ph.D. student in chemistry, who works in the Chan Lab with Professor Jefferson Chan and in the Liang Research Group with Professor Zhi-Pei Liang.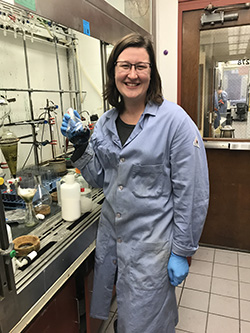 Amanda East in her lab.
Hometown: Nashville, Tennessee
What kind of research are you working on?
My research focuses on the development of small molecule contrast agents for various imaging modalities. My first project involves the synthesis and evaluation of a near-infrared II, photoacoustic dye platform. In photoacoustic imaging, a molecule is excited with a pulsed laser (for NIR-II, wavelengths 1000-1400nm) and produces sound, which can be detected with ultrasound transducers. My second project is a collaboration with Zhi-Pei Liang's research group to develop novel imaging agents and technologies to illuminate cancer properties using fluorine magnetic resonance spectroscopic imaging. Together, we aim to develop a new tool to study tumor pH in living systems.
Why is this important and why do you find it interesting?
The importance of my first project is that my work will be the first instance of a NIR-II, photoacoustic small molecule. We are interested in making molecules that absorb in the NIR-II region since there is less attenuation of light and scattering. This will ultimately produce higher resolution images for studying different biological phenomena. In my second project, the development of a pH sensor for 19-F MRSI can provide new insights into cancer metastasis and disease progression.
How has your affiliation with the Beckman Institute helped you?
It has started new collaborations and project capabilities within my lab. Also, as an affiliate of the Beckman Institute and a 2020 Beckman Institute Graduate Fellow, I am able to learn about exciting, interdisciplinary research.
What do you like to do outside of the classroom or lab?
I enjoy reading, cooking, and playing with my cat, Penny, and when I can travel, I enjoy scuba diving and underwater photography.
How did your work change during the stay-at-home order over COVID-19 concerns?
I, of course, was no longer able to do any wet lab work during the stay-at-home order, so instead I was able to write a review article with my lab mate Melissa Lucero titled "New directions of activity-based sensing for in vivo NIR imaging."
What has been the hardest adjustment for you during the pandemic?
Not being able to see and interact with my lab mates as much as I used to — both personally and professionally. I miss the collegiality of my lab where I can just drop by and ask someone's thoughts on a scientific problem I am facing.
What has been a hidden benefit of the stay-at-home order?
I was able to cook a lot more and overall live a healthier lifestyle, which has for the most part continued now that we have resumed research at half capacity.