Published on
Aug. 26, 2020
Editor's note: See our Director's Seminar web page for upcoming speakers and topics, as well as videos of events that have already occurred.
Graduate student Nick Angello, chemistry, and postdoctoral candidate Mayank Garg, materials science and engineering, will present research on COVID-19 at the Beckman Institute's first fall Director's Seminar at noon, Thursday, Sept. 10. Fall presentations will be presented online through Zoom; registration is required to access the lectures.
Angello will present "Synthesis and Testing of COVID-19 Binding Peptides at the Molecule Maker Lab," and Garg will discuss "Adapting Design Thinking to Existing Supply Chains: Rapid COVID Testing."
"Synthesis and Testing of COVID-19 Binding Peptides at the Molecule Maker Lab"
Nick Angello, graduate student in chemistry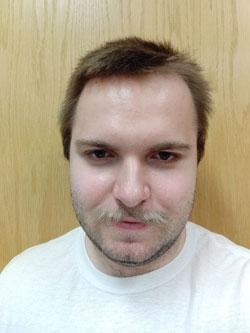 Abstract
Understanding how the coronavirus binds to human cells is of utmost importance in designing next-gen testing and therapeutic platforms for this ongoing pandemic. Teams from Illinois and all across the world are working to learn how COVID-19 binds to the human ACE-2 peptide as part of its pathogenicity. Computational design of ACE-2 hybrids is coupled to automated peptide synthesis at the Molecule Maker Lab at Illinois, with the goal of learning what is necessary for the virus to bind to human cells.
Speaker bio
Nick Angello completed his B.S. and M.S. in chemistry at the College of William and Mary under the supervision of Jonathan Scheerer, where he developed one pot synthetic methodologies for the synthesis of heterocyclic small molecules. He is working toward his Ph.D. in chemistry in Martin Burke's research group at the University of Illinois, focusing on the automated synthesis of small molecules.
"Adapting Design Thinking to Existing Supply Chains: Rapid COVID Testing"
Mayank Garg, postdoctoral candidate, materials science and engineering
Abstract
The international COVID-19 emergency created the need for a fast, scalable, cost-effective, reproducible, and medical-grade diagnostic test to protect our community from infection. When the Illinois stay-at-home order began, the biggest bottleneck to COVID testing was the national shortage of nasopharyngeal swabs. To address this need, an interdisciplinary team of graduate students, research staff, and hospital workers led by Beckman Institute Director Jeff Moore developed a one-step process to modify cleanroom swabs — produced in the millions — into nasopharyngeal COVID swabs. By considering the availability and cost of cleanroom swabs alongside the engineering, medical, and administrative expertise to modify them for COVID testing, our team successfully delivered swabs to our partners at Carle Hospital for testing in their outpatient clinic. Our swabs use the same materials in the same form factor as the Copan swabs that Carle's medical staff is already familiar with, facilitating sterilization and eliminating the need for additional training.
This project has made it clear that engineering research in academia needs a stronger foundation in practical constraints like the availability, cost, and distribution of supplies and equipment. As we move beyond 2020, these are important considerations for training the science and engineering students of the future.
Speaker bio
Mayank Garg is a postdoctoral candidate in the Autonomous Materials Systems Group at Beckman. He is working on building self-healing and self-cooling structures for aviation, automotive, and space applications using frontal polymerization. He earned his Ph.D. under the guidance of Professor Nancy Sottos in the Department of Materials Science and Engineering at Illinois. During his graduate journey, he developed various sacrificial polymers for enabling rapid energy-efficient manufacturing of microvascular polymers and composites in multifunctional applications. He is the recipient of the MatSE Innovation Award, PPG-MRL Graduate Research Assistantship, the Racheff Teaching Fellowship, and the Mavis Future Faculty Fellowship at Illinois. Garg received his bachelor's degree in textile technology from the Indian Institute of Technology Delhi.