Marni Boppart, an associate professor of kinesiology and community health, is the 2020 winner of the Beckman Institute Vision and Spirit Award. Boppart is also a faculty member in the Carle Illinois College of Medicine and at the Carl R. Woese Institute for Genomic Biology.
Associate Professor Marni Boppart launched Beckman's Extracellular Vesicle Imaging and Therapy working group in 2017 and has been leading the group successfully.
The annual award, which includes $150,000 in research funding, was created to honor Beckman Institute Founder Arnold Beckman by recognizing a faculty member who has fostered collaboration in their research and exemplifies Beckman's vision. Beckman and his wife, Mabel, gave $40 million to the University of Illinois to create the Beckman Institute.
Beckman Institute Director Jeff Moore announced Boppart as the 2020 winner during Beckman's spring virtual town hall meeting May 7.
He recognized Boppart as influential in her interdisciplinary work, especially in leading Beckman's Extracellular Vesicle Imaging and Therapy working group. Boppart launched the working group in 2017 with her husband, Stephen Boppart, a professor of bioengineering, of electrical and computer engineering, and at the Carle Illinois College of Medicine. At the time, Beckman was reinventing its entire Integrative Imaging research theme.
"Since then, Marni has been a tireless champion for bringing together experts from all over campus to formulate and carry out innovative, collaborative research in this area," Moore said.
Extracellular vesicles are small structures surrounded by membranes that are released by cells. They play significant roles in the formation of cancer, neuroscience, stem cell biology, and even the body's responses to stress. The working group works to understand what exactly those roles are and discover new ways to use imaging to detect and track extracellular vesicles throughout biological systems. Researchers are also working to establish vesicles as new biomarkers for health monitoring.
The group includes researchers from the College of Applied Health Sciences, The Grainger College of Engineering, the College of Liberal Arts & Sciences, and the College of Agricultural, Consumer and Environmental Sciences.
Moore recognized Boppart for her collaborative spirit and advocacy for the working group, including hosting an annual workshop and generating funding.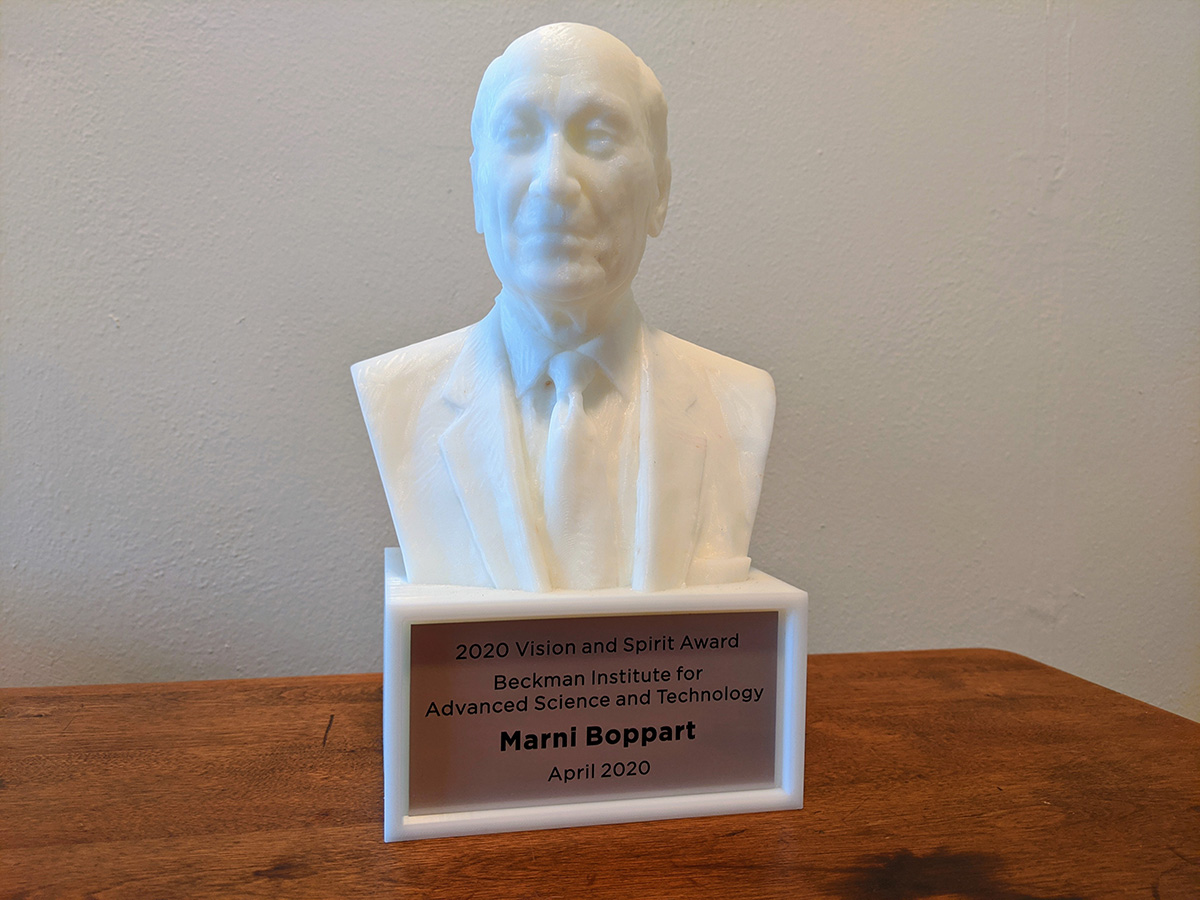 2020 Vision and Spirit Award was presented to Marni Boppart.
"The award recognizes Marni as exemplifying the Beckman Institute's core values and her hard work in shaping this new, important group," he said. "We are grateful to have Marni's leadership at Beckman."
Boppart said she was "floored" when Moore told her she won the award.
"I think it is easy in academia to forget that our daily efforts do matter and do make an impact," she said. Curiosity and a shared interest with many other Beckman faculty members led to the working group's founding, she said. It now includes at least 100 people from across the University of Illinois campus.
Boppart is building a state-of-the-art lab at Beckman that will provide working group members space to learn methods for isolation and verification of extracellular vesicles.
"Group meetings, seminars, and workshops provide a nice foundation for basic knowledge in the area of EV biology, but the opportunity to explore and discover is dependent on acquiring optimal lab protocols and methods," she said. The lab will integrate the expertise and shared resources offered through Beckman's core research facilities, as well as from the Cancer Center at Illinois. "The long-term goal is to develop an Extracellular Vesicle Research Center, and I hope this award will help move us closer to that goal."
Boppart's advice for others who are interested in becoming interdisciplinary power collaborators: "Don't be afraid to share your passion with others, formally or informally.
"You may be surprised to find that others are captured, and possess the same interest," she said. "That shared bond, however small initially, will provide the confidence and strength necessary to move forward, build momentum, and eventually innovate."