Published on
March 16, 2020
The Beckman Institute for Advanced Science and Technology has announced five postdoctoral fellows for 2020. The programs support outstanding scientists by providing selected scholars a unique opportunity to engage in a three-year fellowship of interdisciplinary research at the Beckman Institute.
Their proposed research covers a variety of areas including morphogenesis for the manufacturing of materials, the use of novel imaging strategies to detect early tumor responses to anti-cancer therapies, the redox nature of conjugated polymers, highly printable fibrin-based bioinks, and advancing an imaging technique while looking at how aging and physical exercise affect brain function.
Beckman-Brown Interdisciplinary Postdoctoral Fellow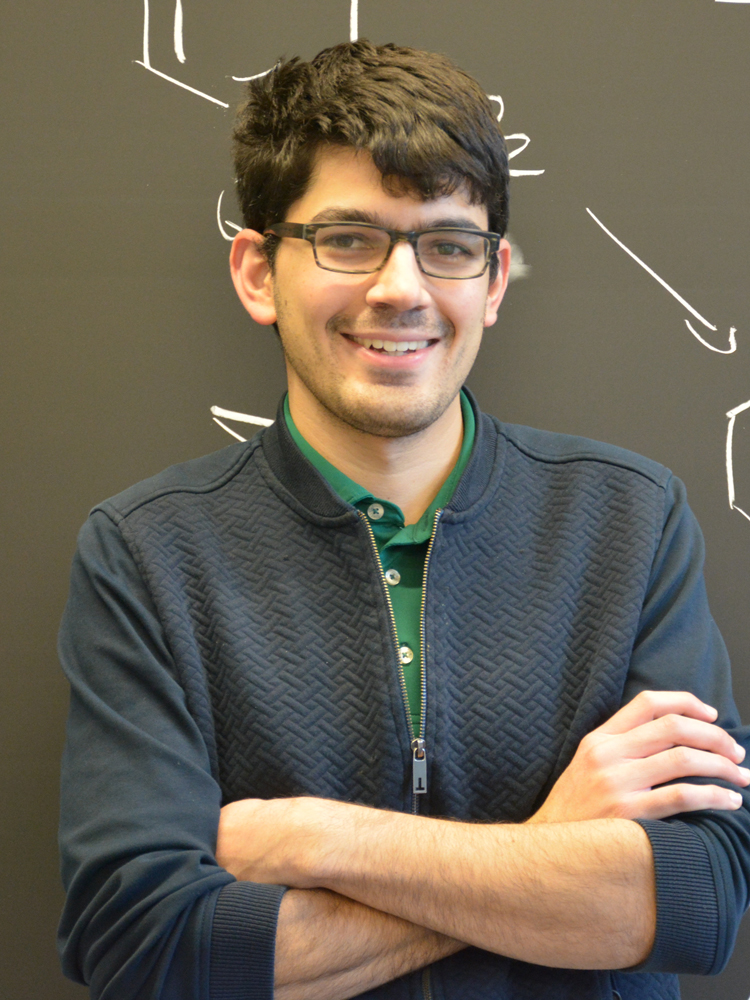 Julian Cooper Julian Cooper has been named the 2020 Beckman-Brown Interdisciplinary Postdoctoral Fellow. He earned his Ph.D. in chemistry at the Massachusetts Institute of Technology. Since finishing his doctoral degree in 2019, he has worked as a postdoctoral research associate at the Beckman Institute, advised by Jeff Moore, a Stanley O. Ikenberry Endowed Chair and professor of Chemistry.
As a Beckman postdoctoral fellow, he will work to realize and leverage morphogenesis in frontal polymerization. His proposed project, "Morphogenesis as a Model for Synthesizing Patterned Materials," seeks to apply the principles of reaction-diffusion theory in new contexts to achieve direct, predicable, and controllable synthesis of patterned material from a starting monomer resin. Its success could not only open new avenues in material manufacturing but lead to evaluations of what other problems may be addressed with RD theory.
Cooper will collaborate with Professors Philippe Geubelle, aerospace engineering, and Nancy Sottos, materials science and engineering.
The Beckman-Brown Interdisciplinary Postdoctoral Fellows Program was established with an endowment from the Arnold and Mabel Beckman Foundation. The award honors Arnold and Mabel Beckman, as well as Theodore "Ted" Brown, the founding director of the Beckman Institute.
2020 Beckman Institute Postdoctoral Fellows
Catherine Applegate Catherine Applegate expects to earn her Ph.D. in nutritional science at the University of Illinois at Urbana-Champaign this summer. She has been working at Beckman with John Erdman, a professor emeritus of nutrition and food science, as her Ph.D. adviser.
Her fellowship project, "Novel Imaging Techniques Evaluating Prostate Cancer Therapies," aims to identify pharmaceutical and dietary interventions effective against prostate cancer through the validation of novel imaging strategies to detect early tumor responses to therapies in a clinical setting. Early evaluation of therapeutic response will reduce the time and costs associated with cancer treatments for improved patient outcome.
Applegate will collaborate with Wawrzyniec Dobrucki, an associate professor of bioengineering and the director of the Experimental Molecular Imaging Lab at Beckman; Erdman; and Pengfei Song, an assistant professor of electrical and computer engineering. Dobrucki and Song also are affiliated with Carle Illinois College of Medicine.
Saadia Chaudhry expects to earn her Ph.D. in organic chemistry this year at Purdue University. Her project, "Uncovering the Potential of Conjugated Polymers, One Unit at a Time," will pursue research on the role of polymer chain conformations and dynamics in connection with their molecular structure and redox properties in an electrochemical system. This research will work toward understanding the nature of charged conjugated polymers and potentially further their use in energy storage and energy conversion applications.
Chaudhry will collaborate with Joaquín Rodríguez-Lopéz, an associate professor of chemistry, and Charles M. Schroeder, the Ray and Beverly Mentzer Professor in the Department of Chemical and Biomolecular Engineering.
Chaimongkol Saengow Chaimongkol Saengow earned his Ph.D. in chemical engineering at Queen's University, Canada, in 2016. Through his project, "Designing Highly Printable Fibrin-based Bioinks," he expects to uncover the rheological and microstructural fingerprints of highly printable fibrin-based bioinks with optimum cell viability. The findings could have broader implications for bioprinting of skin, muscle, and complex tissues, as well as stimulate the development of a bioprinting platform with built-in magnetic field and guide other bioink development.
Saengow will collaborate with associate professor Randy Ewoldt and professor Amy Wagoner Johnson, both in the Department of Mechanical Science and Engineering.
Nathiya Vaithiyalingam Chandrasekaran Nathiya Vaithiyalingam Chandrasekaran earned her Ph.D. in biochemistry at the University of Madras, Tamilnadu, India, in 2015. The goal of her project, "Super-resolution Ultrasound Microscopy to Image the Aging Rodent Brain," is to develop and refine fast ultrasound microscopy for noninvasive longitudinal brain imaging in a mouse and to understand the impact of aerobic exercise on the aging brain microvasculature. The work will not only advance an emerging imaging technique with broad basic and clinical uses, but it also will elucidate mechanisms by which aging and physical exercise impact brain function.
Vaithiyalingam Chandrasekaran will collaborate with Dr. Daniel Llano, an associate professor of molecular and integrative physiology, and Pengfei Song, an assistant professor of electrical and computer engineering.