Published on
January 24, 2020
Amber Lopez is a senior in kinesiology, who works in Beckman's Molecular Muscle Physiology Lab with Marni Boppart, an associate professor of kinesiology and community health.
Hometown: Niles, IL
What kind of research are you working on?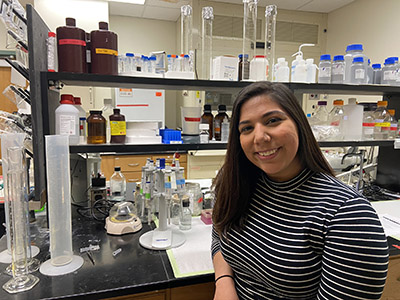 Our research specifically focuses on identifying intrinsic and extrinsic factors that regulate the remodeling and growth of skeletal muscle in response to exercise and physical rehabilitation. We have also been doing research investigating the development of cell-based strategies to effectively recover skeletal muscle mass and strength following disuse.
Why is this important and why do you find it interesting?
I find this research important because it can be translatable to a clinical setting, whether it be geriatrics, rehabilitation or recovery. This research is a contribution to a novel form of therapy that will effectively prevent and treat disability.
How has your affiliation with the Beckman Institute helped you?
At the Beckman Institute, I've been able to practice several research techniques that have translated to other research experiences I've had, such as at Mayo Clinic. Without the continuous support of my lab and Dr. Jeffrey Moore, I wouldn't be able to achieve as much as I have in my undergraduate research career.
What do you like to do outside of the classroom or lab?
I like to dance, specifically Latin and modern. I also like to travel and hike.
What is your favorite restaurant in the Champaign-Urbana area?
Seven Saints