Published on
Nov. 12, 2019
Although ring polymers are usually difficult to prepare, a recent paper published by the Moore Group shows a new method to easily make large molecular loops.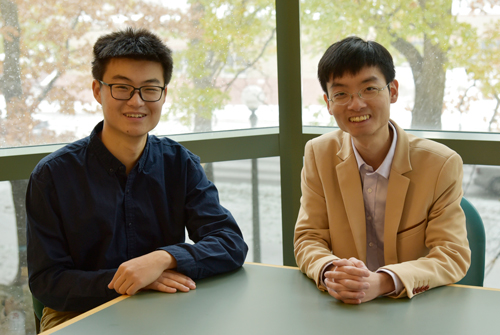 A polymer is a large molecule that has repeating groups called monomers. These monomers join together like beads on a string, like polyethylene or Teflon. These linear polymer types are easier to make compared to ring polymers.
"Ring polymers are not fully studied because they are difficult to make," said Qiong Wu, a postdoctoral researcher at the Beckman Institute and an author on the paper.
The most recent paper by the Moore Group, "Architecture-Controlled Ring-Opening Polymerization for Dynamic Covalent Poly(disulfide)s," was published in the Journal of the American Chemical Society and describes a new technique to make ring polymers more easily.
Usually, rings are made by connecting the two ends of a linear polymer. "This is a very challenging process because the chance of finding two ends among many repeating units is very little," said Yun Liu, a postdoctoral researcher at Beckman and an author on the paper.
To deal with this challenge, the researchers used disulfide bonds, which contain two sulfur atoms, to make their ring polymers. These bonds are widely present in biology, chemistry, and material sciences. "These bonds are responsive to a lot of stimuli," Liu said. "We were therefore hoping to control the polymer properties using this bond."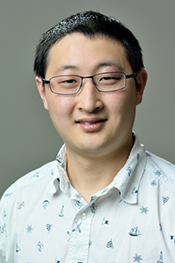 The researchers use a small ring, which contains a disulfide bond, as the repeating monomer. They then use aryl thiol initiators to crack open the small ring, which further cracks open others to form polymers. The aryl thiols are found to be very special; they allow the chains to rapidly close up before the polymers become too big. And these ring polymers continue to grow by repeating the ring-opening and closing process. "If you use alkyl thiols, the ring cannot close up and you get linear polymers," Liu said. "The resulting architectures of the polymers are simply controlled by choosing the right initiators."
Many of the experiments were carried out by Yuan Jia, a chemistry undergraduate in the Moore Group. "It is an easy setup that involves mixing the ingredients at room temperature," Liu said. "It is also a rapid reaction that can be finished within 10 minutes."
Ring polymers are important wherever it is important to reduce viscosity, such as redox flow batteries. The new polymers offer the additional advantage that the polymer can revert back to monomer in a controlled way. This may be important for longer lasting devices. "Flow batteries often have a loss in performance because the polymer gets degraded," Liu said. "Since disulfide bonds respond to the redox process, we would like to control the life cycle of the batteries by breaking and reforming the disulfide bonds."
The Moore Group is interested in expanding this class of sulfur-containing polymers. "We make these polymers by opening the small rings (i.e., the monomers), a driving force for the polymerization," Liu said. "It's not a lot of driving force and therefore we have to use really high concentration of the monomers. We want to use monomers that are more efficient."
"Chemists have always worried about how to synthesize polymers from raw materials," said Jeff Moore, the director of the Beckman Institute, an Ikenberry endowed chair and a professor of chemistry at Illinois. "We are interested in whether we can revert [the polymer] back to raw materials and have a new cycle being again."
The research was financially supported by the Joint Center for Energy Storage Research, an Energy Innovation Hub funded by the U.S. Department of Energy, Office of Science, Basic Energy Sciences.
---
"Architecture-Controlled Ring-Opening Polymerization for Dynamic Covalent Poly(disulfide)s," published in the Journal of the American Chemical Society, is online: DOI: 10.1021/jacs.9b08957