Published on
Nov. 5, 2019
Get to Know Erik Hege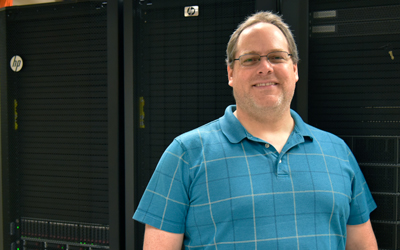 Explain your job in 50 words or less:
I lead the Information Technology Services Group. It is my job to ensure we are delivering high-quality services that directly support the mission of Beckman Institute and the researchers using our facilities in a manner that is in compliance with university, state, and federal policies.
How long have you worked at Beckman?
Just a little over two months. I started on Sept. 1, 2019.
In your opinion, what's the role of information technology within a research institute?
Information technology is a tool everyone uses to accomplish their goals. IT can be used for creation or destruction, good or bad. It is up to IT professionals to make information technology useful and helpful to groups and individuals as they strive to accomplish their goals. When talking more specifically about the Beckman Institute, I see a balance between the administrative and research sides.
On the administrative side, our team members strive to provide access to technological tools, resources, hardware, and solutions that will assist with and improve business processes.
For researchers and research groups, we listen to the ever-changing needs and desires of Beckman's unique research projects. We need to be flexible as we act as a resource for researchers, providing information and guidance to help them make educated decisions about how to spend their research money on technology. This may be by serving in a consultant role or a more active support role, depending on the researcher's needs.
For the entire organization, we provide a solid infrastructure (file storage, network assistance, printing, cybersecurity, technical support, and more) to meet everyday needs and prepare for the future.
While doing all these internal tasks, we also are active members of the campus IT community. This is to ensure we are aware of changes coming from campus, that Beckman's interests are represented in campus decisions, and that we comply with university IT policies and standards.
What excites you about Beckman?
The people working here, the interdisciplinary mission, and the dynamic aspect of the institute's research. No two days are the same and we are regularly challenged to be creative and flexible.
What do you like to do in your free time?
I enjoy spending time with my wife and five daughters. I have coached all the girls through various sports (volleyball, softball, and basketball). I also enjoy just spending time with them watching movies or playing games. We have travelled to 15 national parks and plan to get to many more (five next year). Personally, I enjoy playing tennis, softball, and golf and cheering on the various Chicago sports teams (mostly the Bears and Cubs).
What's your favorite Champaign-Urbana restaurant?
I don't know that I have a single favorite as it really depends on what I have a taste for. I would say I eat Papa Del's Pizza more than anything else.