Published on
Nov. 4, 2019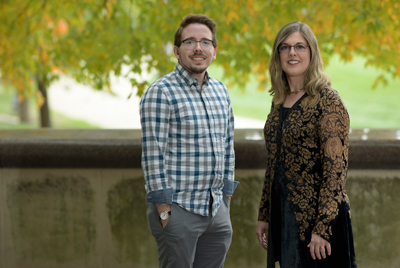 From an evolutionary perspective, memory and prediction seem to be closely related. Humans would need to remember dangerous situations they have encountered in order to be able to later predict the outcome when they are faced with a similar situation. Researchers in the Cognition and Brain Lab have recently published a paper that investigates the other part of this equation: the effect of prediction on memory.
"There is an interesting loop of prediction and memory," said Ryan Hubbard, a Beckman Institute Postdoctoral Fellow. "If I make a prediction and it is confirmed, what happens to my memory? Does it get updated so that my predictions are better next time?"
To test the effects of prediction on memory, the researchers turned to the English language. "Language is an important human function," said Kara Federmeier, a professor of psychology, Beckman Institute faculty member, and the director of the Cognition and Brain Lab who led the research. "It draws on different aspects of cognition, including prediction. There is an increasing appreciation of how fundamental brain processes seem to be engaged with prediction, so, using language, we can study those processes."
The paper, "Downstream Behavioral and Electrophysiological Consequences of Word Prediction on Recognition Memory," was published in the journal Frontiers in Human Neuroscience. The researchers had 33 participants read English sentences that were predictable or unpredictable to see whether their ability to predict the ending of a sentence would influence their memory.
"Sentences like 'Father carved the turkey with a knife' are predictable. Most people think of the word knife," Hubbard said. "We wanted to see what happens to your memory if we give an unpredictable ending like 'Father carved the turkey with a smile.'"
The researchers used standard memory tests and recorded electrical brain activity using electroencephalographic methods. "We had participants read sentences; some were predictable and some were not. We then tested their memory," Hubbard said.
"Both behavior and brain activity showed that people were more likely to misremember seeing a word that they had predicted but didn't actually see," Hubbard said. "For example, people were more likely to remember seeing knife when they had read the sentence 'Father carved the turkey with a … ' even if the ending they had actually seen was smile."
"There is a note of caution in these results," Federmeier said. "When people see something unpredictable, they still go back to something they predicted."
"Prediction helps you process things more rapidly," Hubbard said. "But on the flip side, if you predict something but don't really see it, you might falsely remember what you predicted."
---
The paper, "Downstream Behavioral and Electrophysiological Consequences of Word Prediction on Recognition Memory," can be found online: DOI: 10.3389/fnhum.2019.00291