Published on
Oct. 8, 2019
University of Illinois faculty members have an international reputation for outstanding research, teaching and scholarship. When Nancy Sottos was invested as a Maybelle Leland Swanlund Chair on Oct. 3, she joined an even more elite group of scholars. It is the highest endowed title bestowed upon faculty at Illinois.
Sottos, a professor of materials science and engineering and a leader of the Beckman Institute's Autonomous Materials Systems Group, was honored for her dedication to academic excellence, as well as for her productive and innovative research career.
The ceremony, at the Spurlock Museum on the University of Illinois campus, also invested law professor Matthew Finkin as a Swanlund Chair, and computer science professor Jiawei Han as a Michael Aiken Chair.
"This is an important milestone in the life of a faculty member," said Andreas Cangellaris, the provost and vice chancellor for academic affairs. "After tenure, it is perhaps the next biggest honor and distinction. It is truly a celebration of what you have accomplished in your careers so far and also a celebration what is to come."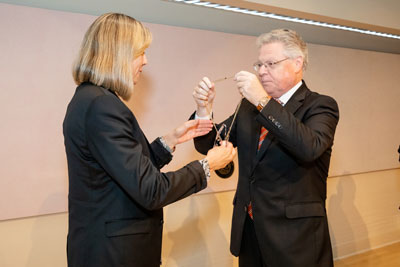 Sottos' research interests include polymers and composites capable of self-healing and regeneration, mechanochemically active polymers, tailored interfaces and novel materials for more reliable energy storage. She is a Fellow of the Society of Engineering Science and the Society for Experimental Mechanics.
Previously, Sottos was the Donald B. Willet Professor of Engineering.
At the ceremony, Sottos thanked the Department of Materials Science and Engineering, as well as the Beckman institute.
"Beckman is the engine that drives my collaborations with first-class laboratories and unparalleled support for interdisciplinary research," she said. "It remains the place on campus where faculty from different departments with a crazy idea like self-healing materials can find the space and resources to bring that idea to fruition."
She also thanked her many collaborators, the current graduate students and postdoctoral researchers she worked with, and Erica Malloch, senior coordinator of research programs for the Autonomous Materials Systems Group. She also thanked her parents, who are celebrating their 60th wedding anniversary at the end of October.
Sottos said she wished she could share the accomplishment with her collaborator, best friend, and husband, the late Scott White, who died in 2018. He was a professor of aerospace engineering and collaborated with Sottos and others at Beckman.
"I want to recognize Scott, but also acknowledge the amazing support and friendship of my University of Illinois family over the last two years," Sottos said. "The AMS group not only knows how to do careful experiments and collaborate in the lab but can also organize meals and come together to support each other and keep us all moving forward in a way that would make Scott proud."
The Swanlund chair is named for alumna Maybelle Leland Swanlund, who received a degree in library studies from Illinois in 1932. She died in 1993, providing a $12 million endowment to attract leaders in the arts and sciences to the university, as well as recognize current faculty members who have made exceptional contributions in their fields.