Published on
Oct. 4, 2019
Humans, and other primates, have long lives where adulthood is delayed in part to facilitate the learning of social skills. The prolonged adolescence is characterized by the maturation of the areas of the brain that are involved in social cognition and decision-making. During this phase, both boys and girls transition from relying on their parents to relying on their friends for social support. A new study shows how the nature of parental relationships may affect peer relationships in adolescent girls.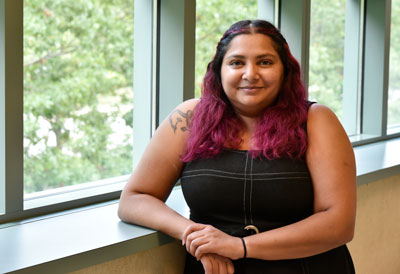 "This work is part of an ongoing study that looks at adolescent girls and their social contacts," said Michelle Rodrigues, a Beckman Institute Postdoctoral Fellow. "We wanted to look at how their parental relationships shape the developmental transition and how they relate to female friendships."
The paper "From maternal tending to adolescent befriending: The adolescent transition of social support" was published in the American Journal of Primatology, and looks at the tend-and-befriend hypothesis, which proposes that there is an evolutionary advantage to female friendship because it helps buffer stress. The participants for the study were from a summer science camp for girls.
"Every year we work with the camp participants and teach them about the bio-social aspects of doing research," Rodrigues said. "The girls then participate in different aspects of our study including completing surveys on their social networks."
The researchers found that girls who have very few friends have higher symptoms of depression and have poorer parental relationships. "We found that the relationship with mom is most significantly associated with female friendship, while the relationship with dad is important for depressive symptoms," Rodrigues said.
"If you think of girls that are in the science camp, they're going to be more homogenous, and you would expect them to rely more on their parents. Though it was not that diverse in terms of socio-economic status, it was racially diverse," Rodrigues said.
"As anthropologists we care about the environmental, familial, or socio-economic factors that contribute to variation between populations," said Kathryn Clancy, an associate professor of anthropology at Illinois and a part-time Beckman faculty member. "But that still means we should be trying to understand everyone's experiences, not just those who are very different from us."
---
The full paper can be found at https://doi.org/10.1002/ajp.23050