Published on
Sept. 11, 2019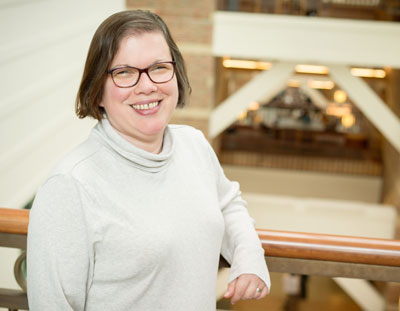 Some would say Patty Jones took a circuitous route in becoming the associate director for research at the Beckman Institute for Advanced Science and Technology. But her range of experience — including as a U of I associate professor with a part-time Beckman appointment and as a NASA research manager — prepared her for the diverse tasks in her job at the world renowned research institute.
Jones was recently recognized with an Outstanding Service Award from the U of I Office of Sponsored Programs and Research Compliance for her contributions in support of research at Beckman and Illinois.
"It's not just me by myself," Jones said. "(Beckman) is a really great team environment. And it's nice to be recognized as part of that team."
In his nomination letter, Jeff Moore, the director of the Beckman Institute and an Ikenberry Endowed Chair in the Department of Chemistry, wrote: "Patty thinks strategically and creatively about putting collaboration into action, including helping to recruit new faculty to campus and to the institute.
"Patty prepares herself for success by staying up to date on funding opportunities," he wrote. "She participates in proposal writing to the satisfaction and delight of Beckman faculty and uses resources to fill in gaps and become knowledgeable of relevant background information. Patty brings purpose and focus to Beckman's research community; her knowledge is a tremendous resource for the Beckman Institute director and for the Beckman Institute faculty."
Jones supervises the institute's core facilities, which are the Biomedical Imaging Center and the Imaging Technology Group; and manages an array of tasks and projects, including supervising the Beckman Institute postdoctoral and graduate fellows programs. She also created the Curious & Eclectic seminar series that brings faculty members from outside Beckman to speak on a range of topics; and the Responsible Conduct of Research series, which has a growing following on campus. A new project in the early stages is a mentoring program for women who are faculty members that she calls "BFF" (Beckman Female Faculty).
"Patty's scientific knowledge, along with her networking and communication abilities, have allowed her to connect researchers across various disciplines with each other, when otherwise their paths may not have crossed," said Kelli Wendt, Beckman's director of budget and resource planning. "During proposal planning stages, faculty members have benefitted from Patty's expertise to strengthen their project teams, allowing project leadership to maximize their opportunity to secure project funding."
Her contributions extend past the walls of Beckman. She has served as chair of Institutional Review Board No. 2 (Biomedical), she was the founding administrator for the Campus Facility Managers Working Group listserv, and she co-hosted the November 2018 Human Subjects Research Conference with the Office for the Protection of Research Subjects.
"We are a part of campus and all of our faculty members come from more than 50 departments across campus. …. We want the campus to be successful," Jones said.
And as Beckman celebrates its 30th anniversary, the institute is on the cusp of many changes.
"We're celebrating the past, but we're rolling toward the future in many ways," Jones said. "In the next two years, we are going to have a huge amount of construction. We have the build-out in the basement for the new 9.4 Tesla animal MRI system as well as the Cancer Center's tissue engineering and phenotyping core facilities. And we also are in the process of developing a new molecular engineering set of labs in the Molecule Maker Lab. There is so much in the pipeline for Beckman; it's a really exciting time to be part of it."
"The fun part is I always feel like I'm helping to invent the future," she said. "And so I feel like there's the heroes — the faculty — and those who support the heroes, which is me and the whole Beckman staff."
---
For a 2014 interview with Patty Jones and her twin sister, Cathy Murphy, a professor of chemistry at Illinois, watch the video (link below) where the women offer advice to young girls interested in the fields of science.
"Twin Sister Scientists: Advice for Girls and Women in Science and Engineering"